Erasmo clamps down after early defensive boost
ST. PETERSBURG -- Erasmo Ramirez did not need many pitches to get through his outing in the Rays' 2-0 victory over the Braves on Tuesday night at Tropicana Field, but ultimately, it was a pair of throws from his teammates that got the right-hander going.
After Cameron Maybin reached on a single with one away in the first, Nick Markakis looked as if he had plated the first run of the ballgame with a double to the right-field wall off Ramirez. Instead, Daniel Nava quickly tracked down the ball in right and hit cutoff man and second baseman Logan Forsythe, who relayed and fired home. The ball beat Maybin to the plate and he attempted a popup slide, but Curt Casali was able apply the tag on an airborne Maybin to record the out and keep the Braves off the board.
"That play helped me because it put in my mind that I have to push and execute better pitches," Ramirez said. "They showed that they were going to swing a lot, so me and Casali mixed it up and kept the ball down."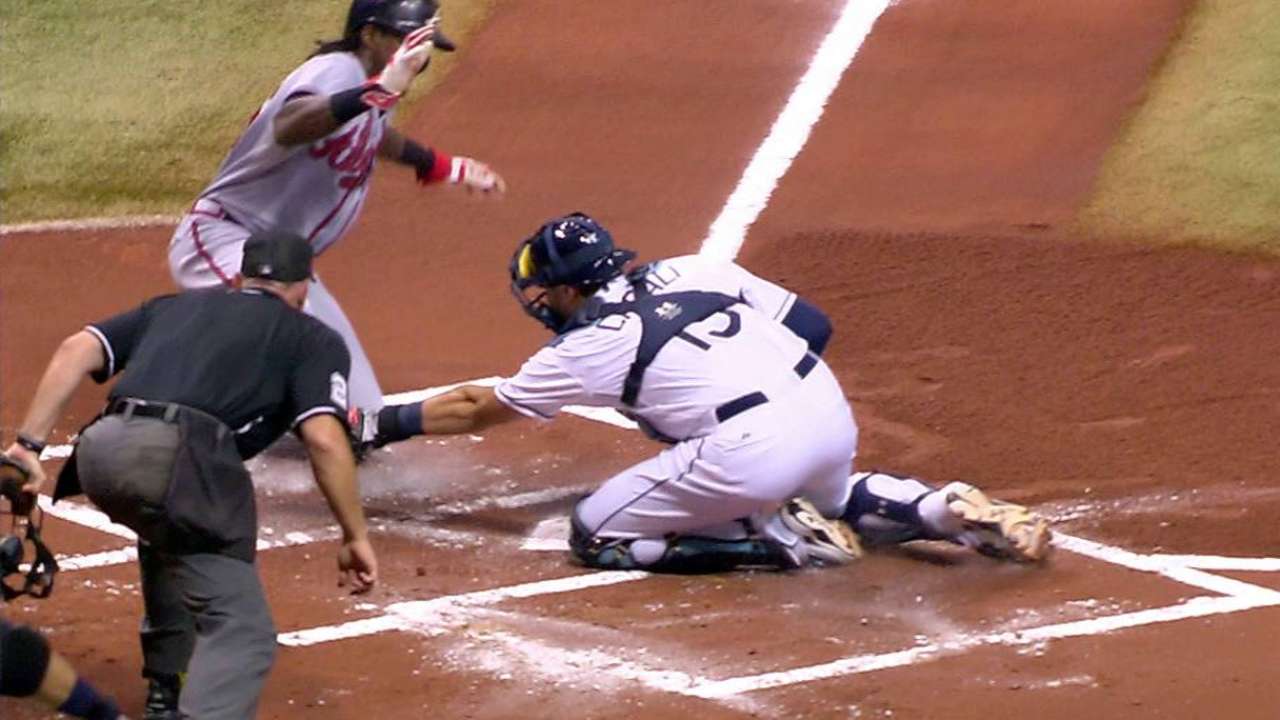 The course of action worked as Ramirez rebounded from the first and allowed just three more baserunners over seven-plus scoreless frames en route to his ninth victory of the season.
Atlanta struck for two more hits in the second, after which Ramirez was able to retire the next 16 batters he faced before coasting into the eighth inning with just 68 pitches.
"These guys had an approach against him, they weren't going to fall behind in the count and he was making good enough pitches to where guys got a lot of early outs for him," Rays manager Kevin Cash said. "Any time you look up and he's got 68 pitches through seven innings, he's forcing their hand."
Ramirez's streak came to an end when Adonis Garcia led off the eighth with a single, prompting Cash to call for Brandon Gomes, who retired all four batters he faced. Xavier Cedeno followed Gomes and recorded the final two outs to pick up his first save since June 18, 2012, when he was with Houston.
"Whenever you are in that kind of rhythm and have that kind of feeling, you always want to stay," Ramirez said. "But you don't realize that this is going to be the fourth time he's seen me and whatever mistake I might do, that may cause a tie game, so it was the right move."
Ramirez matched the longest scoreless start of his career -- May 30 at Baltimore -- and also tied five pitchers for the most wins in the American League since May 14.
"I just feel like everything is working," Ramirez said. "Whatever they've been saying to me, everything with numbers, with my pitches, how I execute and get my confidence to any of my pitches … it's been great to have that feeling."
Troy Provost-Heron is an associate reporter for MLB.com. This story was not subject to the approval of Major League Baseball or its clubs.