Glove love: Royals put on defensive show
Dyson, Escobar cut down Tigers run on perfect relay in win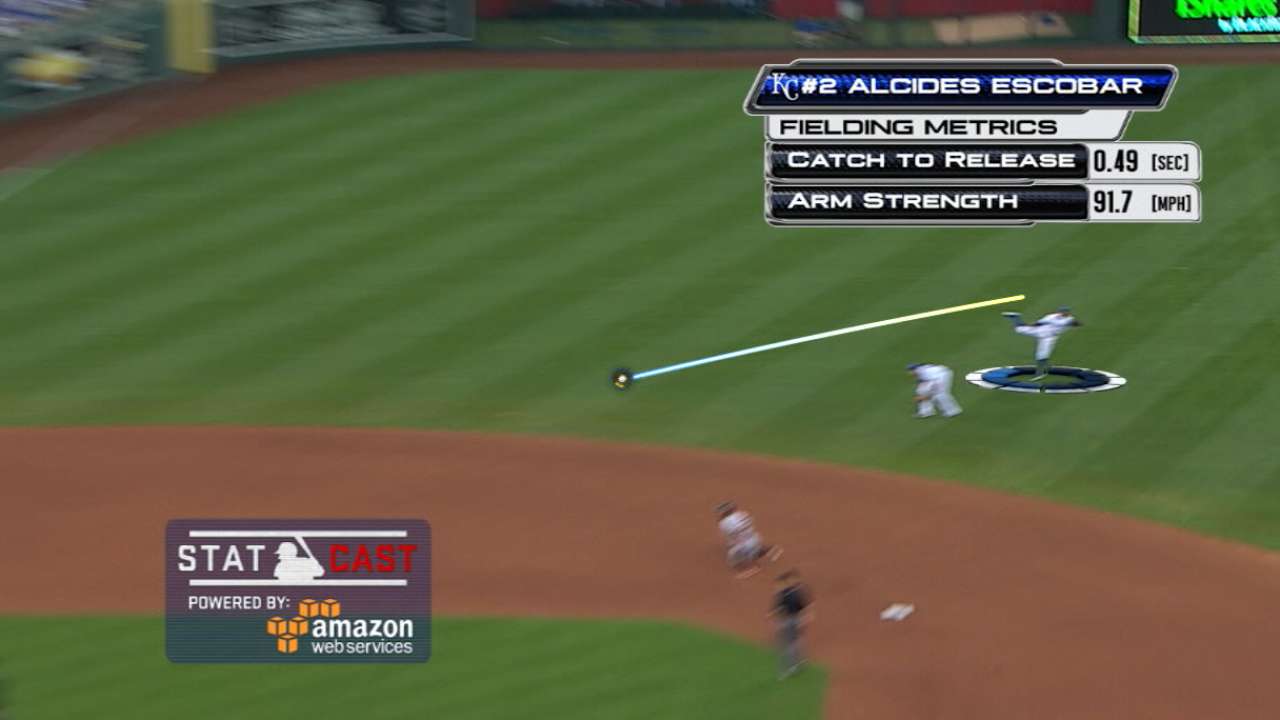 KANSAS CITY -- The Royals once again demonstrated their amazing ability to deflate an opponent with their defense in Tuesday's 6-1 win over the Tigers.
With one out in the Tigers' fourth, Tyler Collins slashed a drive into left-center that appeared to be a sure double. But center fielder Lorenzo Cain somehow managed to cut the ball off and fire a strike to second base, deterring Collins from even trying for second.
That play was huge because two batters later, Jefry Marte rifled another drive into the gap in left-center -- this one scooted to the wall.
But left fielder Jarrod Dyson recovered nicely, grabbed the ball off the wall and fired a strike to shortstop Alcides Escobar, the relay man. Escobar caught Dyson's throw and in one motion, turned and unleashed a strike in the air to catcher Salvador Perez, who tagged James McCann (who reached on a fielder's choice) for the out at home on a bang-bang play.
"It was a 2-0 game at that moment, so big play," Escobar said. "I say all the time, when the outfielder throws the ball to the cutoff man, you have more of a chance to get an out. Dyson throws the ball perfect to me, and easy out at home plate."
Royals manager Ned Yost still couldn't believe after the game that the Royals got an out there.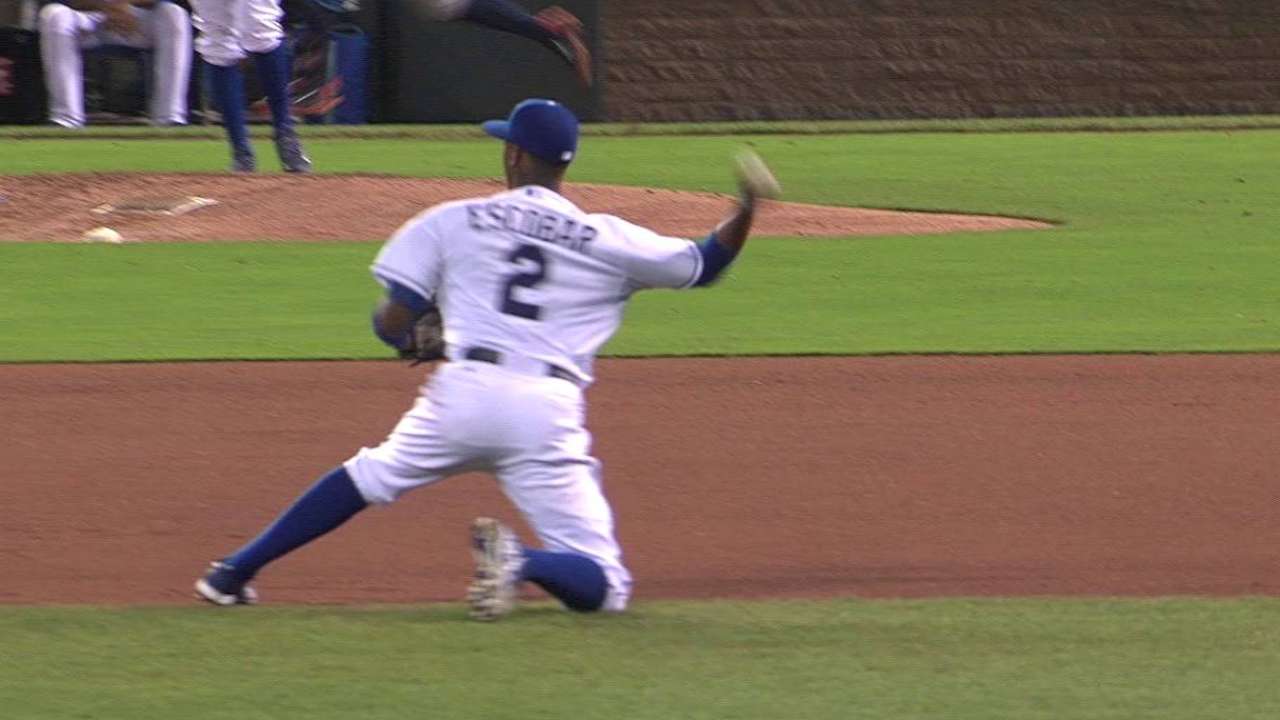 "I didn't think they had any chance to throw him out, and when Dyson made a good throw to Esky I still didn't think they had a chance," Yost said. "I was amazed by the play."
Escobar also made a sensational diving stop off a hot liner from McCann with two on and two outs in the sixth. Escobar snared it on one hop and fired a strike to second for the force.
Asked which defensive play he liked batter, Escobar didn't hesitate: "The diving play. That ball was really hit hard. That was a good play. That guy hit the ball really hard right there. I just throw my glove and try to get the ball and I say, 'Oh, I got it.'"
Later in the seventh, right fielder Paulo Orlando went deep into the right-center gap to grab a drive from Ian Kinsler that likely would have been a two-run triple.
"Huge plays," Yost said. "And there was Sal [Salvador Perez] picking a runner off first. Paulo's play in right was great. They all were pretty good right there. They all changed the game."
Jeffrey Flanagan is a reporter for MLB.com. Follow him on Twitter at @FlannyMLB. This story was not subject to the approval of Major League Baseball or its clubs.