De Fratus not blaming workload for struggles
Phillies reliever confident he'll revert to 2014 form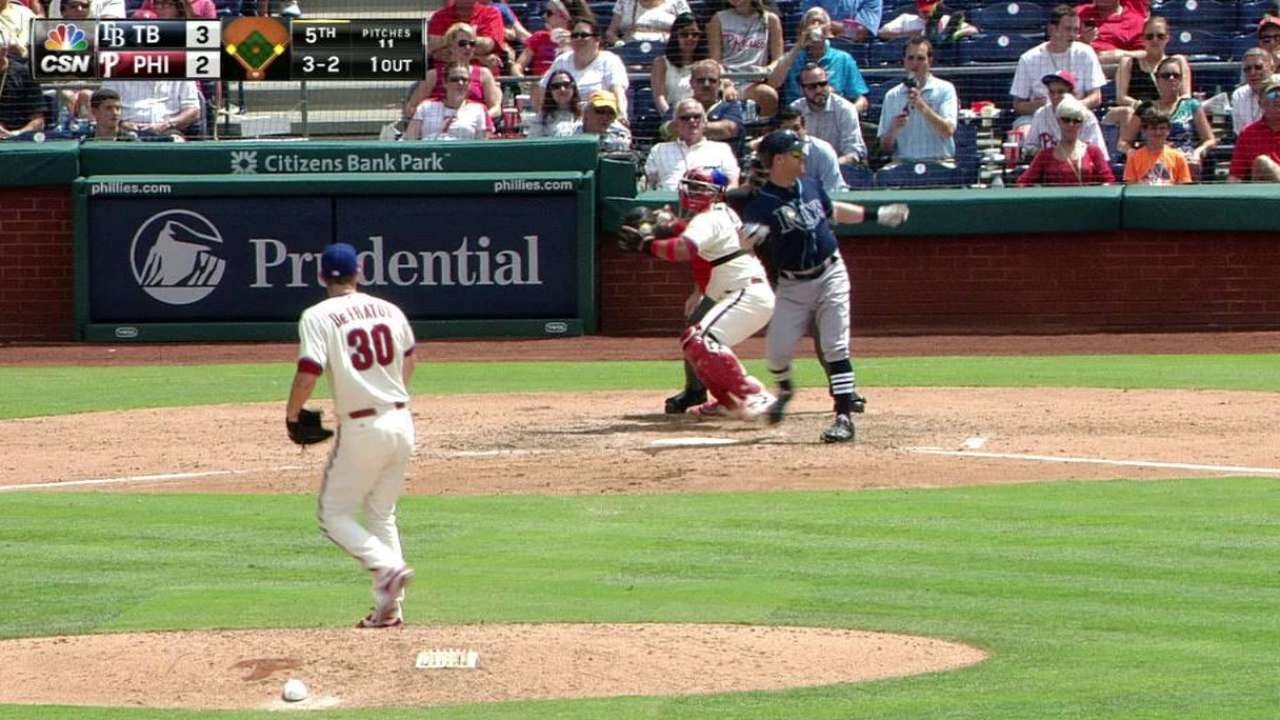 PHOENIX -- Phillies right-hander Justin De Fratus watched video of himself pitching for at least an hour Tuesday afternoon at Chase Field.
He is searching for answers.
He entered Tuesday night's game against the D-backs with a 5.69 ERA in 49 appearances. It is a troubling jump from last year, when he posted a 2.39 ERA in 54 appearances, and from his first four seasons in the big leagues, when he posted a 3.08 ERA in 130 appearances.
"You know what? Maybe it's my year to wear it," De Fratus said. "Baseball has its way of doing things. I don't know. Every bad outing is one closer to the next good one, I guess. I'm trying to stay positive. I'm doing badly, but the team is doing well. I've got to stay positive. It'll turn around. I know what type of pitcher I am. And I think a lot of people do know. It's just a matter of weathering the storm."
"I don't see a tight slider," Phillies interim manager Pete Mackan said Monday, after De Fratus allowed four hits and three runs in 1 1/3 innings. "That makes a big difference."
De Fratus had thrown 61 2/3 innings entering Tuesday, more than any reliever in baseball.
Could he be struggling because of the workload? Is he healthy?
"I feel healthy," De Fratus said. "I don't think there's any excuse for it."
But De Fratus had identified one thing that might help. He said he needs to throw his sinker more frequently.
"I've been throwing pitches that are flatter through the zone," he said. "Other than that you've got to chalk it up to, 'Hey, it's my turn.'"
Todd Zolecki is a reporter for MLB.com. Read his Phillies blog The Zo Zone, follow him on Twitter and listen to his podcast. This story was not subject to the approval of Major League Baseball or its clubs.