Starlin makes great grab in 1st look at 2B
Cubs' 3-time All-Star shortstop impresses off the bench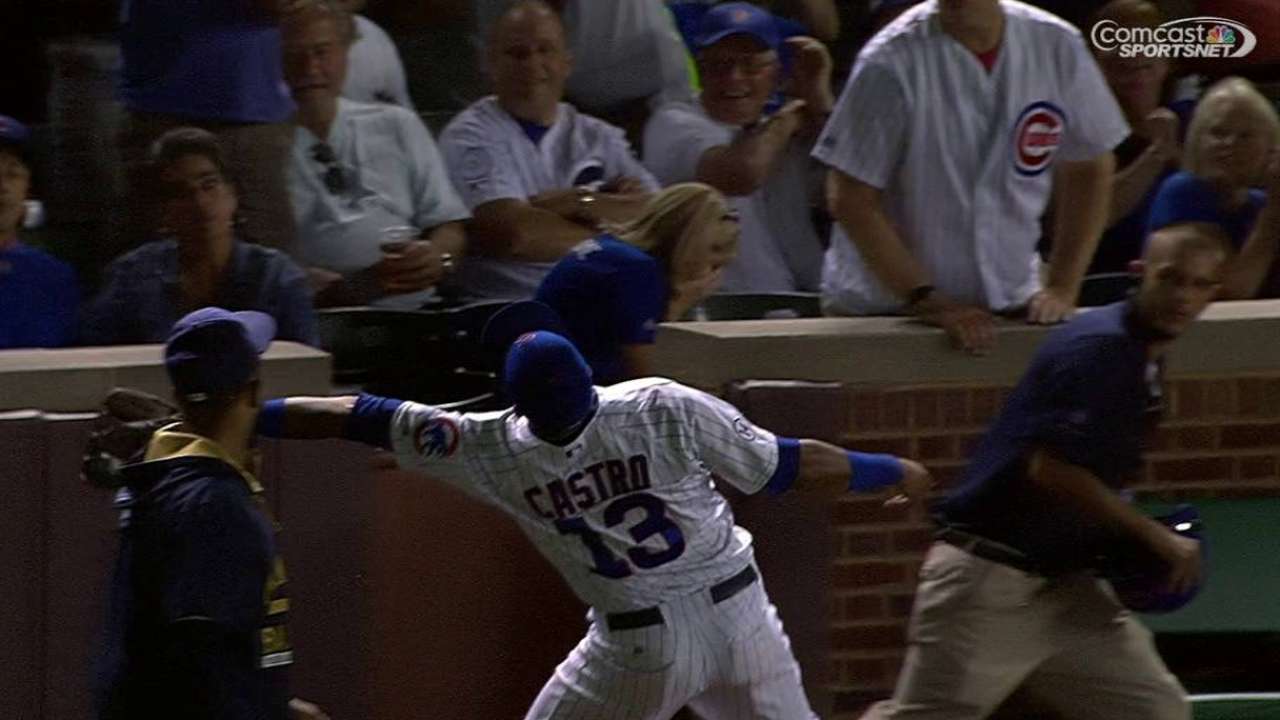 CHICAGO -- If Starlin Castro was upset about moving to second base, he didn't show it Tuesday night. The three-time All-Star shortstop made a highlight-reel catch to help preserve the Cubs' 6-3 win over the Brewers.
"He's a gamer," Anthony Rizzo said of Castro. "He comes in and plays second base -- he looks natural over there. He's not selfish. He's obviously down on himself but he's not going to show it to anyone in this clubhouse."
Castro has been bumped from short because of his struggles at the plate and the emergence of rookie Addison Russell. Before the game, Cubs manager Joe Maddon said he may insert Castro at second, and then did so in the sixth inning. The big play came in the ninth when Castro chased a popup by Elian Herrera into the visitor's bullpen in foul territory for the second out.
"To make that [play] in the bullpen with the crap on the ground and guys flying all over the place and there's no room left and it's night -- it's different," Maddon said. "That was a spectacular play right there."
Castro, who has not started since Thursday, had never played second in the big leagues until Tuesday.
"I don't mind [playing second]," Castro said before the game. "I just want to play. It doesn't matter where they have to put me, I just want to play. I just want to be in the lineup. It doesn't matter if it's second or short. It doesn't matter."
Chris Coghlan started at second on Tuesday, and Maddon has been inserting Jonathan Herrera there in late innings for defensive purposes.
"By playing Jonny over [Castro] in these games is not a slight to Starlin, it's just strategic," Maddon said. "If the game went the other way ... then his bat is available to us."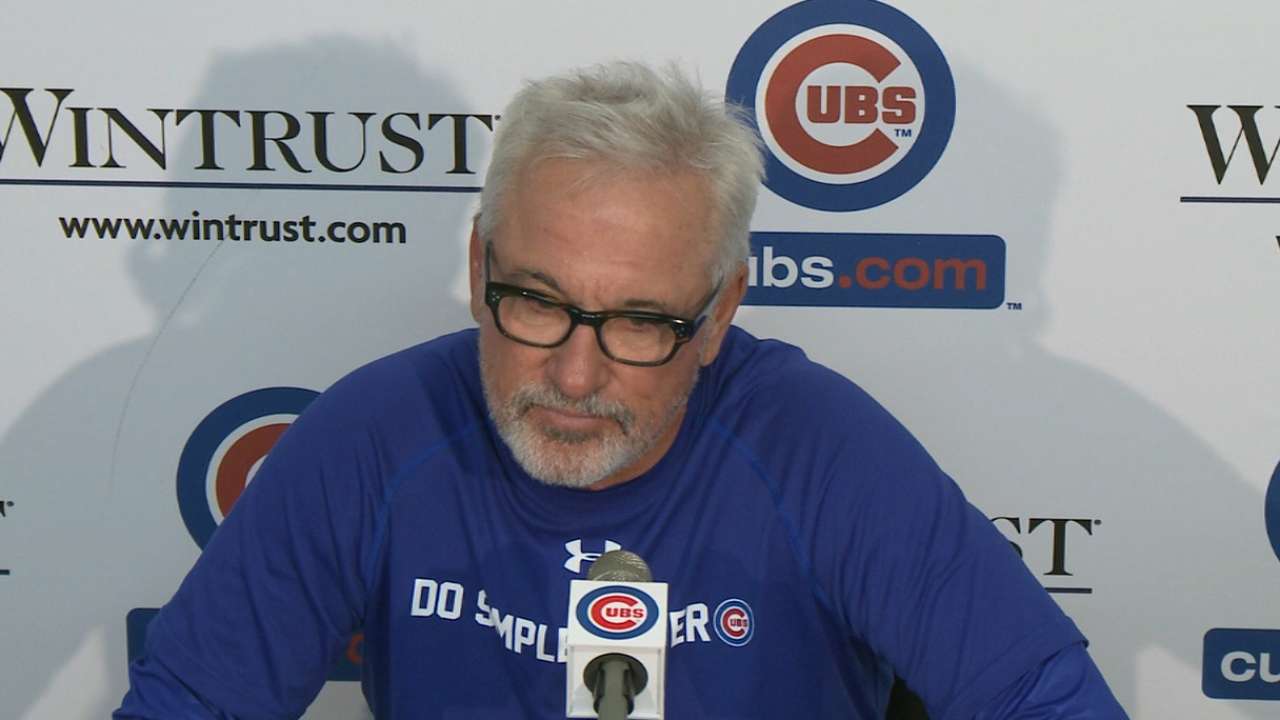 Castro, 25, last played second base in the Minor Leagues in 2008. Maddon hinted Castro could even play third, but that hasn't been discussed with the infielder.
"For right now, I think Addy's done a wonderful job," Maddon said of Russell. "You can see his confidence. He's very confident right now -- he's different compared to the beginning of the season. Just look at his swings, they're much freer, looser. That's a different animal now. ... Right now Addy's looking like the guy everyone thought he would be. ... Starlin, we're trying to get him back on his feet. I have a lot of respect for this young man."
Castro approached Maddon after Sunday's game, which completed the Cubs' four-game sweep of the Giants, to say what a great series it was. Maddon said the gesture was genuine.
Castro's agent, Paul Kinzer, was at Wrigley Field on Tuesday, and said the infielder wants to do what's best for the team. However, Kinzer did suggest a "change in scenery" may be good for Castro, who has made it clear he wants to play his entire career with the Cubs.
"Whatever helps the team to win, no matter what," Castro said of his willingness to move. "We don't think about me, we think about us. It's about the team."
Extra bases
• Catcher David Ross was activated from the bereavement list and outfielder Matt Szczur optioned to Triple-A Iowa. Ross missed three games to attend the funeral of his grandmother.
Infielder Tommy La Stella, on the disabled list since April 9 with an oblique strain, was activated from the DL and optioned to Iowa. He had been rehabbing at Double-A Tennessee.
"Depth is a wonderful thing, and it'll be necessary at some point," Maddon said. "The more we get [La Stella] in baseball shape, get him ready to be here, he'll be able to walk out there and contribute."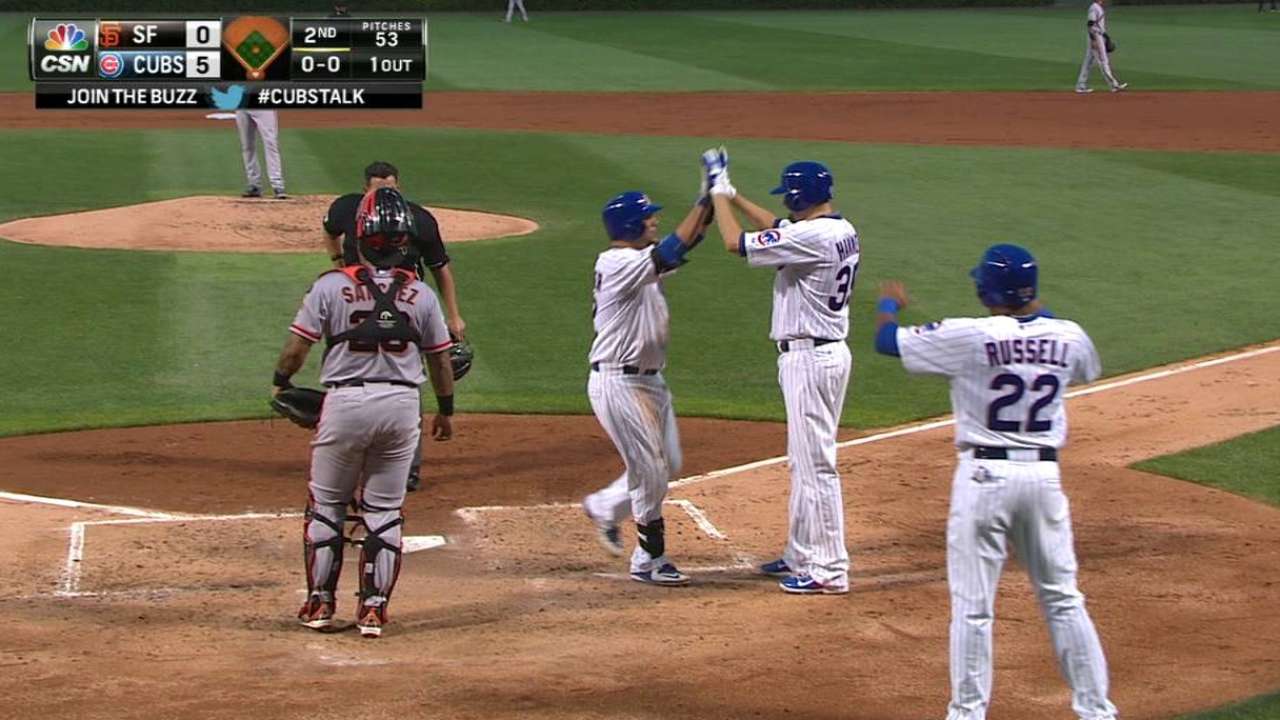 • Rookie Kyle Schwarber's hot bat seems to be affecting his teammates. Schwarber was batting .341 through 28 big league games.
"The youngsters see one of their own playing and swinging the bat as well as he has, and I'm seeing a second wind kind of thing, catching their breath, moving beyond the All-Star moment," Maddon said.
Carrie Muskat is a reporter for MLB.com. She writes a blog, Muskat Ramblings. You can follow her on Twitter @CarrieMuskat and listen to her podcast. This story was not subject to the approval of Major League Baseball or its clubs.