LaRoche battling mental side of DH role
Veteran unable to snap out of season-long slump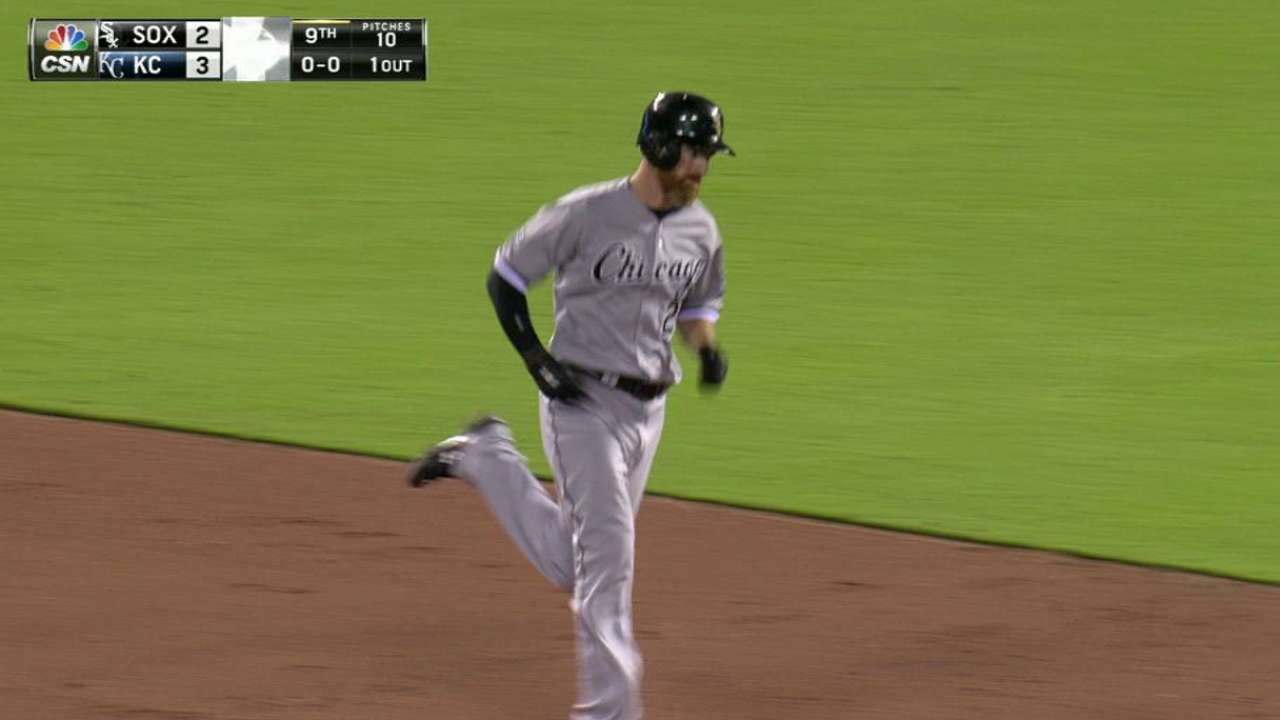 CHICAGO -- There was no official announcement from Robin Ventura prior to Tuesday's game with the Angels that Adam LaRoche had moved into part-time status. But the White Sox manager didn't start the struggling designated hitter at U.S. Cellular Field, and could go to matchups for the immediate future to see where the veteran fits.
"Right now, you can match it up because we have Trayce [Thompson] here," Ventura said. "If we have [J.B.] Shuck back, it might be a little bit different.
"If [Emilio Bonifacio] comes back, it might be a little bit different. But having Trayce, I think we can put him in there, we can get Melky [Cabrera] time as a DH, get him a little bit of rest. So we can move Trayce around in the outfield."
Cabrera moved from left field to DH on Tuesday against southpaw Hector Santiago, with the right-handed-hitting Thompson going to left. The focus remains upon the 35-year-old LaRoche, who has not produced offensively.
LaRoche entered Tuesday hitting .213 with 10 homers, 37 RBIs and a .344 slugging percentage. Ventura gave LaRoche two days off in Boston to regroup, but he has posted a .143 mark in August with one homer and one RBI.
This tough debut with the White Sox has become more of a mental issue than physical, per LaRoche. White Sox hitting coach Todd Steverson agrees with the free-agent acquisition's assessment.
"You check the boxes and when you don't see anything glaring [physically], anything that's like, 'You used to do this and now you are doing this,' it becomes just kind of, 'What's going on? How am I thinking? What's my thought process up here and am I trying to do too much sometimes or am I doing enough?'" Steverson said. "The more you think, the more you blind yourself.
"Hitters tend to think a little more, and obviously when you are not hitting like you want to hit, it gets a little tougher to execute everything you want to execute. For it to not work out like he wants it right now, he's human. It's got to get a little under his skin."
Adding LaRoche via a two-year, $25 million deal was aimed at shoring up the middle of the White Sox lineup and giving protection to Jose Abreu. Neither of those scenarios has played out.
There's also the ongoing adjustment in a Gold Glove first baseman moving primarily to the DH role. That DH role doesn't exactly provide ease for an accomplished hitter trying to get bad at-bats out of his head.
"It's harder to keep your mind off of what you are doing," Steverson said. "When I would go on defense, I worry about each pitch that's coming along. Now, I just roll over a two-seamer to the first baseman, I have 30 minutes to think about why I did it or go watch video to figure out what's he going to throw me next time.
"One of the easiest things he does, which I applaud him for, is he watches the game. So that's part of being into the game, still being able to watch it and take your mind off of a bad at-bat or something like that."
Scott Merkin is a reporter for MLB.com. Read his blog, Merk's Works, follow him on Twitter @scottmerkin and listen to his podcast. This story was not subject to the approval of Major League Baseball or its clubs.