Axford hopes mechanical adjustment ends slump
Rockies reliever allows three runs in Tuesday's loss vs. Mets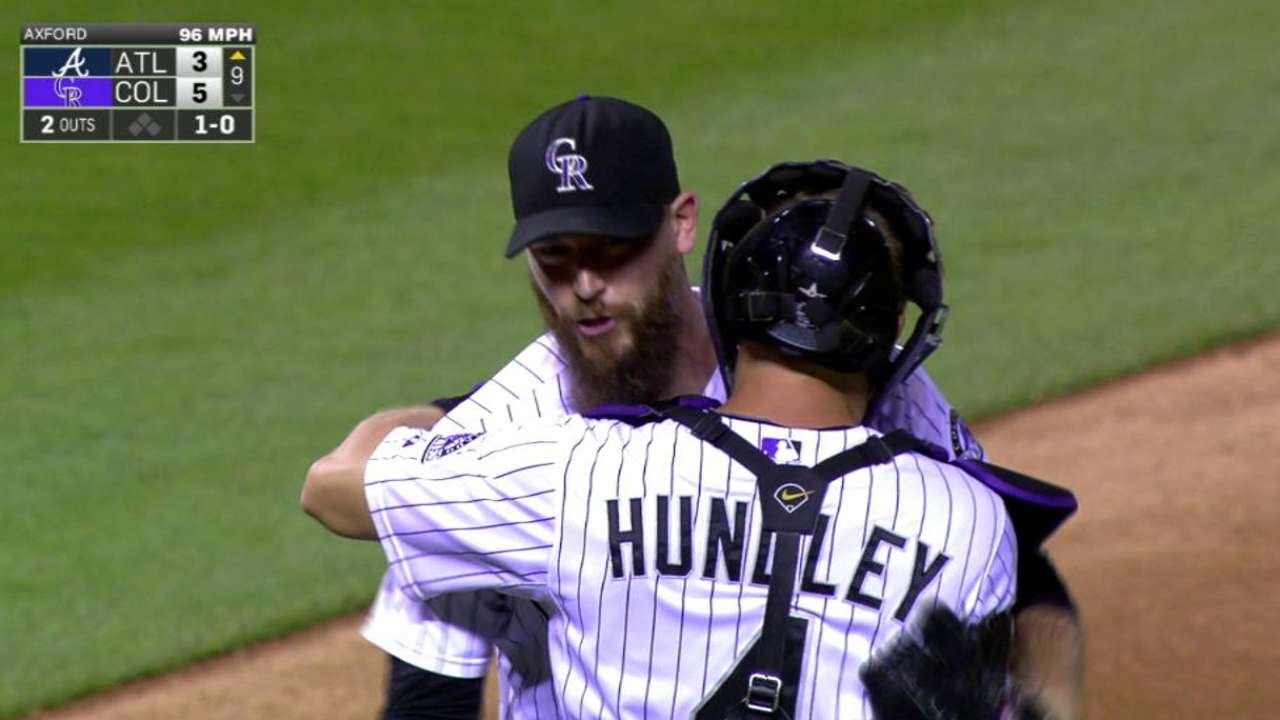 NEW YORK -- Righty relief pitcher John Axford combed the video for every little imperfection that could have led to a slump that cost him the Rockies' closer job. The problem was he thought what he saw was too small.
In his first 20 outings, Axford held opponents to one run and converted all 12 save chances. But in eight outings from July 20 to Aug. 5, he blew four saves and gave up 10 runs in 6 2/3 innings.
Axford threw a scoreless inning in Friday night's 5-4 victory over the Nationals and 1 2/3 scoreless in Sunday's 6-4 win. In the latter, he gave up an Ian Desmond hit and was aided by Carlos Gonzalez's throw to the plate to nail Desmond, but still, the pitches were moving the way they were in the beginning of the season.
However, Axford allowed three runs on one hit and two walks in retiring two batters during the eighth inning of Tuesday's 4-0 loss to the Mets.
With Axford at wit's end, and with his catchers and coaches not seeing any big difference in his motion in real time, the Rockies' video staff uncovered a camera angle that showed a difference. During the bad outings, Axford's left foot was not turned as far outward when it landed.
"I didn't think it was anything," he said. "It didn't really register to me or to them."
In the past, Axford worked through his problems with adjustments to his upper body and arms -- not just the throwing arm but the glove arm, which helps with balance and rotation. But before the start of the past weekend series in Washington, he tested the landing foot theory
"I threw four or five balls to [righty reliever Scott] Oberg, who is my catch partner, and all of them were just perfectly straight -- right at his chest," Axford said. "If it feels good and looks good, that must've been it. I took it out to the mound with me, and my breaking balls were better, my direction was better and I wasn't cutting the ball like I had in the past."
Axford realizes the discovery isn't a guarantee. He's still trying to execute the adjustment consistently. But he found it comforting knowing there was a correctable, mechanical reason.
"I didn't want to do a complete makeover," Axford said. "I had worked so hard to get to where I was at the start of the season, especially on the mental side. I wasn't going to let that falter."
Worth noting
• Rockies right-hander Chad Bettis, currently on the disabled lsit because of right elbow inflammation, faced hitters on Tuesday and is scheduled to join Double-A New Britain on Saturday to begin his injury rehab assignment.
Thomas Harding is a reporter for MLB.com. Follow him on Twitter @harding_at_mlb, and like his Facebook page. This story was not subject to the approval of Major League Baseball or its clubs.