MLB.com Columnist
Bernie Pleskoff
Scouting profile: Keury Mella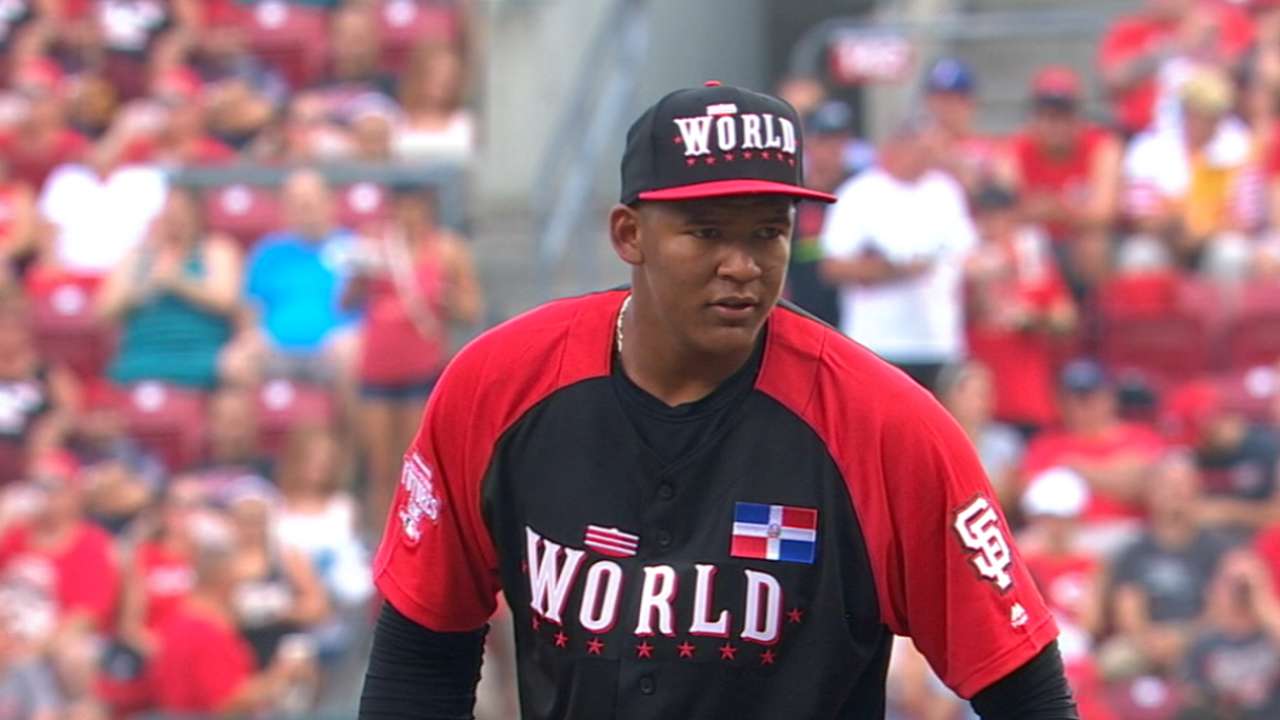 Background
The San Francisco Giants signed right-handed pitcher Keury Mella as an international free agent from the Dominican Republic on Sept. 9, 2011. He was 18 years old at the time.
Responding to their need for a seasoned starting pitcher, the Giants traded Mella to the Cincinnati Reds for right-handed starter Mike Leake.
At the time of the trade, Mella had compiled 272 1/3 innings in San Francisco's Minor League system. He finished his tenure with the Giants this season pitching at Class A Advanced San Jose. Mella had a 5-3 record with a 3.31 ERA and a 1.12 WHIP.
I was able to watch Mella pitch for the World Team in the SiriusXM All-Star Futures Game this past July in Cincinnati. He pitched one-third of an inning, yielding two hits and two earned runs.
Mella is No. 5 on the Reds' Top 30 Prospects list.
Repertoire
The main offering in Mella's repertoire is a much-better-than-average sinking fastball that sits at 92-95 mph. He has the ability to increase the velocity on the pitch, but that comes with a downtick in control. Mella also throws an above-average sharp curveball and an average changeup. He generates lots of swings and misses with all of his pitches.
Using that high-velocity fastball, Mella can occasionally get away with pitching high in the zone. He is at his best when he gets sink on his fastball and keeps it down at knee level.
Mechanics
Given Mella's outstanding repertoire, his mechanics cause a bit of concern. His high three-quarters release point is not smooth. There is a reasonable amount of movement in Mella's across-the-body release. He begins his approach from the first-base side of the rubber in a quasi-stretch position. Mella's hefty legs do lots of work, as they should. But his leg kick is exaggerated. Somehow, everything comes together.
Mella doesn't always repeat his delivery, and he loses command and control in the process. It's almost as if there is excessive pre-pitch movement that allows his arm to arrive late in the delivery equation. It all results in sporadic control and command at times.
Without a doubt, Mella's outstanding fastball and very good secondary pitches can overshadow his issues with command and control. Clearly, three solid pitches mixed nicely in any sequence give the opposition a great deal to think about every at-bat.
Strengths
Mella has the type of loose arm and quick action that can deceive and overwhelm hitters. His high-fastball velocity makes contact a difficult outcome. The pitches down in the zone induce ground balls or weak contact, at best.
With his repertoire, and his excellent fastball in particular, Mella can navigate even the best lineup.
Weaknesses
The 6-foot-2, 200-pound Mella had rotator cuff issues in June 2014. Given Mella's mechanics, he could be at risk for further shoulder injury. He has a very thick trunk, and I believe that adds to stress on his arm and shoulder.
There are certainly times Mella falls behind in the count and to catch up, he has to get more of the plate than he wishes. That's the sequence I saw in the Futures Game.
Mella's secondary pitches are really high quality, but if he depends too much on his fastball, he will lose the advantage the other pitches offer.
I find this interesting
Despite pitching up in the zone at times with his high-velocity fastball, Mella has a miniscule home rate of only 0.3 per nine innings in his Minor League career. However, he has already yielded five home runs this year, the most of his career. Mella has been pitching in the hitter-friendly California League. He has walked an average of 2.8 hitters per nine innings in his career.
The future for Mella
Mella is in an organization that needs him to develop rather quickly as a starter. However, he could also be useful as an arm for the bullpen. Either way, Mella has a bright future.
Mella in a word
Promising.
Bernie Pleskoff has served as a professional scout for the Houston Astros and Seattle Mariners. Follow @BerniePleskoff on Twitter. This story was not subject to the approval of Major League Baseball or its clubs.