Boston's top pick Benintendi stays hot with two-homer game
Red Sox's No. 6 prospect goes yard, makes it three in two games, seven in his first 30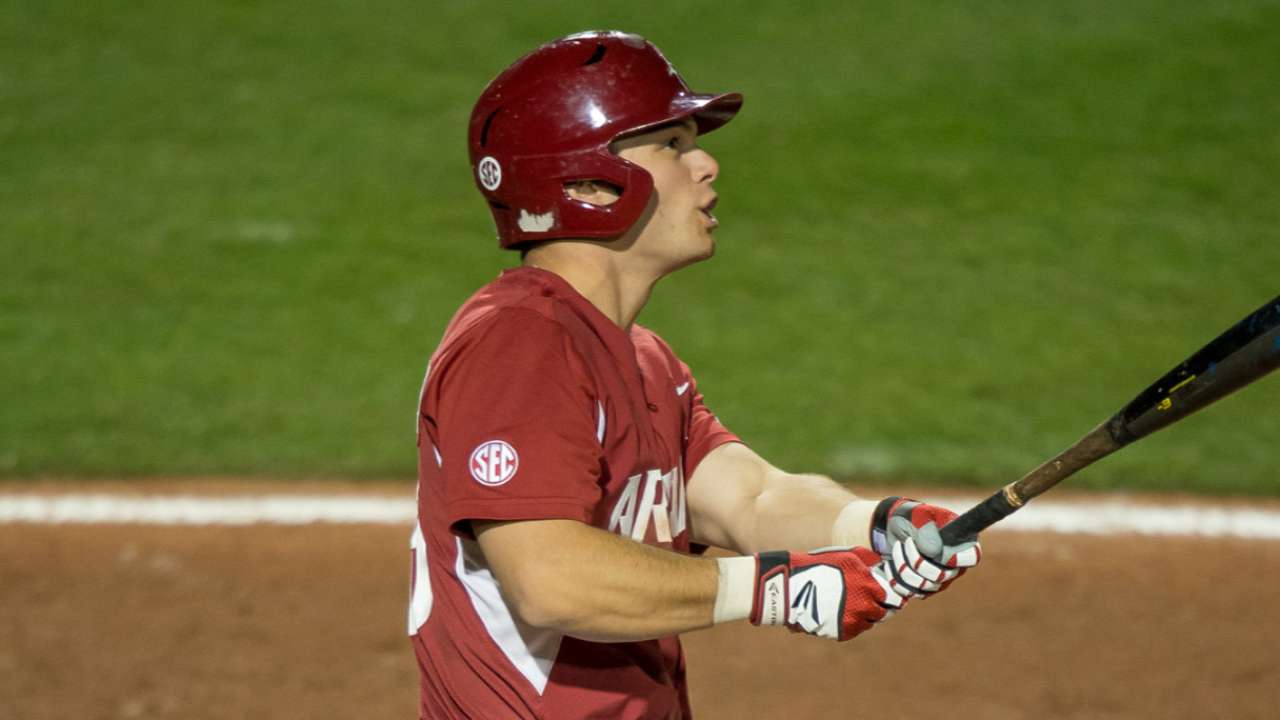 The Red Sox selected outfielder Andrew Benintendi with the seventh overall pick in the MLB Draft this June, hoping the power he displayed in college at the University of Arkansas would translate to the pros. His bat seems to be adjusting just fine.
Benintendi homered twice for Class A Lowell in a 8-4 victory on Tuesday afternoon. He also homered on Monday night, giving him three homers in two games, and seven in his first 30 games in the Minors. On both days, he hit a homer in the first inning.
Beintendi led all NCAA Division I players in home runs (20) and ranked third in slugging percentage (.717) in 2015.
But Boston believes Benintendi brings more than a power bat. He was regarded as the athlete who had the best all-around tools of any college player in the 2015 Draft, and is currently the No. 6 Red Sox prospect and No. 72 overall as rated by MLB.com.
"I'm just trying to hit it hard, really," he told MiLB.com. "Sometimes, homers come in bunches like this, and I'm not going to complain."
Benintendi, who turned 21 on July 6, belted those 20 home runs with 57 RBIs and 62 runs scored in 65 games for Arkansas. That earned him both the 2015 Golden Spikes Award -- recognizing the top amateur baseball player in the country -- and the 2015 Dick Howser Trophy -- college baseball's version of the Heisman Trophy, given annually to the most outstanding player.
"They were trying to stay away early in the count, whether it was with the offspeed or a fastball," Benintendi said to MiLB.com of the difference between college and professional pitchers. "Then, they would bust me in more with two strikes. That was a little different than in college. Here, guys can command the fastball a whole lot more. So now that I'm aware of what they can do, I can focus more on squaring it up and using left field more if they stay away."
Benintendi also batted .376/.488/.717 with 24 steals in college this past season, and led the Razorbacks to the College World Series.
Jamal Collier is a reporter for MLB.com. Follow him on Twitter at @jamalcollier. This story was not subject to the approval of Major League Baseball or its clubs.