Three-run HR punctures Shoemaker's work
Gives up pair of solo shots, but sixth-inning blast breaks it open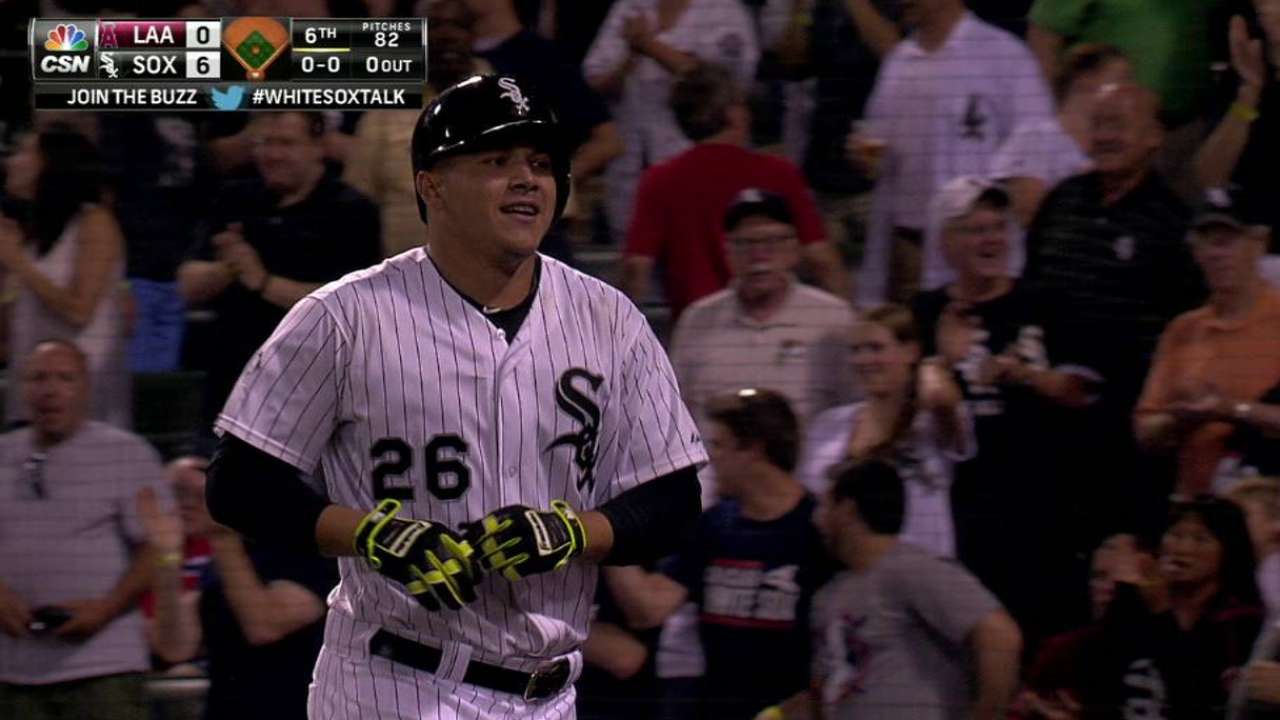 CHICAGO -- Matt Shoemaker allowed two solo home runs on Monday night and the right-hander wasn't fazed. But it was the third home run, a three-run shot in the sixth inning, that had him pounding his glove and frustrated.
Shoemaker, who had his 19-inning scoreless streak snapped in the first inning, was tagged for the loss as the Angels fell, 8-2, to the White Sox. The two-year veteran gave up three home runs for the third time this season after he did so on May 4 and 9.
"Some of the pitches were up," Shoemaker said. "Some of the homers aren't going to hurt you that much. It's just that three-run one kind of got us. If that didn't happen, it could be 3-2 and still in the game."
Shoemaker was tagged for seven earned runs on nine hits, both of which tied season highs. It was a rare hiccup for someone who had been so consistent recently.
Over his previous seven outings, Shoemaker allowed an average of one run a game, including that scoreless streak. He had begun to fall back into the form that made him so effective last season when he was the Angels' third starter in the playoffs.
Shoemaker allowed a sacrifice fly in the first inning, but he bounced back to limit damage over the next four innings. But he left a fastball up in the zone that White Sox outfielder Avisail Garcia it to right field.
"There's no doubt commanding counts was an issue for sure early," said Angels manager Mike Scioscia. "It just seemed like he couldn't get back into that good fastball command again and controlling counts, containing counts."
Added Shoemaker: "If those pitches had been better executed, they would have most likely been outs."
Garcia hit two home runs off Shoemaker -- including the sixth-inning, three-run shot -- and Tyler Flowers knocked a slider just over the fence. But Shoemaker couldn't bounce back in the sixth inning after the three-run shot, putting runners on first and second before being removed.
Still, Shoemaker has proved to be resilient after his toughest starts.
When he allowed seven earned runs on May 21, Shoemaker followed with a combined six runs in his next four starts. And when he allowed five runs in June, he strung together his stretch of seven games.
"My whole focus is to try to go out there and put up zeros," Shoemaker said. "If I do that, then we're going to have a lot of chances to win. Today, I didn't.
"You have to [bounce back]," he added. "These games unfortunately sometimes happen, and when they do, you learn from it and forget about it."
Greg Garno is an associate reporter for MLB.com. This story was not subject to the approval of Major League Baseball or its clubs.