Crush-stache: New look pays off with 30th HR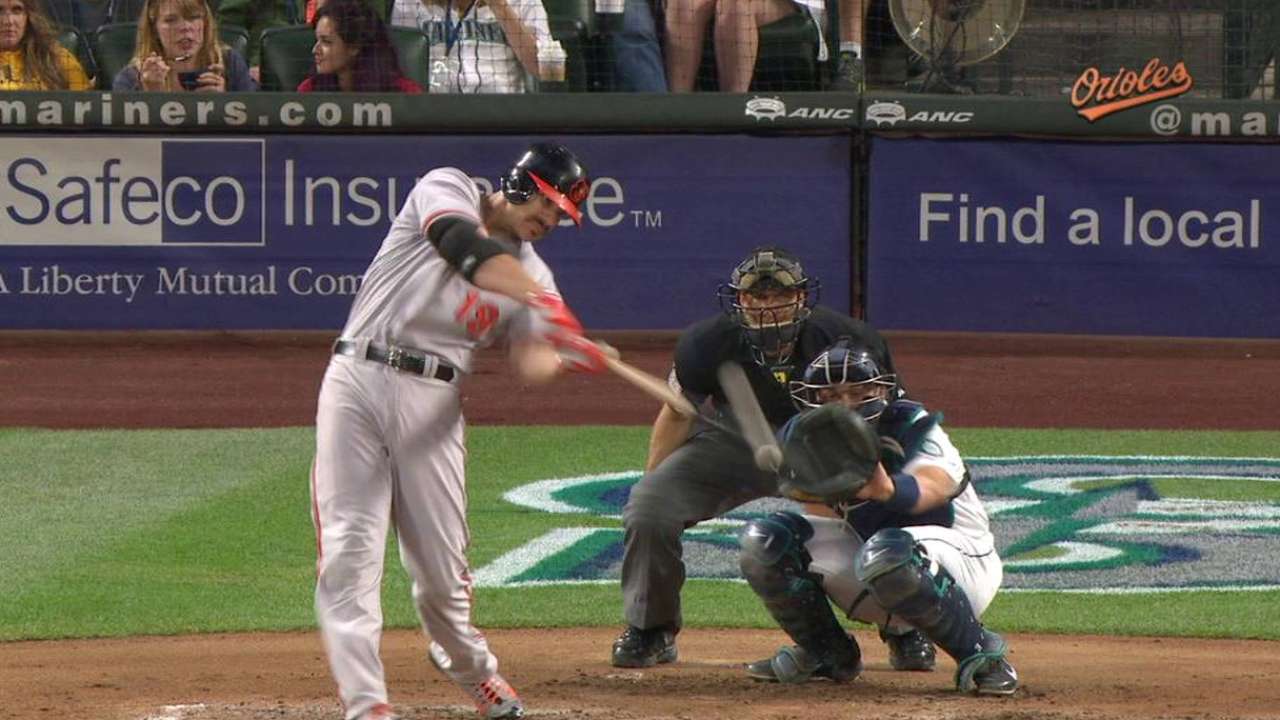 SEATTLE -- Chris Davis is clobbering the baseball again. The Orioles are happy to see it. As for the strip of hair on the slugger's upper lip and the patch below it, well … actually, they might be happy to see that, too.
Davis hit his 30th home run and added an RBI single in his team's 3-2 win over the Mariners at Safeco Field on Monday night. And all of this was done on the first day of his new mustache, grown to circumvent the beard-proof Baltimore team rules and also to provide some clubhouse humor.
Several missions accomplished.
"We can't grow luscious beards," Davis explained of his 'stache strategy, as mapped out in New York recently after a conversation with reliever Darren O'Day.
"I was pushing the limits for a while with, I guess, the 5 o'clock shadow beard, if you want to call it that. I didn't want to completely shave, and I was looking for something to kind of loosen everybody up, maybe something to get us going, so it looks like this will be around for a while."
The same can be said for the swing that netted Davis 53 homers two years ago and appeared to abandon him at times last season. Monday's heroics gave Davis an eight-game hitting streak in which he's batting .357 (10-for-28) with five homers, 11 RBIs, two doubles, nine runs scored, five walks and a stolen base. Monday's blast gave him 30 homers in three separate seasons with the Orioles.
"His contact-to-damage ratio has been real good," Orioles manager Buck Showalter said. "And his exit velocity, all those things."
Looks like the 'stache, called the "State Trooper" by teammate Adam Jones, will stay put for the time being.
"Yeah, I'm not gonna shave it now," Davis said. "And it looks great, too, so I've got that going for me."
Showalter didn't offer any such aesthetic assessments but admitted that sometimes you have to do what you have to do.
"I had one," the skipper said. "Check out the Cape Cod League pictures."
Doug Miller is a reporter for MLB.com. Follow him on Twitter @DougMillerMLB. This story was not subject to the approval of Major League Baseball or its clubs.