MLB.com Columnist
Phil Rogers
Angels jostling for position in tight AL West
Division, Wild Card battles with Astros, Rangers heating up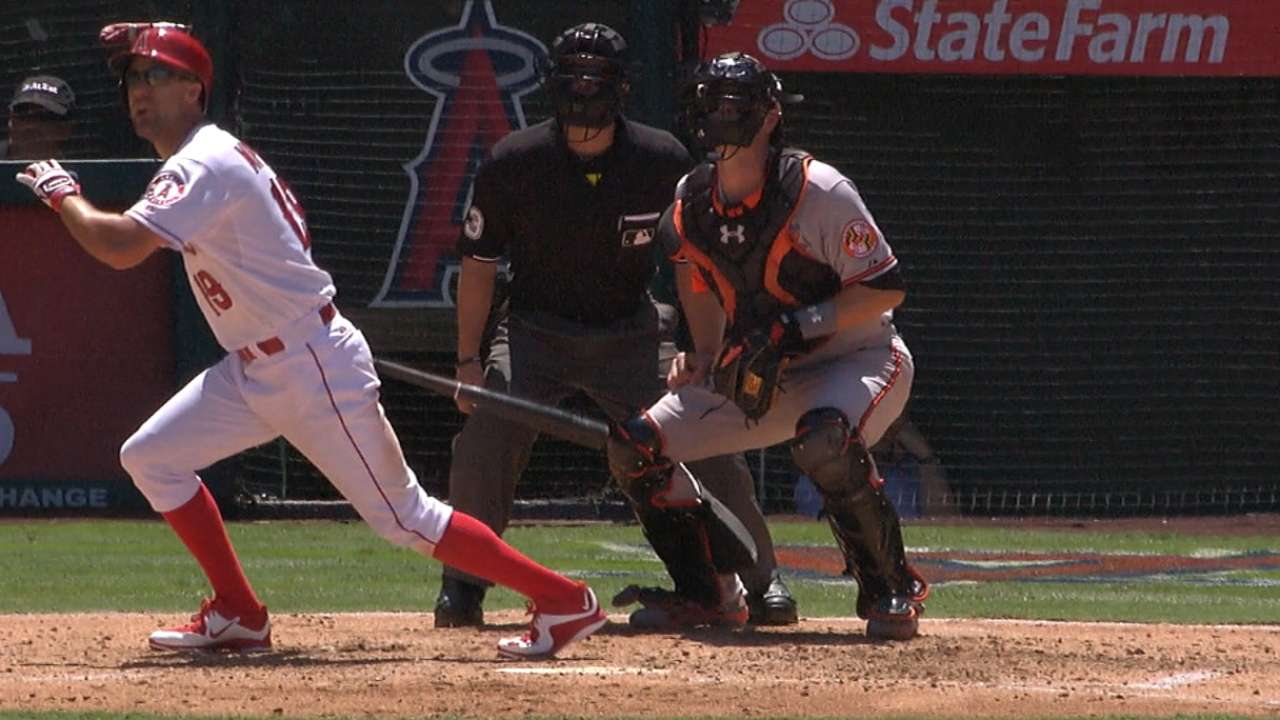 CHICAGO -- They've got Mike Trout and Albert Pujols on pace to hit 40-plus home runs, yet they're not consistently scoring runs. Left field has turned into one of baseball's biggest black holes, and their trio of Trade Deadline acquisitions is hitting a combined .175.
No, these aren't the 2014 Angels.
A season after leading the Major Leagues with 98 wins, Mike Scioscia's team finds itself in a dogfight with the Astros and surging Rangers in the American League West. The Angels have to finish strong to make it into October, either as a division champ or one of the two AL Wild Cards, but one of the beauties of sports is the reset between the regular season and the postseason.
As vulnerable as they've seemed, if these Angels can experience one champagne shower, they just might be drowning in it by the time November gets here.
A long postseason run would be the perfect bounceback to last fall, when the Wild Card Royals used two extra-inning victories to sweep the top-seeded Halos in the AL Division Series.
"We're going to keep grinding,'' Scioscia said on Monday. "Last year certainly wasn't a cakewalk. We had to grind. I'm not going to jump ahead and talk about anything more forward than tonight's game, because we've got a long ways to go, and if you want to get to your goal, you have to grind and play well. That's what we're going to focus on. I hope your [premise] is relevant at some time, but right now we're not going to even think about it.''
No one's road to recovery should go through Chris Sale, and that was what the Angels faced in the opener of a three-game series. He answered any questions about a recent downturn of his own by holding the Halos to two runs over 7 1/3 innings, striking out seven, and carrying the White Sox to an 8-2 victory.
Who knows what to make of the AL West? There's eight weeks to go and the top three teams are separated by 4 1/2 games.
Those top three teams, of course, include the Astros, who have had a top-two Draft pick each of the past four years, and the Rangers, who lost 95 games last season as they continued to deal with the lingering disappointment of not putting away the 2011 World Series.
Astros manager A.J. Hinch has done a marvelous job guiding the talent he was given by Jeff Luhnow and his staff in Houston. The Astros got off to an 18-7 start and picked up talent along the way, adding impact pieces in Carlos Correa, Lance McCullers and Preston Tucker, among others.
When we thought Houston might come to earth after the All-Star break, the club won six of the first seven in the second half. But like the other teams out West, the Astros have had extended cold streaks, too. The latest was the 1-6 West Coast trip that ended with Luke Gregerson's blown save on Sunday, after Colby Rasmus' three-run homer had put Houston ahead in the top of the ninth.
Losses like that leave a mark.
Despite a recharged Prince Fielder, the Rangers opened the season 7-15. They've been up and down since then, but the recent trend is decidedly up, with a trade for Cole Hamels and sweep of the Astros turning back the clock inside the clubhouse and in the Globe Life Park in Arlington stands.
"There's a long way to go,'' Scioscia said. "You need to take care of your own house, how you're playing the game. That's how we look at it. We really like our team. I think our team has the potential to [continue to] do some of the things we did during the summer, hopefully on a more consistent basis. … I will say I think we're a good team, we've gotten better as the season has gone on. Hopefully, we can keep that going.''
A win by the Angels on Monday would have moved them percentage points ahead of the Astros, who at one point had led the AL West by seven games. Instead they fell one game back and kept searching for ways to get production from a lineup that unraveled after Howie Kendrick was traded to the Dodgers and Matt Joyce was unable to follow up on a Spring Training that suggested he would be a solid replacement for Josh Hamilton.
Rather than trade for one of the right-handed run producers on the market, like Yoenis Cespedes and Justin Upton, the Halos imported left-handed-hitting veterans in three relatively minor trades.
Shane Victorino, David Murphy and David DeJesus came from Boston, Cleveland and Tampa Bay, respectively, and thus far have done nothing to convince Scioscia that shortstop Erick Aybar (.658 OPS) isn't his best option as a No. 5 hitter.
While the Angels led the Majors with 4.8 runs per game last season, they entered Monday 11th in the AL with only 4.2 per game. They've been completely dependent on Trout and Pujols, who respectively project to 48 and 44 homers.
When you've got two guys like that, you've got a chance to have a special season. That hasn't been enough so far, but it's getting down to the time of the season when heroes are found.
David Freese was one in St. Louis, and he could be back in the Angels' lineup within a week. Maybe Victorino will get hot, like he did in Boston in 2013. Maybe Johnny Giavotella will go on a tear, showing why he went through the Royals' system step for step with guys like Eric Hosmer and Mike Moustakas. Maybe C.J. Cron will start to mash like he did working his way up in the Halos' organization.
It's getting to be show-and-tell time, and there's a big story left to be written in the AL West.
Phil Rogers is a columnist for MLB.com. This story was not subject to the approval of Major League Baseball or its clubs.