Chen's gem a good sign for playoff-hungry O's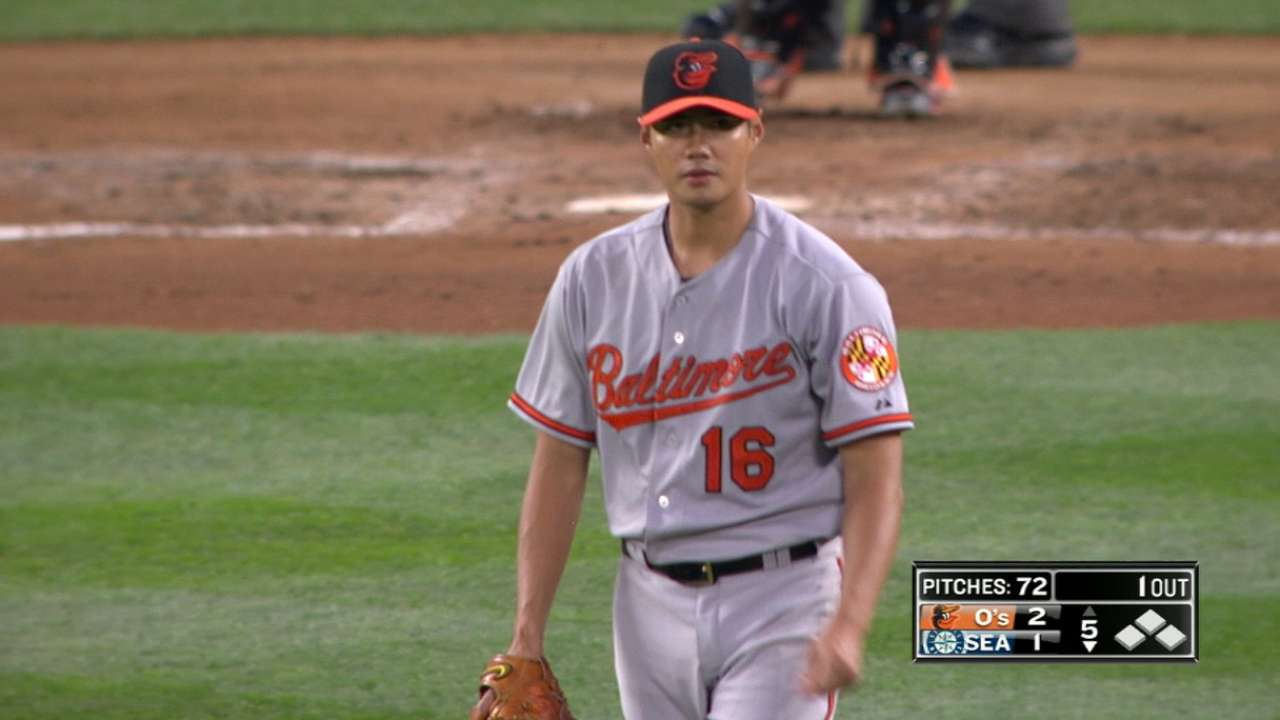 SEATTLE -- The Orioles haven't started rolling yet, but they're far from out of the playoff picture in the competitive American League East. They're going to need solid starting pitching to make a late-season run, and they'll need Wei-Yin Chen to help out in that department.
On Monday night, the left-hander did his part and maybe a bit more. After two outings that weren't his best, Chen rebounded with one of his better efforts of the season, shutting down the Mariners in a 3-2 win. He went 7 1/3 innings, helping out a taxed bullpen, and gave up only one run on three hits while striking out five.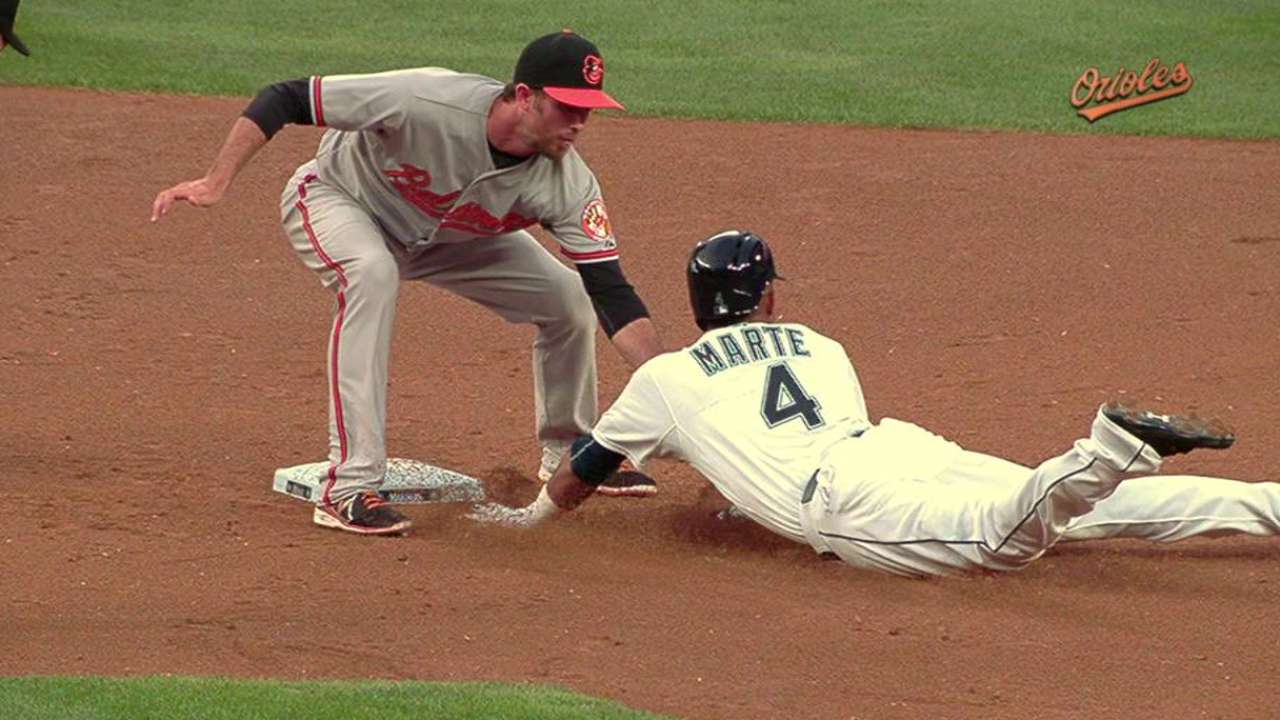 It was a welcome return to top form after a 3 1/3-inning, six-run outing against Detroit on July 31 and a five-inning, three-run stint in Oakland last Tuesday. And for Chen, the explanation for the change in results was relatively simple.
"I think it's the mental aspect of the game," Chen said through an interpreter. "In the previous starts, I kept thinking about my mechanics, this part or that part, if it went wrong or not. But today I was just focused on the hitter I'm pitching to. I didn't want to overthink it. And I think it worked pretty well."
It added up to another excellent road start for Chen, who has allowed three runs or less in all 10 of his starts away from Camden Yards this year and improved his road record to 3-2 while lowering his ERA away from Baltimore to 2.90.
Even better numbers for the Orioles: Chen throwing a season-high 111 pitches and hitting 94 mph on the Safeco Field radar gun with some of his final fastballs.
"He's had our number this year. He's thrown the ball extremely well, and tonight I thought he was locating extremely well," said Mariners manager Lloyd McClendon of Chen. "He pitched in effectively, mixed in a few breaking balls, short-arming that fastball. It really got on us quite a bit. He did a nice job."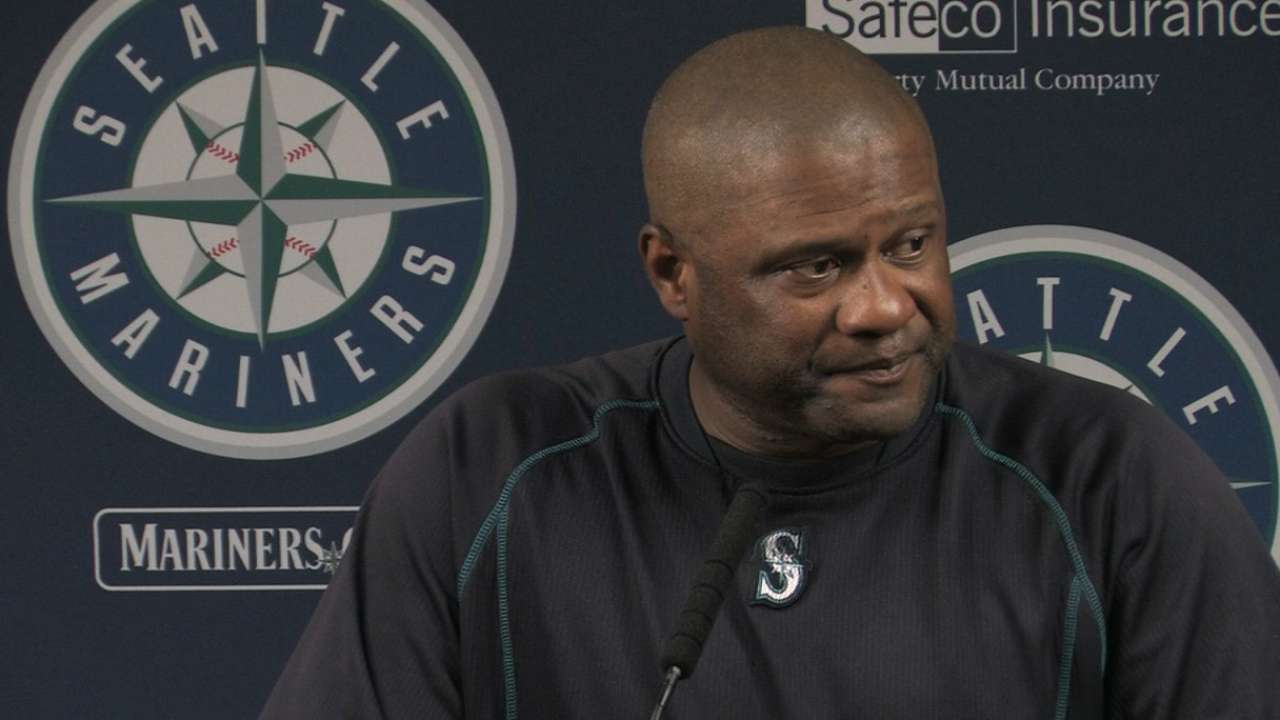 "He got stronger as the game went on," Orioles manager Buck Showalter said. "The late life was there and the depth to his breaking ball. That's about as much depth as he's had on his breaking ball. … You give good catchers those things to work with and they can make it work."
The Orioles improved to 57-54 and are only 4 1/2 games behind the first-place Yankees in the AL East and two games behind the Angels for the second AL Wild Card. This season is far from over, and Showalter and the rest of the Baltimore club realize that they're going to need consistent, quality starting pitching to set the tone for sustained success on the remainder of the regular-season schedule if they're to make another October appearance.
That's why they were excited about Chen on Monday.
"I thought Wei-Yin was awesome for us tonight," first baseman Chris Davis said. "I looked up and it's the eighth inning and he's still out there. You applaud him for his performance, and we've just got to keep grinding."
Doug Miller is a reporter for MLB.com. Follow him on Twitter @DougMillerMLB. This story was not subject to the approval of Major League Baseball or its clubs.