Wright singles as DH in first rehab game
Mets' captain scheduled to play third base on Tuesday for St. Lucie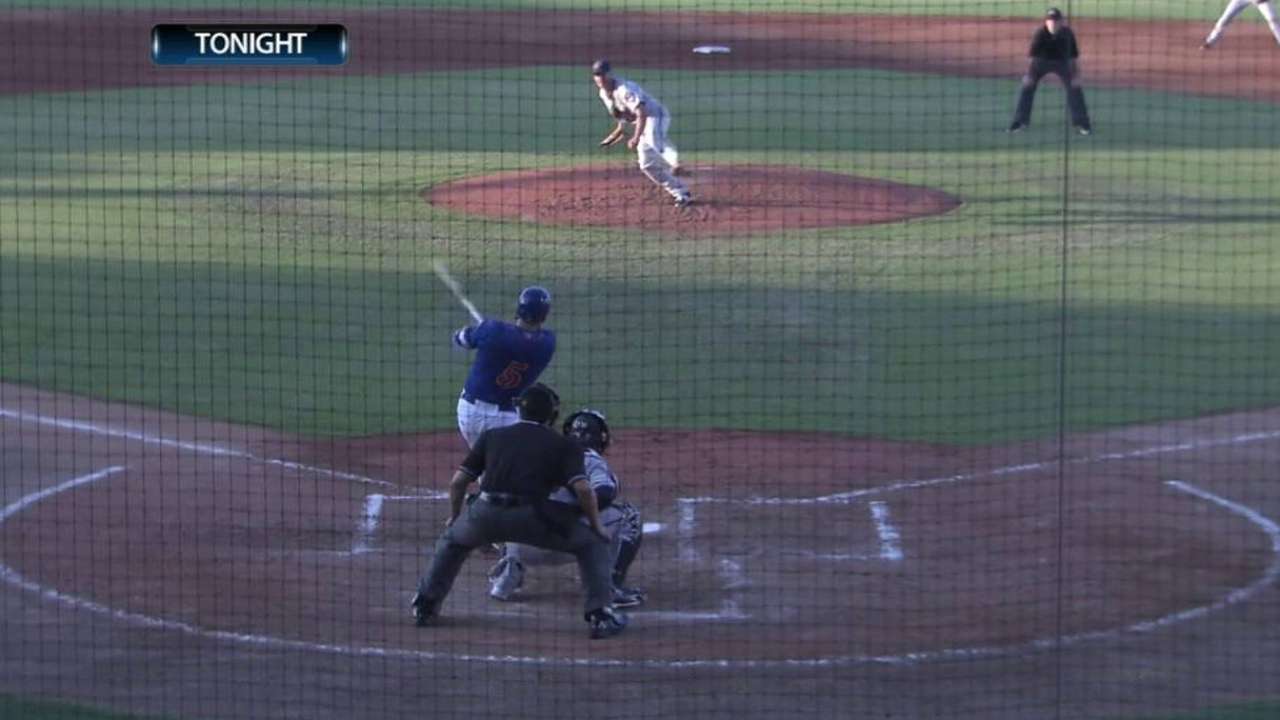 NEW YORK -- When asked about the various injured players on his roster, Terry Collins typically insists upon worrying solely about the 25 men who are healthy. Yet even Collins admits to a certain curiosity about third baseman David Wright, who went 1-for-3 with a walk and a run scored in his rehab debut Monday for Class A St. Lucie.
"I know how important David is to this team, and yes, I'll be reading the reports on him," Collins said before Monday's 4-2 win over the Rockies. "But the energy level has to be with the 25 guys who are here. That's what the primary thing is. And if they tell me David Wright's ready, then he'll become part of that mix."
Though no one can say for certain, Wright has estimated he will need around 30 Minor League plate appearances before he is ready to rejoin the Mets for the first time since April. The first four of them came Monday against the Fort Myers Miracle, though perhaps a more significant test will occur when Wright wakes up Tuesday and gauges how he feels. Beyond the successful box score line in Monday's game, Wright also showcased his health by going first to third on a single.
"It was great to get back out there with teammates," Wright said. "Just to be on the field again felt good. A lot of what I did was just instincts taking over, which is good. [Tuesday] will be a good test. I'm looking forward to it, but, I'm not going to go too crazy."
Wright will return to the field for his debut at third base on Tuesday, and should continue playing for Class A St. Lucie at least through early next week. At that point, barring setbacks, the Mets will reassess his situation and decide his next step.
"Right now, I have no idea how long it's going to take," Collins said. "I have no idea how he's going to feel. So to sit every night and wait to see how the report is on David Wright, I'm taking away something that needs to be centered on what we're doing. I talked to David yesterday for a while and I said, 'Just be smart about how you're going about this.' So we'll find out. Each day it will be fun to find out how he's doing."
Wright's next step from Florida could be straight to the big leagues, which would certainly thrill the Mets. They have been without their captain since April 14, when he strained his right hamstring and subsequently learned he was suffering from spinal stenosis. Wright will need to manage that condition for the rest of his career, and will not play every day upon his return.
"I know there are still some steps for me to go," he said. "But it gets me pumped up to try to help those guys out because they are playing great baseball."
Anthony DiComo is a reporter for MLB.com. Follow him on Twitter @AnthonyDiComo and Facebook, and listen to his podcast. This story was not subject to the approval of Major League Baseball or its clubs.