Rea 'nervous and excited' for first MLB start
SAN DIEGO -- Padres top pitching prospect Colin Rea was in the clubhouse before Monday's game against the Reds, just trying to take in the moment before he takes the mound Tuesday for his first Major League start.
Rea will take over for Odrisamer Despaigne, who was originally scheduled to start. The right-hander from Cascade, Iowa, was drafted by San Diego in 2011 in the 12th round out of Indiana State University.
The 25-year-old made an appearance in the All-Star Futures Game on July 12, after starting the season with a 1.08 ERA, 60 strikeouts and 11 walks in 75 innings (12 starts) for Double-A San Antonio. He was promoted to Triple-A El Paso in early July and had a 4.39 ERA in six starts there.
"It's been a pretty crazy season so far, being in Double-A, getting my feet wet there and then coming to Triple-A and now being here. It's been a great experience overall so far," Rea said.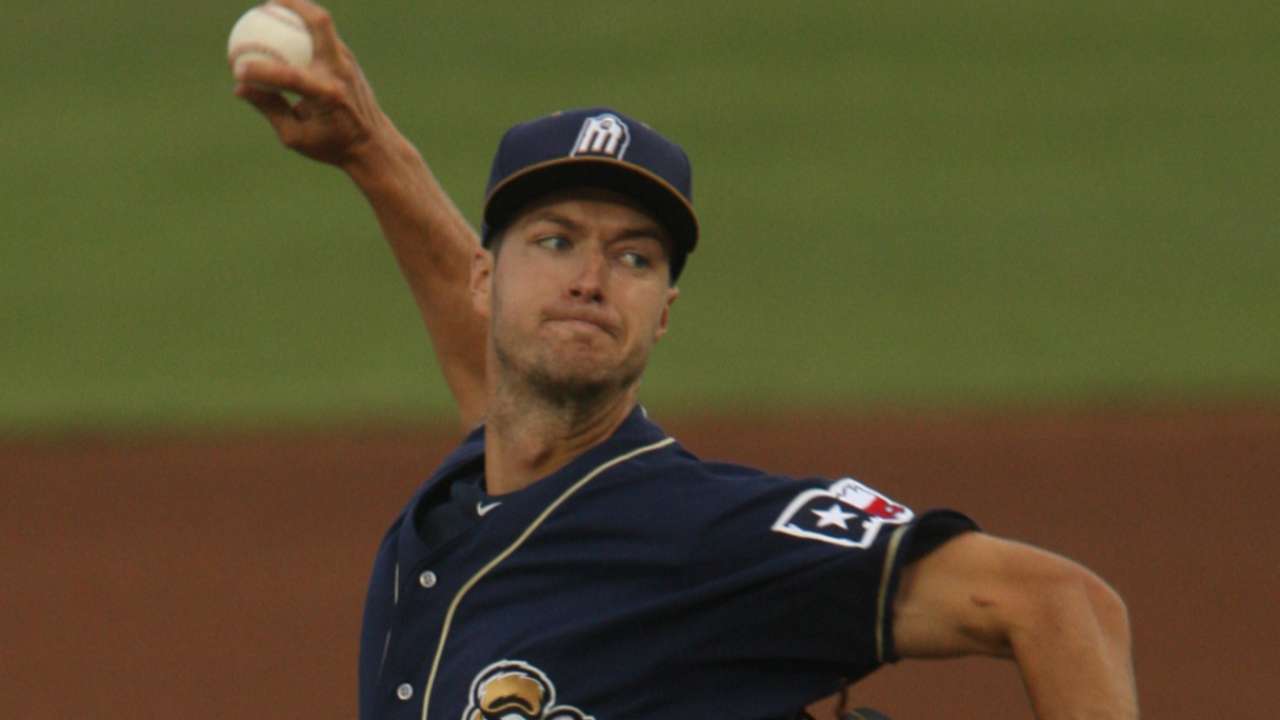 Rea will have family and friends in attendance Tuesday at Petco Park to watch his debut. In the meantime, Rea has been trying to stay focused and getting advice from fellow pitchers such as Brandon Morrow and Andrew Cashner.
"I am obviously nervous and excited at the same time," Rea said. "I just want to go out there and compete. Just kind of take it like another start and do whatever I can to help the team win."
Rea was going for a stroll Saturday to get some breakfast when he ran into Triple-A El Paso manager Jamie Quirk, who broke the news to him.
"He pulled me aside and said, 'I need to talk to you about something.' And it didn't really sound that good, to be honest," Rea said. "He said, 'We are going to scratch you from tonight's start' ... then he told me the reason why. I was pretty emotional and kind of sat in silence for the first two minutes."
Rea first called his wife, Megan, who Rea joked had a bunch of questions he didn't have answers to. He then called his family to share the excitement.
Assistant general manager Josh Stein said Sunday that Rea's velocity had picked up the last couple of years and he's achieved better command of his fastball. Stein added Rea's development physically and increased confidence led to him getting the call for Tuesday.
Interim manager Pat Murphy said the key for Rea will be executing and making sure he stays calm.
"We are not going to let him out there to dry, but he's been starting all year and he's in shape to go as long as he needs to go," Murphy said. "[We are] not going to put a limit on it; it's his first Major League start you know, so you have to be mindful of that and all the things that come with that."
Beth Maiman is an associate reporter for MLB.com. This story was not subject to the approval of Major League Baseball or its clubs.