MLB.com Columnist
Mike Petriello
More to Blue Jays' streak than Tulo, Price
Toronto's 2.60 ERA over past 30 days is best in American League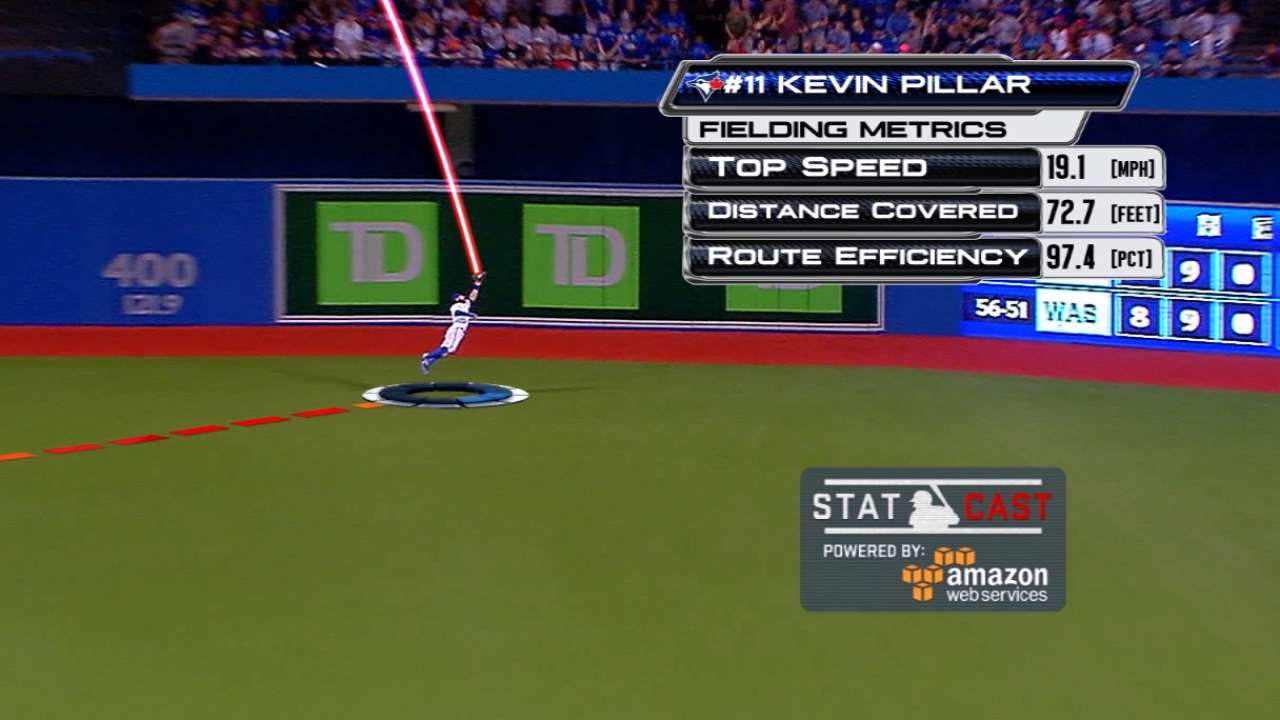 No team rocked the baseball world at the Trade Deadline like the Blue Jays did when they acquired Troy Tulowitzki and David Price, among others. Since Tulowitzki made his Toronto debut on July 29, the red-hot Jays have won 10 of 11 games, coming from seven games behind the Yankees in the American League East to a mere 1.5 games out, with New York coming to Canada for three this weekend. Tulowitzki has already hit three homers, and has a 136 Weighted Runs Created Plus. Price has allowed just one run in his first 15 innings with the team. There's obviously a clear cause-and-effect between the two huge deals and the team's surge … right?
Somewhat, but perhaps not as much as you'd think. For all the well-deserved hype over what Price and Tulowitzki have added -- and they have each indeed been great -- this isn't just a story about two superstars riding in to save the day. This is the tale of arguably the AL's most talented team finally waking up; after all, despite a middling record, they've had the AL's best run differential for most of the season.
Take, for example, the pitching staff. It's irrefutable that the 15 innings Price took from Felix Doubront or whoever else may have been on the mound instead represent a clear upgrade. But those 15 innings are only slightly more than six percent of the 218 frames the team has thrown over the last 30 days, dating back weeks before Price arrived, and look what's happened:
Lowest team ERA, past 30 days
1. Cardinals, 2.41
2. Blue Jays, 2.60
3. Mets, 3.27
That's more than just about Price or Tulowitzki. So, how has that happened? The Blue Jays have made two real tangible changes that have helped their pitching staff stand aside that incredible offense.
1. The defense has been hugely improved.
For most of the season, the starting shortstop was Jose Reyes (-9 Defensive Runs Saved, -7.8 UZR/150). Chris Colabello (-14 DRS, -44.4 UZR/150 overall in the outfield) and Danny Valencia (-3 DRS, -8.6 UZR/150) are still the two Blue Jays with the most starts in left, with Colabello picking up 13 more in right. Throw in Ezequiel Carrera (-10 DRS, -7.6 UZR/150), and the Jays have had the worst left-field defense in baseball, were in the bottom third in right, and were merely middle of the pack at shortstop.
But so much has changed. Reyes is off in Colorado, replaced by Tulowitzki, who has been an above-average shortstop for years. Valencia's in Oakland. It's been nearly a month since Colabello saw the outfield. Carrera has made just four starts in the last three weeks. Ben Revere, another Trade Deadline acquisition, is a recent defensive upgrade in left. And Kevin Pillar, arguably baseball's most underrated defensive center fielder, has been a rock all year.
No, really: Among all outfielders, only Tampa Bay's Kevin Kiermaier has a higher DRS ranking than Pillar. Looking at the Statcast™ leaderboards, Pillar's average top speed of 12.62 mph is about identical to Mike Trout and better than Jason Heyward; his average distance covered of 51.09 feet is better than Christian Yelich (50.9) or Andrew McCutchen (46.82 mph). His offense has been inconsistent, but this team doesn't need offense. They need this:
After a 2014 season when the outfield finished in the bottom third of DRS thanks in large part to indifferent contributions from the departed Colby Rasmus and Melky Cabrera, a defensive improvement was absolutely necessary. Now, with Revere and Pillar next to Jose Bautista, they have that.
2. R.A. Dickey looks like it's 2012 again.
Dickey's first two years in Toronto were somewhat underwhelming compared to his 2012 Cy Young campaign in New York -- a year that cost the Jays Noah Syndergaard and Travis d'Arnaud in trade -- and 2015 wasn't off to a much better start, with a 5.77 ERA / 5.66 FIP through the end of May. But in late May, Dickey began working with pitching coach Pete Walker on mechanical changes intended to change the motion of his hips and increase his velocity.
You might say it worked. Since June 1, Dickey's ERA is an excellent 2.59, with a still good 3.84 FIP. As the velocity on both his fastball and knuckleball jumped 2 mph, his strikeouts have increased and his exit velocity against has fallen from 88.35 mph to 87.26 mph. He's quietly been one of the best starters in the AL for two months, and he's allowed only six earned runs in his last six starts.
The Blue Jays aren't going to quite keep this up for the rest of the season. Then again, help may be on the way. Marcus Stroman, who blossomed into something resembling an ace in his rookie season last year before injuring his knee in spring training, has reportedly been making great progress in his rehab and could potentially rejoin the team before the end of the year, if even only as a reliever. He'd potentially be an incredible boost to a team that right now hardly looks like it needs one.
Mike Petriello (@mike_petriello) is an analyst for MLB.com. This story was not subject to the approval of Major League Baseball or its clubs.