Jones sets tone for Orioles' defense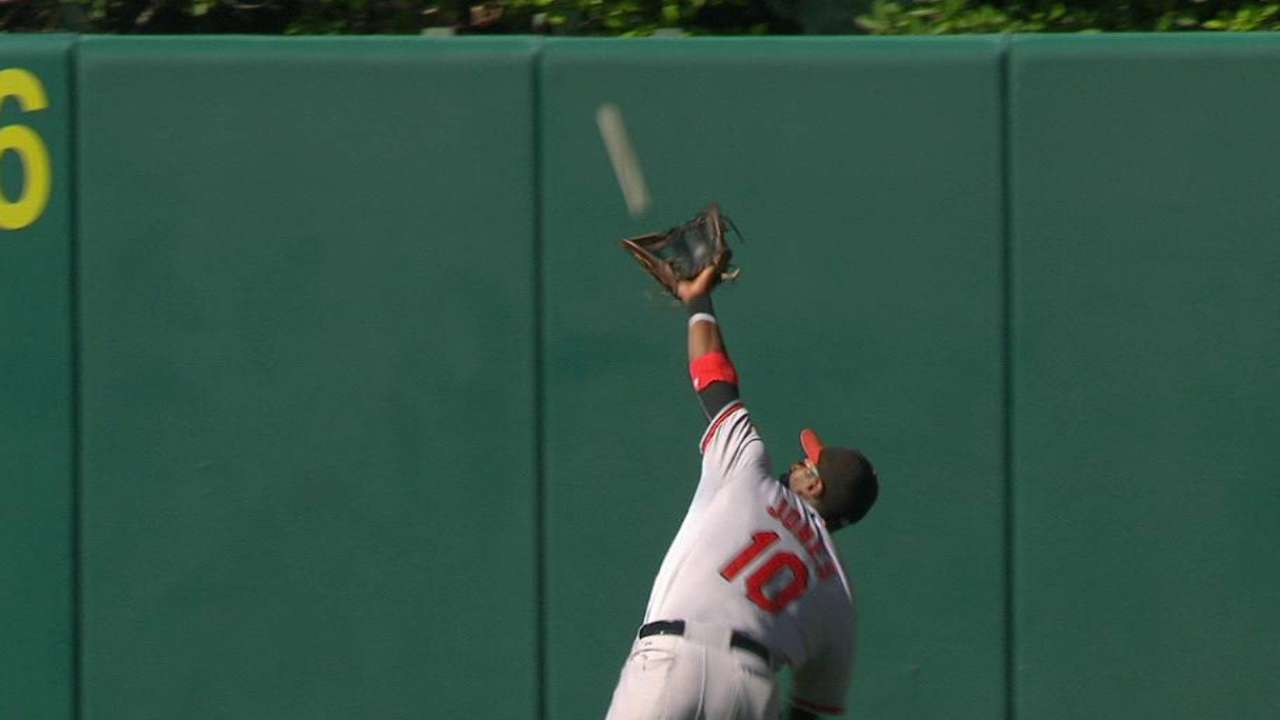 SEATTLE -- Adam Jones doesn't get the least bit sentimental when returning to the city where he broke into the Major Leagues. The Seattle ship sailed long ago for the Orioles' center fielder, who's been with Baltimore since 2008.
But Jones does like a few things about coming back to Safeco Field.
"This is one of the best center fields to play in," Jones said. "It's just a true center field. It's nice and cool out there. I like the cool air of the West Coast."
Jones also likes the fact that the Orioles entered Monday's series opener against the Mariners with the fewest errors in the Major Leagues. Baltimore has only committed 42 miscues, comfortably outpacing the next closest teams in the Dodgers (49) and Tigers (54). As a result, the Orioles led the Major Leagues with a .989 fielding percentage.
"We pride ourselves on that," said Jones, a four-time Gold Glover. "You're not going to pitch well every day. You're not going to hit well every day. But one thing you can do every day is play defense."
Orioles manager Buck Showalter was quick to point out that committing the least amount of errors is only one part of being a good defensive team, but that he also pays attention to advanced defensive metrics, and those seem to like his club, too. Fangraphs' overall defensive ratings have the Orioles third in the Majors, behind only Kansas City and Tampa Bay.
"When you get your eyes to match up with some of that stuff, you know you're onto something," Showalter said. "It's like exit velocity. Your ears tell you that."
Meanwhile, the Orioles got stronger defensively at the Trade Deadline when they acquired two-time Gold Glove-winning outfielder Gerardo Parra in a deal with the Milwaukee Brewers.
"Defense is a mindset, not just a talent," Jones added. "We harp on defense. Anybody, across the board, who misses a ball or doesn't make a play that we know we have to make, we're not too pleased with it. That's just how this team is. We're defensive-minded first."
Doug Miller is a reporter for MLB.com. Follow him on Twitter @DougMillerMLB. This story was not subject to the approval of Major League Baseball or its clubs.