Dodgers' Peraza debuts, triples for first hit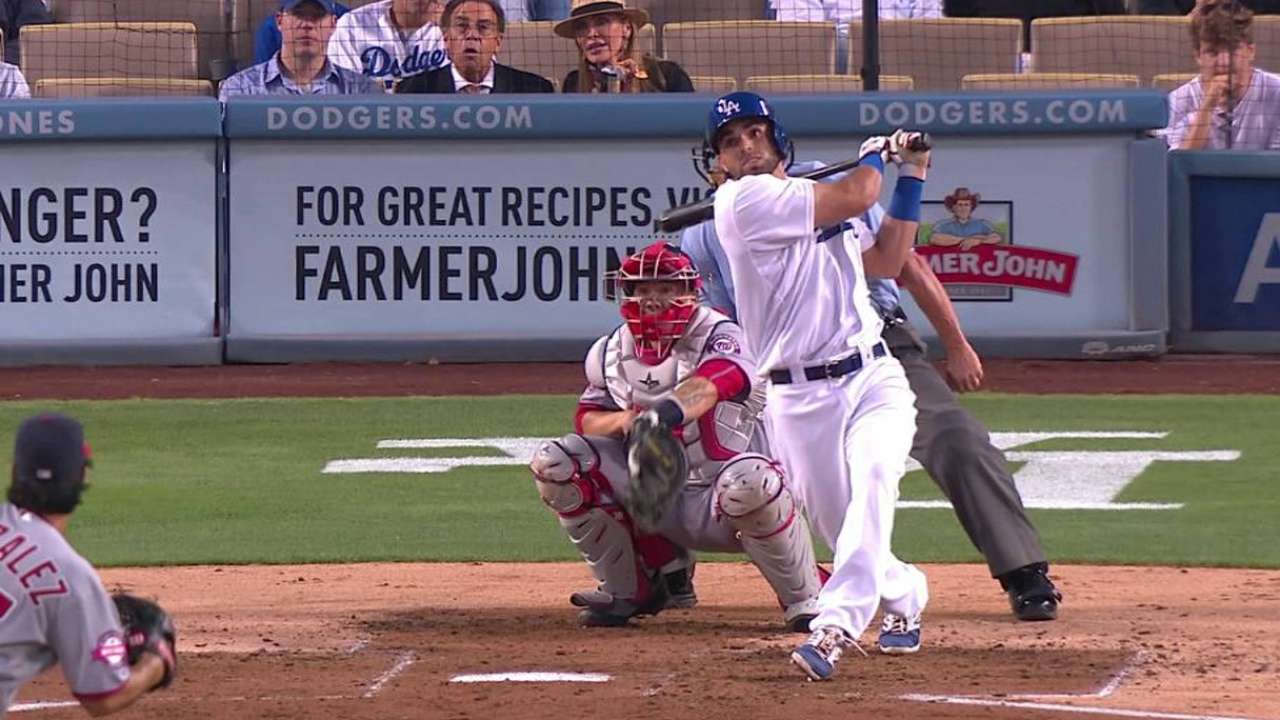 LOS ANGELES -- Dodgers second baseman Jose Peraza made his Major League debut Monday night, and he didn't wait long to record his first career hit.
With two outs in the third inning of Monday's 8-3 Dodgers loss to the Nationals, Peraza, the club's No. 4-ranked prospect, blooped a 1-2 fastball from Gio Gonzalez into short right field. Washington right fielder Bryce Harper charged in and missed on a slide, and the ball got past him. Peraza, who had 27 stolen bases in the Minors this season, turned on the jets and slid into third base for a triple for his first big league hit.
"At first, I thought he was going to get that ball," Peraza said. "When I saw he didn't, I just kept running and running."
"You can't teach that kind of speed," manager Don Mattingly said. "I heard that he had good speed, good bat-to-ball skills, he didn't strike out that much and he didn't walk that much. Tonight, he strikes out, walks and showed his speed. We got to see the whole package."
Peraza finished 1-for-4 with the triple, a walk and a strikeout that ended the game. Though he said his best position is shortstop, Peraza is filling in at second base for Howie Kendrick, who was placed on the 15-day disabled list with a hamstring injury earlier Monday.
There were a few hiccups in the field. Peraza admitted to having nerves in the first inning and he was challenged immediately. After Peraza helped turn a 6-4-3 double play for the first two outs of the game, Harper hit a grounder to the rookie, who fumbled and dropped it, but recovered in time to make the out.
Later in the game, Peraza fielded a grounder and elected to flip the ball to shortstop Jimmy Rollins, instead of taking the ball to the base himself. While they got the out at second, the turn wasn't quick enough to turn a double play.
"It was interesting. I hadn't even gotten the chance to see him on film," Mattingly said. "For the first time, it was pretty good."
Steve Bourbon is an associate reporter for MLB.com. This story was not subject to the approval of Major League Baseball or its clubs.