Rockies still have faith in former top pick Matzek
GM Bridich believes left-hander can return to Majors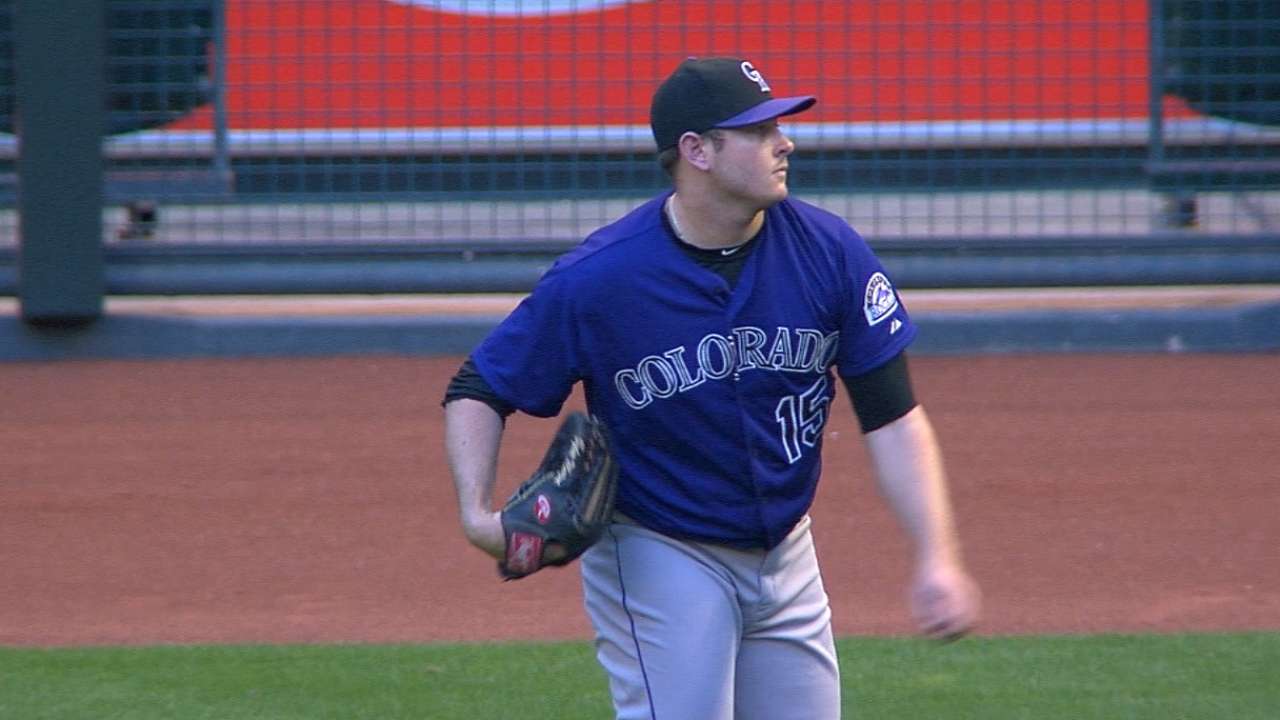 NEW YORK -- The strange and difficult year of left-handed pitcher Tyler Matzek is looking a little brighter. Matzek returned to Triple-A Albuquerque last week, after the Rockies gave him a month at home to take a break from the effort to correct a season spinning out of control.
Matzek isn't yet pitching in games. While it's possible that Matzek could find his bearings quickly enough to finish the year back in the Majors -- he began the year in the Rockies' starting rotation -- nothing is guaranteed. But general manager Jeff Bridich said he believes in Matzek.
"I think this is a blip," Bridich said. "I don't think he's fallen off a cliff. We certainly still believe in him to the utmost degree and he'll be an impactful Major League pitcher for us again, like he was last year."
Have a question for @Rockies catcher Nick Hundley? Ask him in @EdwardJones #ChattingCage: http://t.co/A9GSs4igP2 pic.twitter.com/cyvIGQ6fTp

- Thomas Harding (@harding_at_mlb) August 10, 2015
Last year, Matzek -- the team's top pick in 2009 -- made his debut and went 6-11 with a 4.05 ERA. He went 4-2 with a 1.55 ERA in his final six starts. He started this year 2-1 with a 4.09 ERA in five starts, but 19 walks in 22 innings and command issues earned him a demotion to Triple-A Albuquerque.
The Rockies removed him from game competition when he walked seven in one inning in his first Albuquerque appearance. After working on mechanics in Albuquerque and at extended spring training, he made three starts at Short-Season Class A Boise. In the third, on Aug. 24, he walked five and hit a batter while managing just one out. It was then he was sent home to rest for a restart.
Worth noting
• Rockies shortstop Jose Reyes received a warm applause before singling off Mets starter Jon Niese in his first at-bat on Monday -- although the Citi Field crowd liked his being picked off by Niese a little more. Reyes played for the Mets from 2003-11.
In a press gathering with mostly New York-area reporters, Reyes said he was disappointed when the Blue Jays -- fighting for a playoff spot -- traded him to a team that wasn't (for shortstop Troy Tulowitzki and reliever LaTroy Hawkins), but he sees enough positives to think the Rockies can compete as early as next season. The Rockies are coming off winning two out of three from the Nationals, who are just behind the first-place Mets in the National League East.
"They can play," said Reyes, under contract for two more seasons. "You see our lineup and these guys can hit. Hopefully the last two months of the season, we play better baseball and carry it over to next season.
"I feel for us when we play those kinds of teams they're like playoff games for us. We have to show them what we're made of."
• Righty Chad Bettis (5-4, 4.88 ERA), who hasn't pitched since July 18 because of right elbow inflammation, will throw a simulated game Tuesday at Citi Field. If all goes well, he'll leave for a Minor League rehab assignment afterward.
Thomas Harding is a reporter for MLB.com. Follow him on Twitter @harding_at_mlb, and like his Facebook page. This story was not subject to the approval of Major League Baseball or its clubs.