Santiago set to face old club for first time
Former White Sox reliever has found new home as Angels starter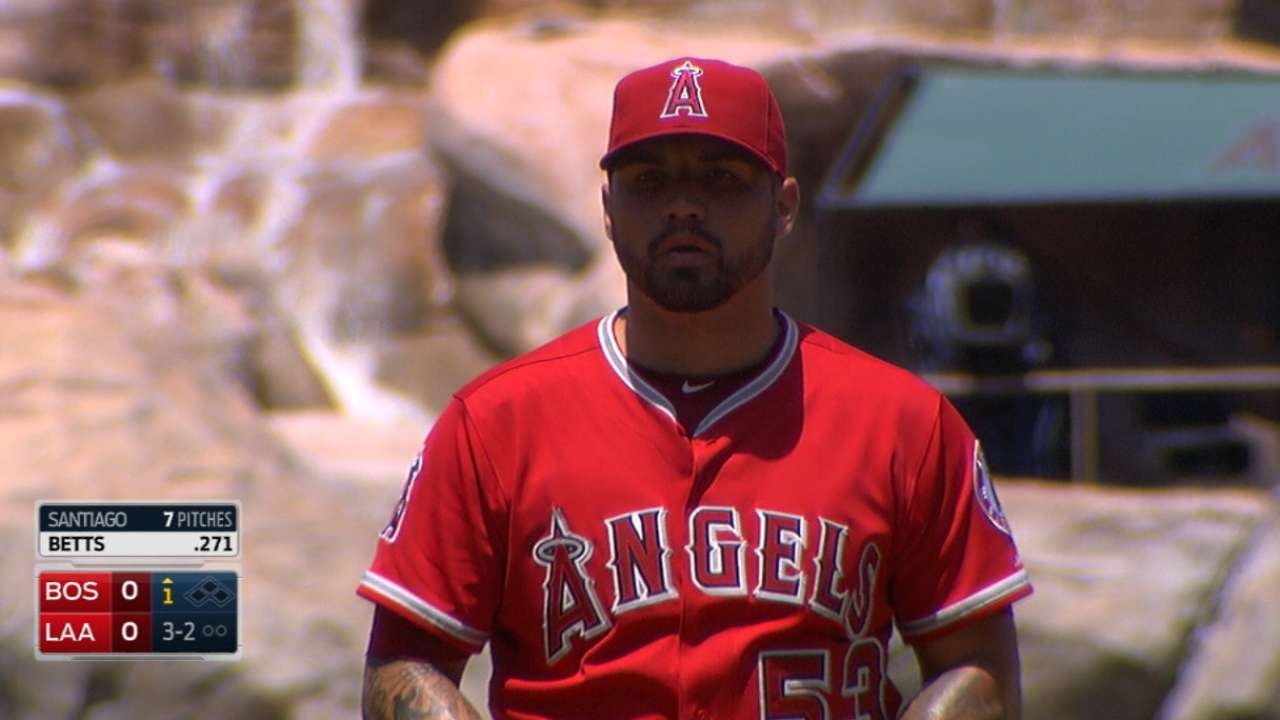 CHICAGO -- Angels left-hander Hector Santiago arrived on the bus to U.S. Cellular Field around 1 p.m. CT for the start of a three-game series against Chicago, but he went right to the White Sox clubhouse.
For three years, that had been routine for the young left-hander. But on Monday it was a rare treat to see his former team.
He talked with White Sox reliever Nate Jones, with whom he came up to the big leagues from Triple-A Charlotte, about Jones' recent comeback from Tommy John surgery. And he chatted with starters John Danks and Chris Sale, familiar faces in the White Sox rotation.
But much of it was different for Santiago, who was greeted by several new faces from his last season in the organization. Santiago was sent over to the Los Angeles Angels in December 2013 in a three-team trade that moved Adam Eaton.
"All around, [it felt] like coming home a little bit," Santiago said. "Obviously, I'm an enemy now, but when you go in there, you feel like you're family."
It's the first time since Spring Training that Santiago has seen his former team. And this is the first time he's been able to catch up with the team that drafted him.
And Santiago will see them from the mound when he starts on Tuesday, which he says is better to be coming two years removed from his trade.
"Last year, definitely if I would've came over the first time and had to face all the guys that I still knew over there, it would've definitely been different," Santiago said. "Now, it's a new team.
"So, now it's going to be just like going out and facing any other team, because I only pretty much know the staff inside. The players on the field are a lot of new faces."
With the White Sox, Santiago was primarily used out of the bullpen, called upon to start in spot situations. Now, he's settled into the Angels' rotation, and was named an All-Star for the first time in his career.
The difference, says Angels manager Mike Scioscia, is that Santiago can get away with a couple walks or hits because he has multiple innings to work with, as opposed to one inning late in the game. The result has been a 7-5 record with a 2.78 ERA and 122 strikeouts, on pace to be career bests.
"We all felt that Hector had the opportunity to be a starter," Scioscia said, "and I think all the trials and tribulations … prepared him for the opportunity. He's made the most of it and really pitched well for us."
Earlier with Los Angeles it was tough to acclimate to the new rules and practices, he said, but now he's embraced his new role.
"Then you come in and you're comfortable now," Santiago said. "Now you just feel like you're supposed to be here, and then you just go out there and play ball."
Greg Garno is an associate reporter for MLB.com. This story was not subject to the approval of Major League Baseball or its clubs.