Dodgers lose Kendrick to DL, call up Peraza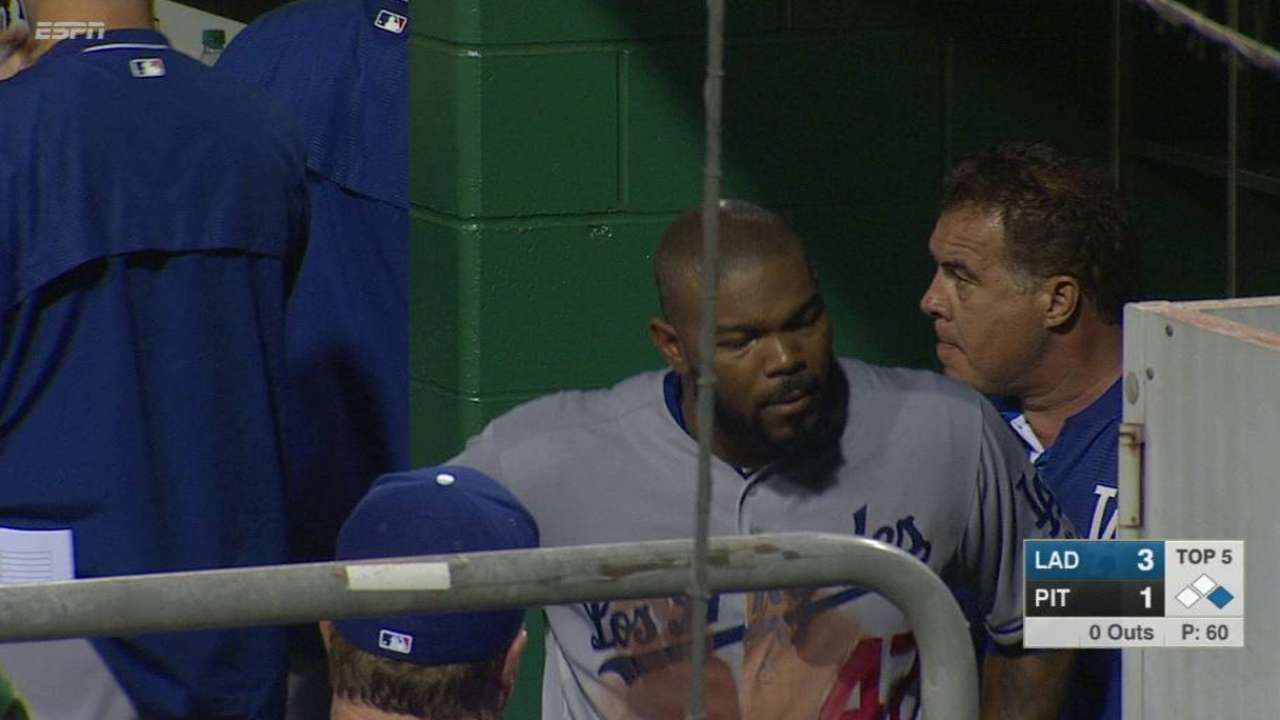 LOS ANGELES -- The Dodgers on Monday placed second baseman Howie Kendrick on the 15-day disabled list due to a strained left hamstring and called up infielder Jose Peraza, their No. 4-ranked prospect, from Triple-A Oklahoma City.
Kendrick was injured trying to beat out an infield single in the top of the fifth inning of Sunday night's 13-6 loss to the Pirates.
"It just grabbed," Kendrick, 32, said. "I saw the play, had a chance to get a hit, and instincts take over. I tried to kick it into another gear and it grabbed. And it stinks, because this is the time of year you want to be on the field, not off the field. You want to try to help the team win and put the team in a spot to win games, and there I was hustling, and it came back to bite me."
Manager Don Mattingly said he didn't know the specifics of Kendrick's MRI, but that any sort of hamstring injury usually results in a trip to the disabled list.
"I don't know how bad the MRI is, but we know it's bad enough that we have to DL him," Mattingly said. "Hamstrings are never three or four days, it's going to be a couple of weeks."
Peraza, 21, who was acquired by the Dodgers from the Braves in an eight-player deal on July 30, was in Monday's lineup at second base and slotted in the second spot for his Major League debut. He hit .385/.415/.590 in 10 games at Oklahoma City.
He's one of a few options that the Dodgers have to play second base. Kiké Hernandez has been the Dodgers' utility man, playing both infield and outfield, but his primary position in the Minors was second base. The 23-year-old started in center field Monday night and entered hitting .293 with five home runs and 15 RBIs.
"Kiké gets first shot. He's a guy that's been facing lefties and spelling everyone," Mattingly said. "If [shortstop Jimmy Rollins] needs a day or [center fielder Joc Pederson] needs a day, we'll use Kiké all over. But if those guys don't need a day off, then you'll see Kiké at second base."
Kendrick is hitting .296, having played in 105 of 111 games with nine home runs, 49 RBIs and a .758 OPS.
Worth noting
• Mattingly said that third baseman Justin Turner is still a few days away from a return. He took live batting practice Monday and has been doing running inside. Turner is currently on the 15-day disabled list with a right thigh skin infection.
"We don't think he'll be ready tomorrow," Mattingly said. "We do think he'll be ready in a couple days."
Steve Bourbon is an associate reporter for MLB.com. This story was not subject to the approval of Major League Baseball or its clubs.