Heston succeeding despite rocky road to bigs
Rookie righty proving himself among seasoned veterans beyond his no-hitter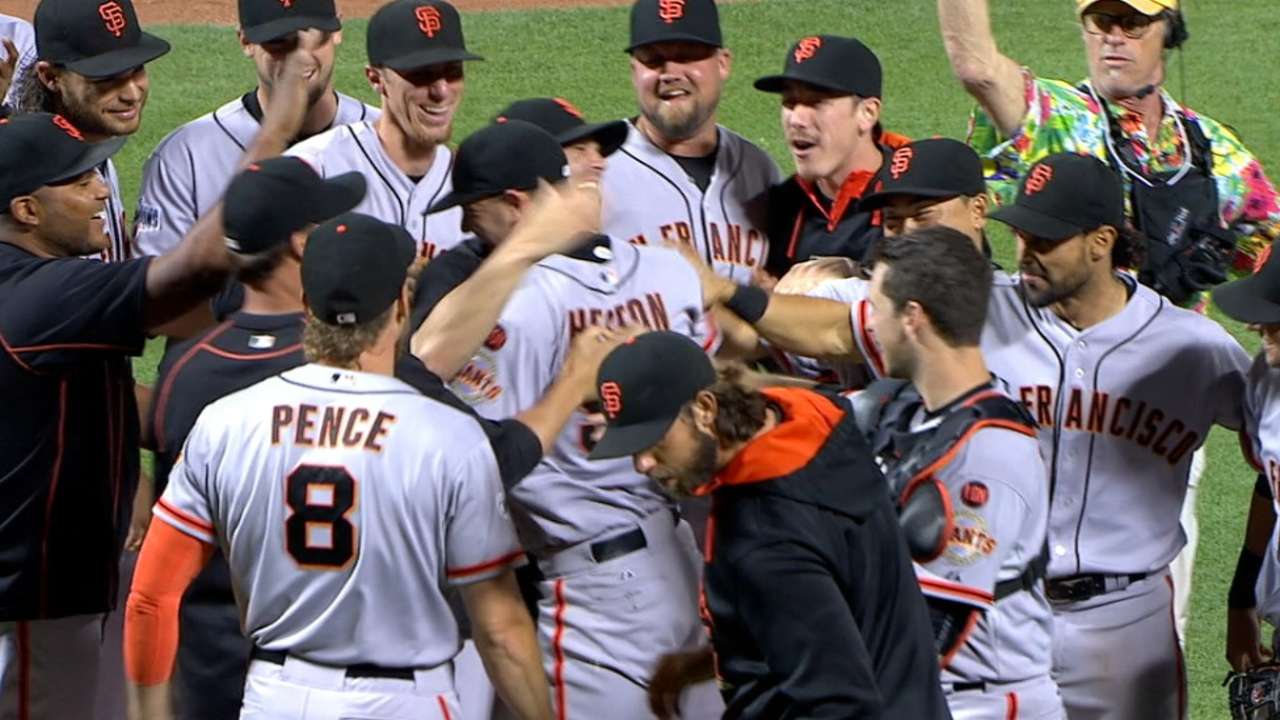 SAN FRANCISCO -- It's July 2013, and Fresno Grizzlies pitcher Chris Heston is having a season to forget.
Heston has made 19 starts for the San Francisco Giants' Triple-A affiliate, recording a 5.80 ERA. He has walked more batters, struck out fewer and served up more homers per nine innings than he did the year before.
After a stellar 2012 season with Double-A Richmond, in which Heston was named the Eastern League Pitcher of the Year and recorded the second-lowest ERA in Flying Squirrels' franchise history, something was not right.
"My arm was just not in the right place," Heston said. "I just couldn't get extended on stuff, so my velocity went down, movement went down."
On July 10, 2013, Heston pitched his final game for the Grizzlies, and the Giants designated him for assignment three days later to clear a roster spot for outfielder Jeff Francoeur.
Doctors shut Heston down after finding bone spurs in his right elbow, and San Francisco released him from the organization on July 21 that year.
"In baseball, there are a lot of ups and downs, and it was definitely one of the lower points," Heston said. "Baseball means a lot to me, so I knew I would still play. It was just about getting right and getting back out there."
None of the 29 other Major League organizations claimed Heston off waivers, so the Giants re-signed him to a Minor League contract on July 24.
Fast-forward to 2015, and the first-year big leaguer already has a no-hitter for San Francisco under his belt, the 17th in franchise history and the first by a rookie since Clay Buchholz in 2007.
"We're thankful he decided to stay with us," Giants manager Bruce Bochy said.
More than just a no-no
Most pitchers will look back on a season that includes a no-hitter and call that year a success. Heston has put the no-hitter in his back pocket and says he is focused on winning another World Series.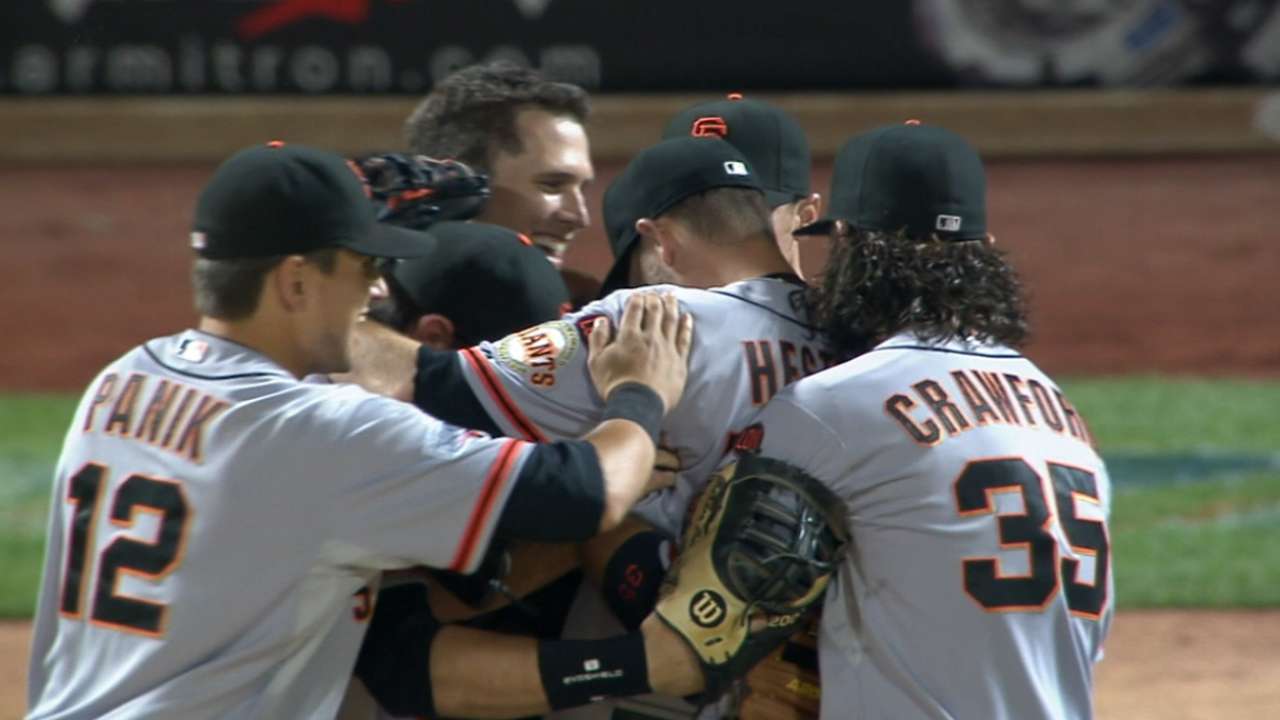 The rookie right-hander, a late season callup last year, started his first Major League game on September 28 against San Diego. Heston never got the chance to pitch in the postseason, but he says he'd like to get the chance this time around.
"We're getting down to that time in the season," Heston said. "Coming down to the stretch … it'll be a fun thing to be a part of. I've never been a part of anything like this."
Heston's resurgence began in Spring Training, where Giants catcher Andrew Susac said he noticed Heston arrived a few pounds heavier, which helped him add velocity to his fastball.
"[You] started seeing 93, 94, 95 on the radar gun," said Susac, who helped Heston work back from his elbow injury while playing for Fresno in 2014.
Susac said the rookie pitcher has always had the stuff, but it was this season that he could pinpoint the difference in the way Heston was commanding his pitches.
"In the Minor Leagues, you'd see him throw a one-hitter, and then he'd walk some guys here and there," Susac said. "This year, it seems like he's got a pretty good feel for what he's doing."
Heston's walk rate (2.61 per nine innings) is at its lowest total since before the injury, and his sinker is finding the bottom of the strike zone. As a result, Heston is getting ground balls at a 55.2 percent rate, according to FanGraphs.
The sinkerballer has induced 22 ground-ball double plays behind him this season, third best in the Majors. He's also thrown 134 2/3 innings, more than any other rookie pitcher.
"He's working ahead most of the time and letting his movement work," Giants third baseman Matt Duffy said of Heston. "His fastball moves so much you just get it in the strike zone and most guys are beating it into the ground. He's been unbelievably clutch for us all year."
A boy among men
Heston's locker in the Giants' clubhouse sits right in between perfect-game hurler Matt Cain and four-time All-Star Tim Hudson.
It seems appropriate that a veteran pitching staff would take a rookie under its wing, but pitching coach Dave Righetti says that's not always the case.
"Those guys have brought him into that little corner of starting pitchers in our clubhouse," Righetti said."Easily, these veteran guys could say, 'Screw you; I've got a year or two left, and the kid can wait.' But it's been the opposite. That's immeasurable for a young pitcher. They could be wearing him out, and they're not. It's totally the opposite, trying to do everything they can to help him."
Part of the veterans' eagerness to guide Heston could very well have something to do with how the rookie picked up the staff early in the season.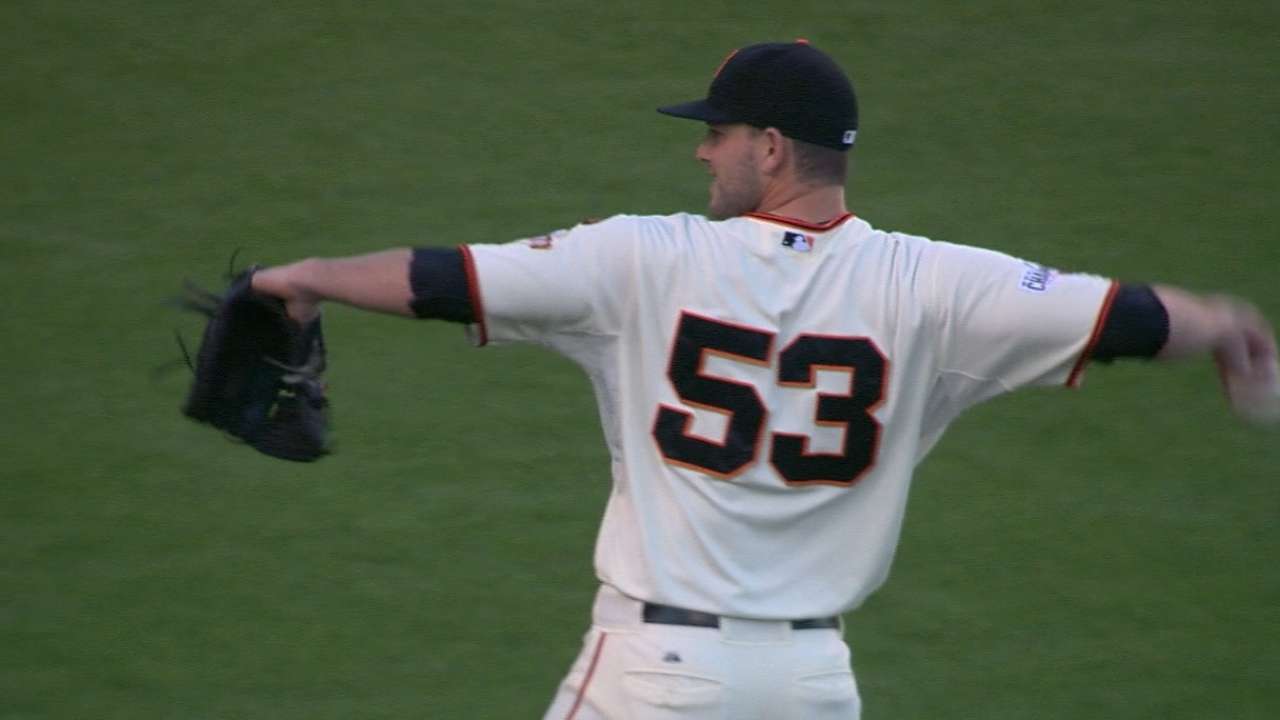 As Cain and Jake Peavy nursed ailments, Heston took Madison Bumgarner's hand, and the two carried the staff for months until their counterparts healed.
When manager Bruce Bochy was faced with the difficult decision of who to keep in his five-man rotation, he moved the seasoned Tim Lincecum and Ryan Vogelsong to the bullpen and kept Heston with the starters.
For Bochy to turn to a rookie, whom the team released just two seasons ago, over a two-time National League Cy Young Award winner and a former All-Star, exemplifies an incredible amount of trust San Francisco's skipper has in Heston.
"The most important part is coming up," Righetti said.
Hudson, Vogelsong and Lincecum each sport a World Series ring. All have now been moved to the bullpen while Heston still mans the rotation. As crunch time nears, the veterans of the staff have repeatedly stated they want what's best for the team.
That involves having the rookie starting every fifth day and the more experienced guys there to back him up.
"[Heston's] a guy that worked hard to get here, and now that he has this opportunity, he's really taken advantage of it," Hudson said. "[He's] established himself as a guy that we can count on."
Oliver Macklin is an associate reporter for MLB.com. This story was not subject to the approval of Major League Baseball or its clubs.