ICYMI: Padres' efforts for naught as Phils take series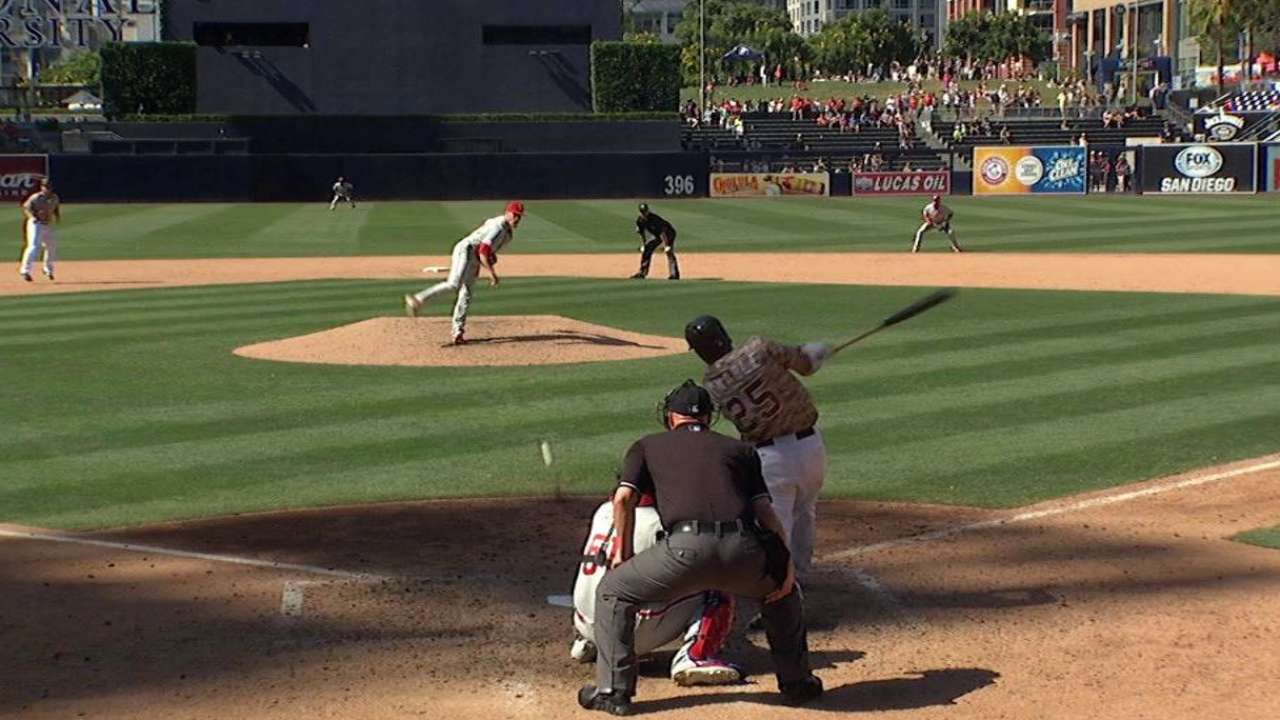 Despite a fairly consistent flow of hitting from the San Diego Padres' offense over the last three games, the Friars matched a season-high sixth-consecutive loss Sunday as the Philadelphia Phillies came out on top to complete a three-game sweep at Petco Park. The team was not without their opportunities on Sunday, however, as Will Venable contributed a three-hit performance to add to the Padres' total of nine hits on the day, while Andrew Cashner delivered yet another quality start. In spite of these solid performances by two of San Diego's veteran players, a victory was not in the cards for the Padres as they fell by a score of 5-3 to the surging Phillies.
Cashner was able to provide the Padres with his fourth quality start over his last six outings -- accounting for his 14th overall quality start on the season -- after surrendering only three earned runs on eight hits and four strikeouts over 6 1/3 innings of work. Relievers Marc Rzepczynski and Dale Thayer delivered solid outings in relief of Cashner, combining for 1 2/3 innings of shutout baseball, while Brandon Maurer and Kevin Quackenbush continued to show signs of fatigue as they combined for three hits and two earned runs in one inning of work.
On the other side of the mound, the Padres' offense put together an earnest effort as Venable went 3-for-4 at the plate with an RBI, and fellow outfielder Justin Upton launched his 19th home run of the season to collect his 60th RBI of the year. Yangervis Solarte also contributed to the team's efforts, while extending his own hot streak by hitting safely in his 14th game out of his last 15 appearances since July 25th.
Although the Padres were able to record nine hits on the day and produced a healthy 2-for-6 record at the plate with runners in scoring position, the Padres were only able to score three runs and ultimately left seven runners on base overall.
Fortunately, Monday presents a new opportunity for the Friars as they open a three-game series against Cincinnati with veteran right-hander Ian Kennedy going toe-to-toe with rookie southpaw David Holmberg at Petco Park. In case you missed it, here are some highlights and stories you may not have seen from Sunday:
Padres postgame recap and highlights: Padres pile up missed opportunities in loss
Justin Upton smashes a solo homer to left field in the sixth: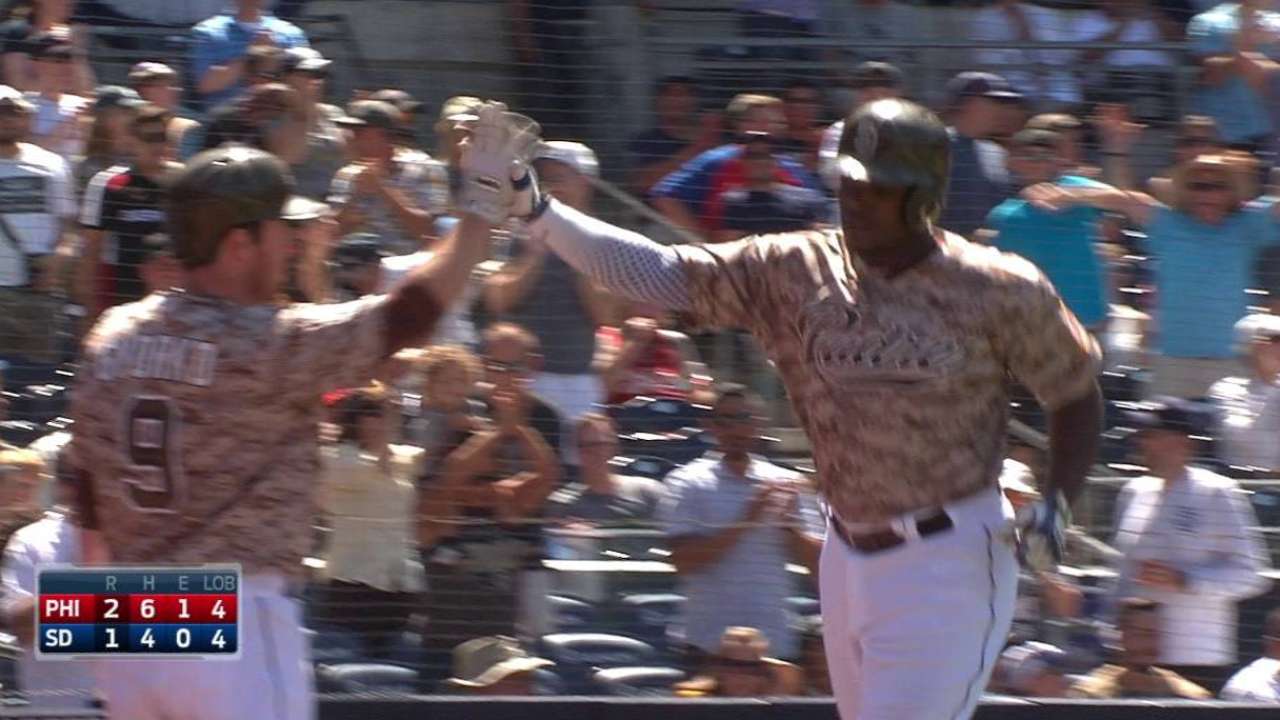 Solarte drives in Amarista with an RBI-single in the eighth: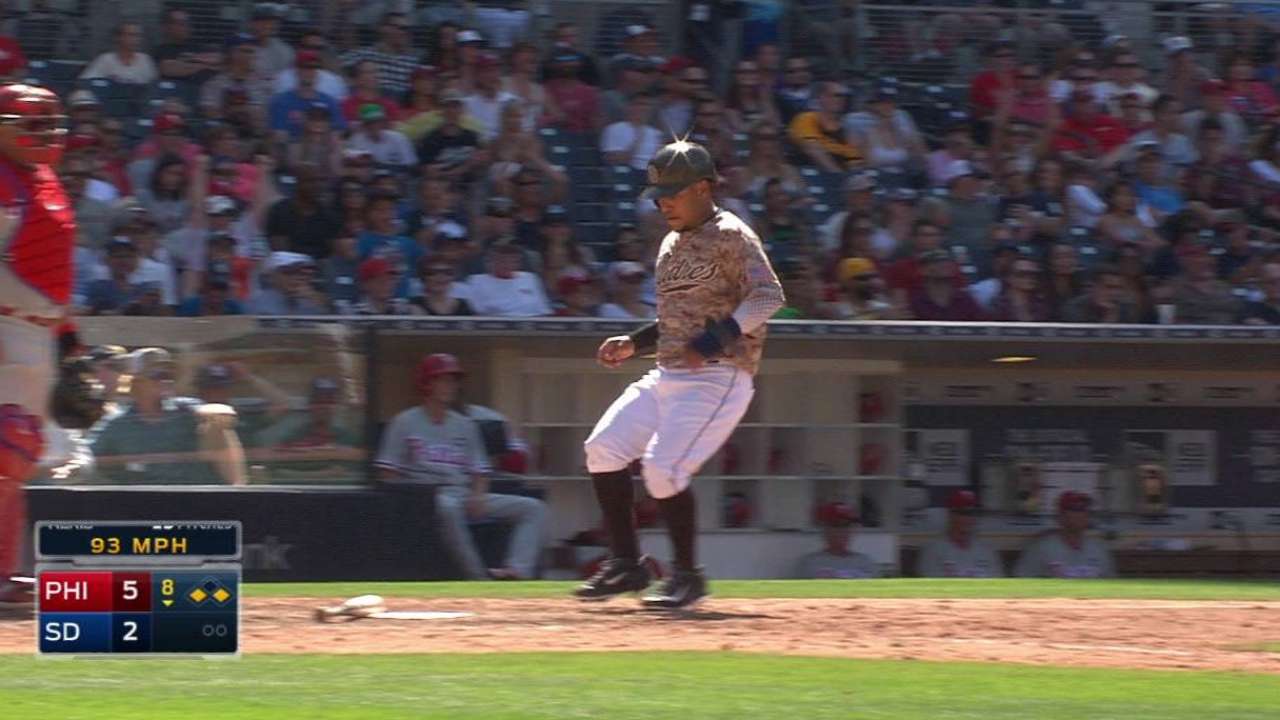 Venable cuts into the Phillies' lead with an RBI-single in the ninth: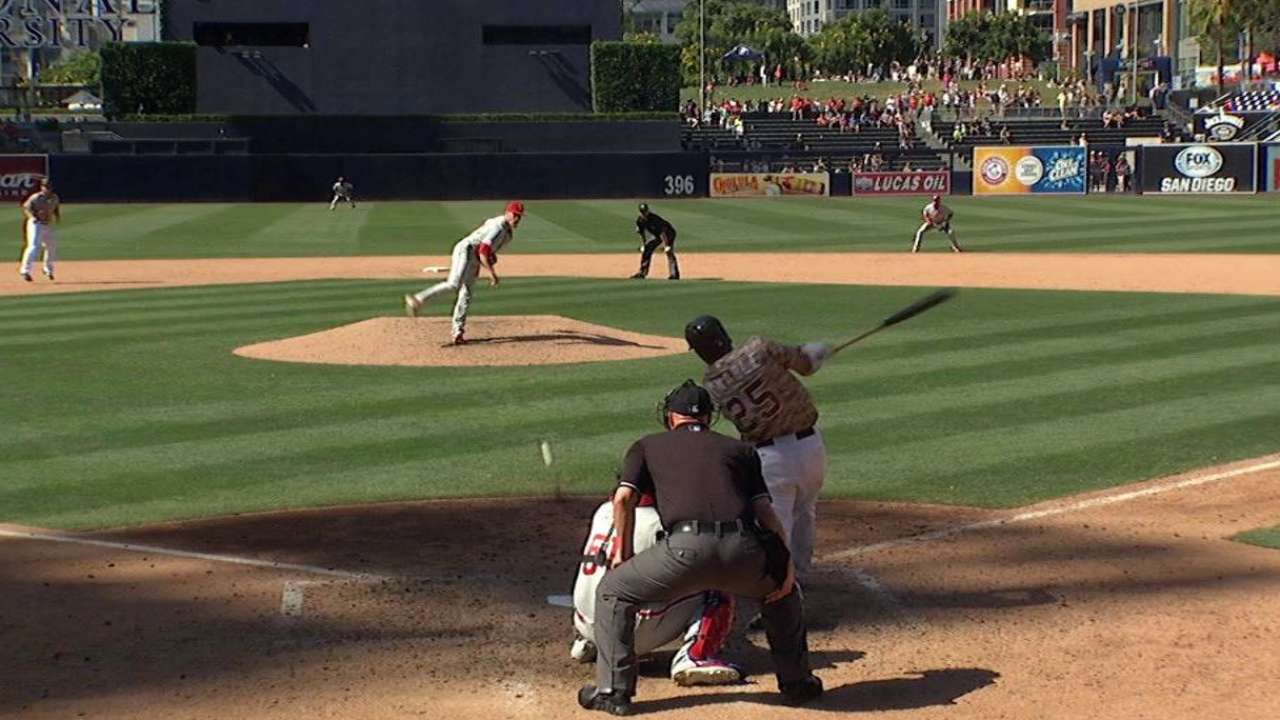 The day's top stories:
San Diego clubhouse remains upbeat despite skid: Padres confident they can start winning streak
Top Prospect Rea ready for Big League call-up: Rea to make first Major League start Tuesday
#PadresSH Recap: Garry Templeton: Templeton discusses extraordinary season, role in Padres' history
#PadresSH Recap: Nate Colbert: Padres HOF'er class of 1999 Nate Colbert on Padres' early years
Down on the Farm: Outfielders Goebbert, Jankowski pace Triple-A El Paso win
Murph's Musings: Rea to make Major League debut Tuesday vs. Reds
Notable Notes: Game Notes vs. PHI (08.09) Padres Closeout Series against Phillies with Cash on the Hill
Looking forward to the next game:
Friar Forecast: Kennedy, Padres to welcome Holmberg, Reds
Monday's probable pitchers: Ian Kennedy (6-10, 4.49 ERA) vs. David Holmberg (1-0, 3.27 ERA)