Peterson embracing role as everyday player
Rookie has been Brewers' regular center fielder since Trade Deadline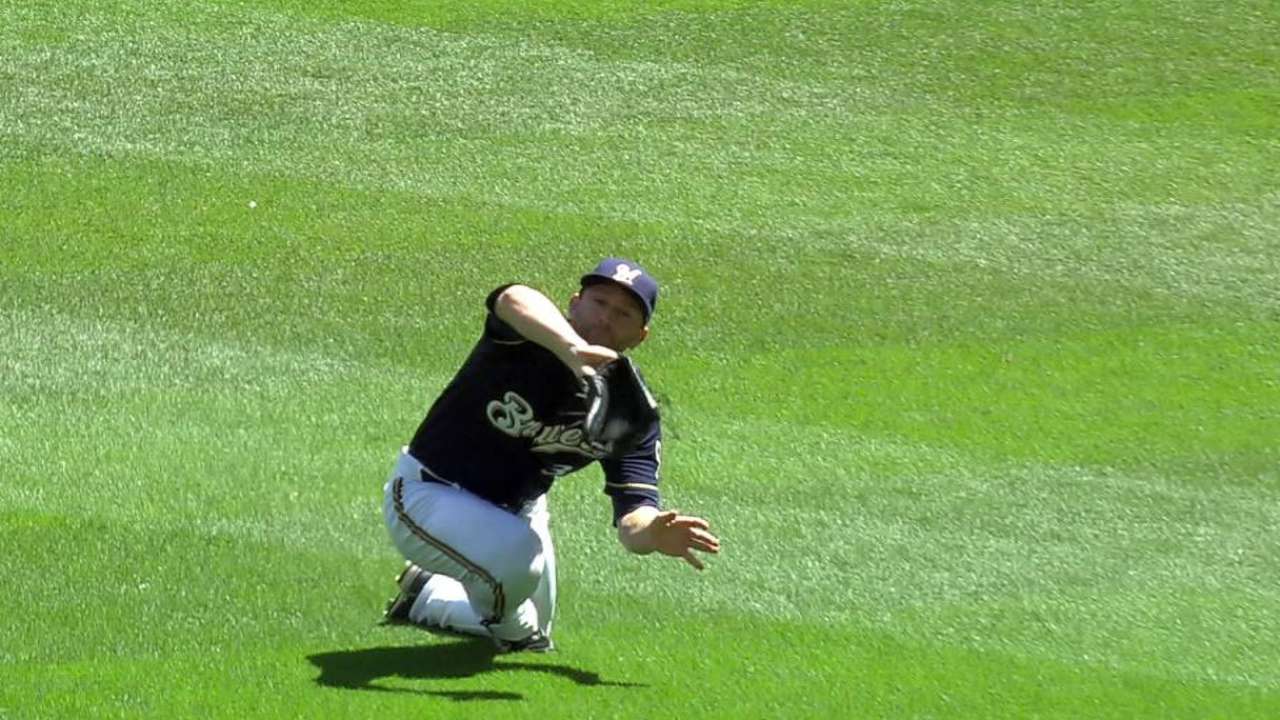 MILWAUKEE -- The Brewers' trades of Carlos Gomez to the Astros and Gerardo Parra to the Orioles opened center field for Shane Peterson, a onetime first baseman who has been making the most of his long-awaited opportunity.
Peterson started in center field all weekend against the Cardinals, the organization that made him a second-round Draft pick in 2008. He's held his own in the field while distinguishing himself at the plate, hitting .355 (11-for-31) with a .444 on-base percentage in his first 10 starts as Milwaukee's center fielder, raising his average for the season to .308. That ranks Peterson second among Major League rookies with at least 100 plate appearances.
"I've been wanting an opportunity for the last couple years, and I didn't really care what role it was," said Peterson, 27. "I was happy being up here as the fifth outfielder, pinch-hitting when needed, but now I'm getting an opportunity to start more. It's all bonus for me."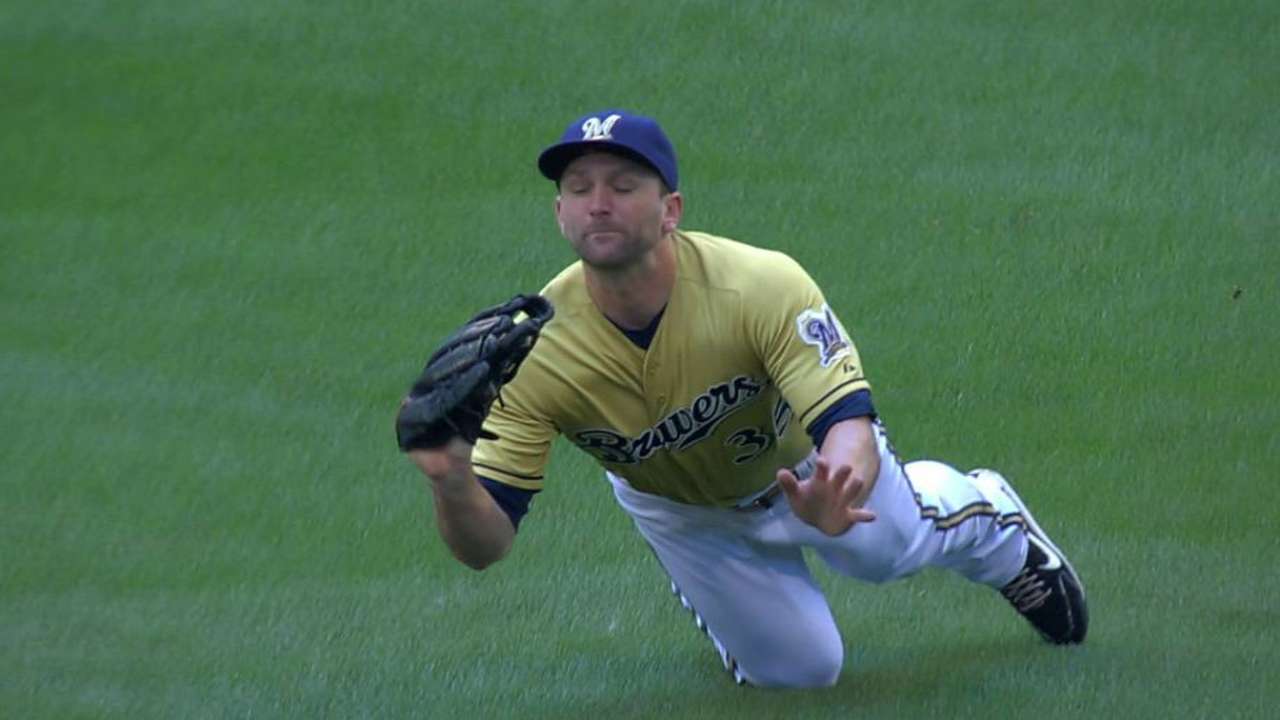 Peterson grew up playing first base, but since he stands at 6-feet tall and does not hit for prodigious power, the Cards moved him to the outfield in the pro ranks. He mostly stayed there after a trade to the A's (in the 2009 Matt Holliday deal) and a pair of waiver claims last winter that led him to the Brewers.
Peterson is one of only four players in the Majors to appear both at first base and center field in 2015, and he's the 12th player in Brewers history to appear both places in the same season. Before Peterson, the last to do it was Mark Kotsay in 2011. Corey Hart, B.J. Surhoff and Robin Yount are among the others to do it.
"When you throw left-handed, there aren't many spots for you," Peterson said. "For me, I have to play as many positions as I can. I think I've done all right [in center field]. I'm still getting used to the reads and the jumps or whatever, but hopefully I'll get a lot of opportunities to play out there the rest of the year and get better at it."
Milwaukee added a true center fielder, Logan Schafer, to the roster after trading Gomez, but Schafer has yet to start a game.
With Gomez gone and Schafer having not established himself as a starting option, center field appears up for grabs in 2016. Brewers No. 23 prospect Kyle Wren has been starting at the position in Triple-A, and No. 2 prospect Brett Phillips (acquired in the Gomez trade) is finishing this season at Double-A. Milwaukee's No. 5 prospect, Tyrone Taylor, and No. 12 prospect, Monte Harrison, have also primarily played center field this season.
All of those players are considered superior defensively to Peterson, the converted first baseman. But Brewers manager Craig Counsell has praised Peterson's on-the-job improvements so far.
"There's going to be challenging plays out there that will happen, but I think [Peterson] has done a nice job," Counsell said. "And I think he's had really good at-bats. That's a part of it, too."
Adam McCalvy is a reporter for MLB.com. Follow him on Twitter @AdamMcCalvy, like him on Facebook and listen to his podcast. This story was not subject to the approval of Major League Baseball or its clubs.