Versatile Chisenhall proving himself in outfield
Former third baseman willing to move around diamond to help Indians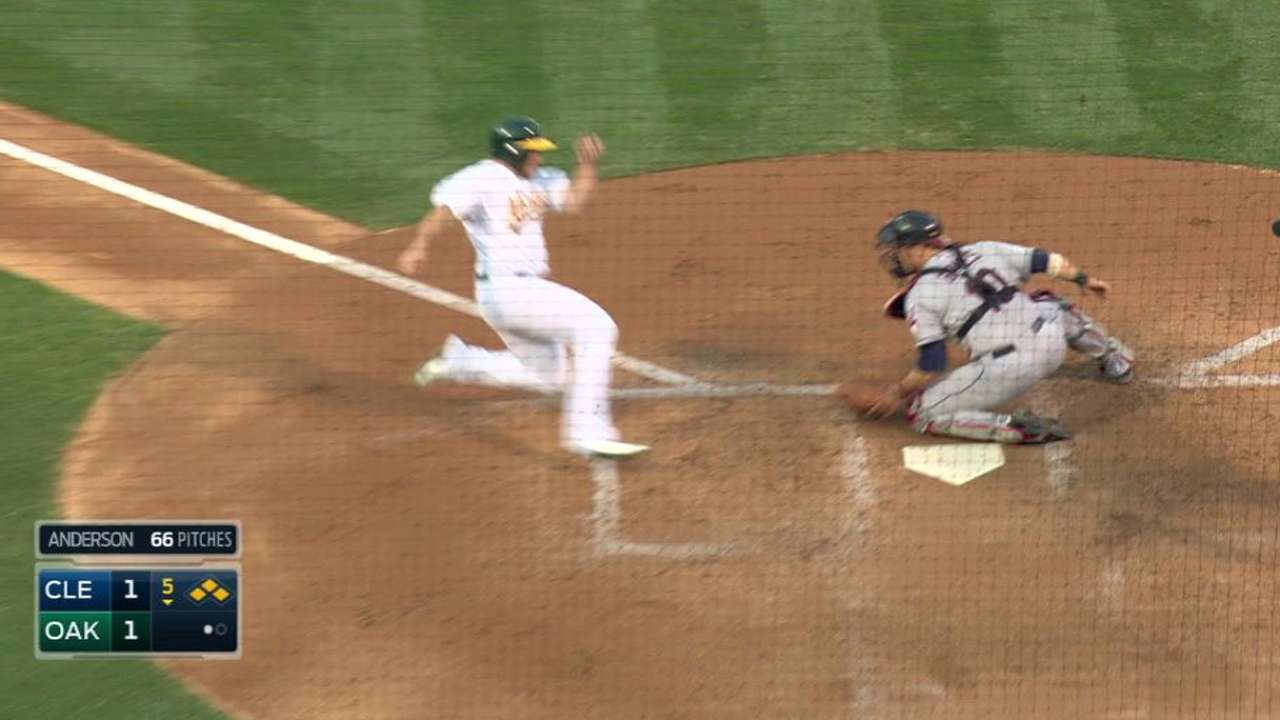 CLEVELAND -- It was hard to blame Max Muncy for trying. As the A's infielder rounded third base, Lonnie Chisenhall was just scooping up the baseball that was skipping through the grass in right field. Given Chisenhall's inexperience as an outfielder, testing his arm made perfect sense.
Chisenhall aced this exam on Aug. 1. He gloved the roller and came up firing, sending a pinpoint relay beyond the cutoff man and into catcher Yan Gomes' mitt on one bounce. Gomes turned and applied the tag on Muncy as he slid by the plate. The catcher then pointed out to right field and pumped his fist. Chisenhall flashed two fingers to his fellow outfielders, signaling that there were now two outs in the fifth inning. And then, Chisenhall smiled.
"It was a good time," Chisenhall said.
It was a look into one of the reasons Cleveland wanted to experiment with Chisenhall as an outfielder. The career third baseman has the kind of arm that can play in right field, as evidenced by his first outfield assist in that game in Oakland. Chisenhall is athletic enough to take on such a transition, considering he came up as a shortstop, played outfield in college and has looked solid enough in brief stints at first base.
Upon being recalled from Triple-A Columbus on July 30, Chisenhall stood in the visitors' dugout at the Coliseum and said, "You want to make yourself an asset to a team." So during another trip down to the Minors, knowing rookie third baseman Giovanny Urshela had leapfrogged him on the Major League depth chart, Chisenhall suggested to Triple-A manager Chris Tremie that he could play some outfield to enhance his versatility.
Tremie relayed the idea to the Indians' decision-makers, and Chisenhall got the go-ahead.
"I think it can only enhance his value to a team," Tribe manager Terry Francona said. "He's been a Major League third baseman. You take that with a guy who can play first and the corner outfield spots, and hit left-handed, and all of a sudden it's kind of a unique skill set."
For at least the final two months of this season, Cleveland will evaluate whether that unique skill set will be a part of its 2016 plans. Chisenhall earned a $2.25 million salary for this season, but that was as the everyday third baseman. Chisenhall has since lost that job, but he has showed the willingness to embrace the kind of role that could see him move around the diamond to stay in a lineup.
The 26-year-old Chisenhall will be arbitration-eligible again this coming offseason, making him either a trade or non-tender candidate, given his offensive inconsitency in the big leagues. That said, perhaps showing he can handle the outfield, combined with a strong finish at the plate (he's already hit .345 in nine games since being recalled), will make his contract situation less of an issue.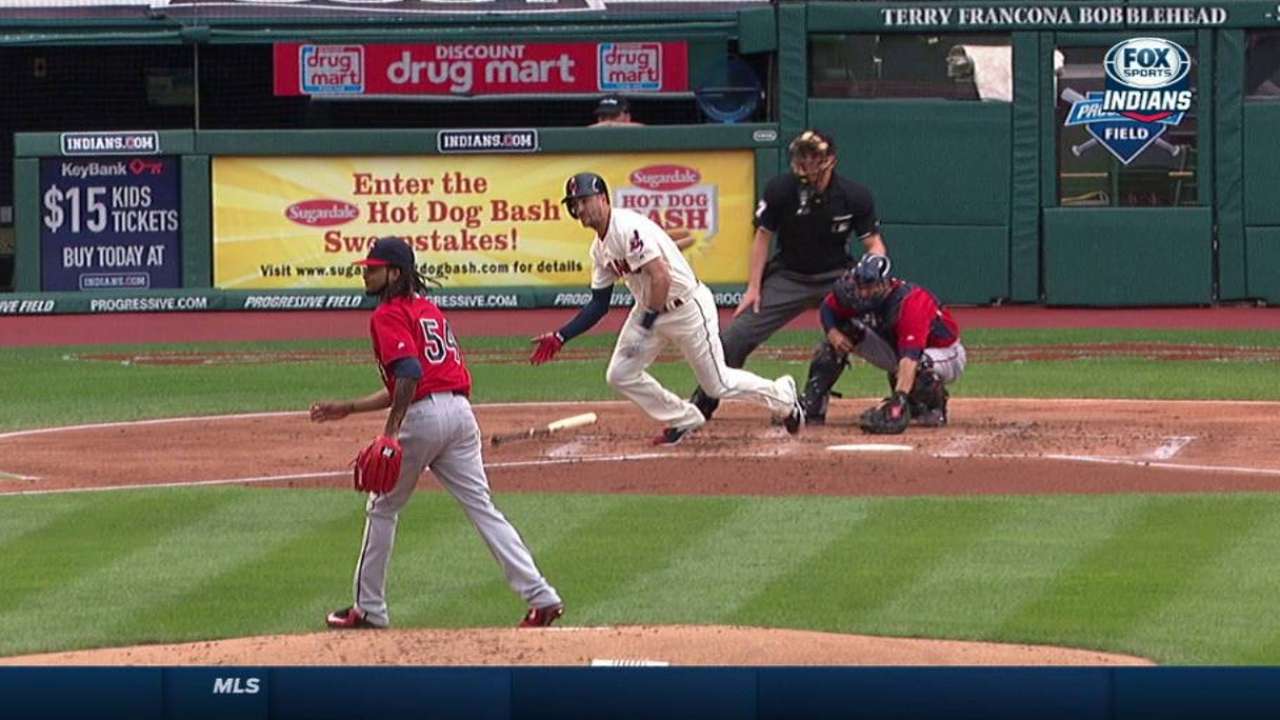 In only eight games in right field, Chisenhall is already tied for the team lead in Defensive Runs Saved (two) at the position this season.
"Versatility is valuable to not only the Indians, but everybody else," Chisenhall said. "You want to be versatile."
In Urshela, Cleveland has a better defensive option at third base than Chisenhall, and a promising right-handed batter who has shown potential in the Minors and in flashes with the Tribe since being called up in June. Urshela is younger, earns less money and is under team control for much longer.
Chisenhall understands the landscape, but he has nothing against Urshela.
"Gio's a good defender. He's got pop," Chisenhall said. "He's always been right behind me taking ground balls in Spring Training and stuff like that, so I've been able to see him. He works hard. It's just baseball. It's not me vs. him, or me vs. the Indians, or anything like that. You play and you want to play baseball for a living."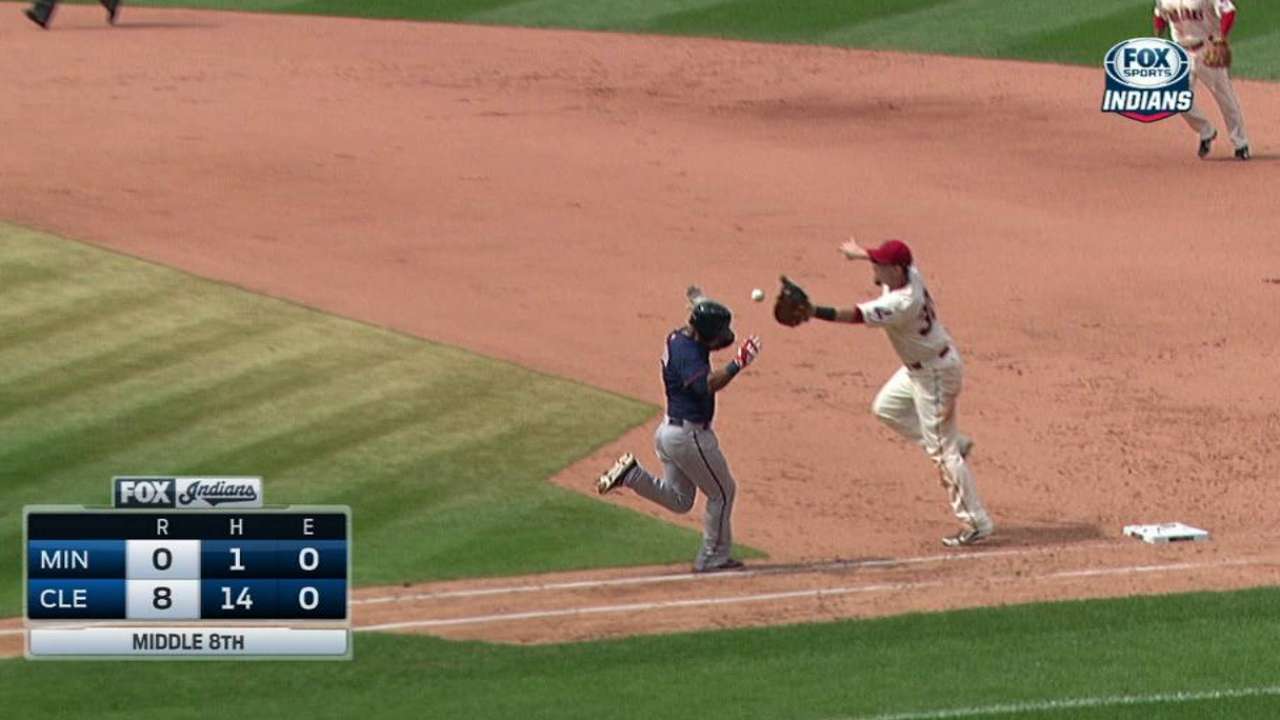 If that means being open to other positions, Chisenhall is all for it.
"[It's fun] any time you come to the field and you have something to look forward to," Chisenhall said. "I'm still taking ground balls [in the infield], but working in right field, it's different, it's a new experience. The first few games, you don't feel as comfortable. But each game, as it goes by, you feel a little better and a little better."
The throw in Oakland certainly made it look like Chisenhall was right at home.
"His skill set is one where he has a chance," said Indians bench coach Brad Mills, who works with the team's outfielders. "When he gets after the ball, he moves pretty well, and his arm's definitely going to play out there."
Jordan Bastian is a reporter for MLB.com. Read his blog, Major League Bastian, follow him on Twitter @MLBastian and listen to his podcast. This story was not subject to the approval of Major League Baseball or its clubs.