5 Red Sox storylines to follow down the stretch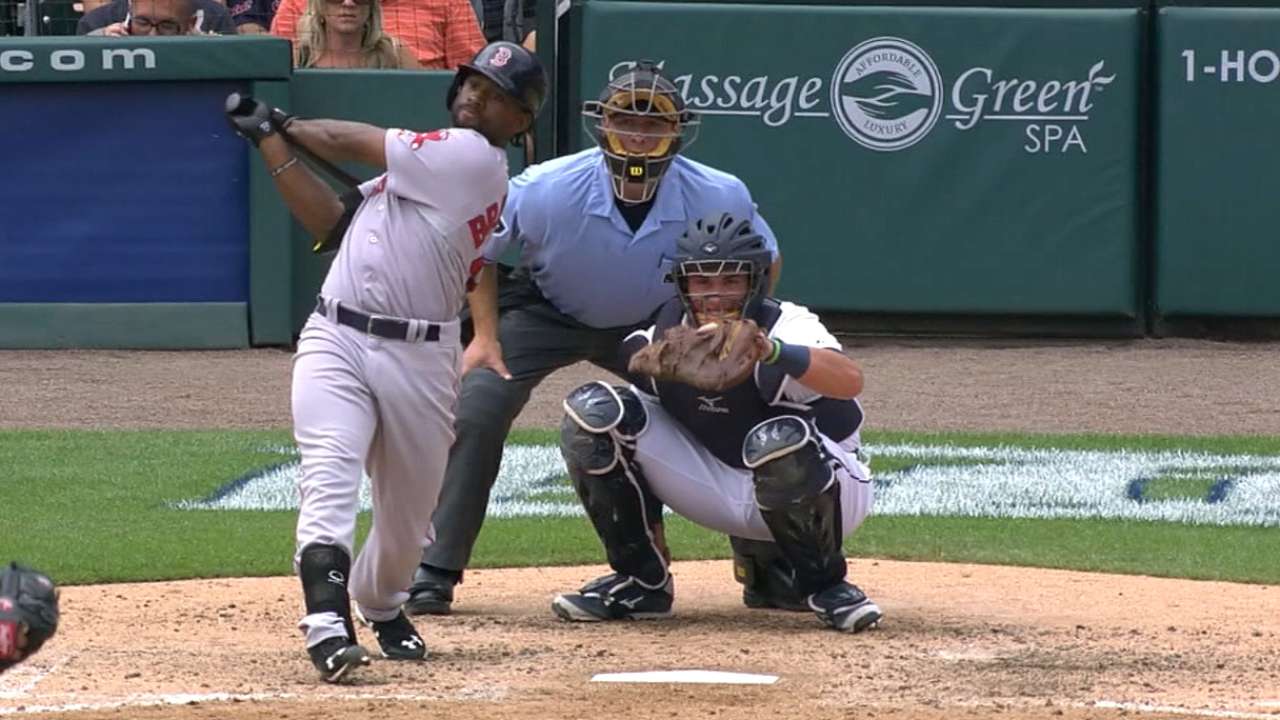 BOSTON -- Though the Red Sox are spectators in the pennant race, there are several intriguing storylines that will make them interesting to watch and evaluate down the stretch.
1. Can Bradley hit in the Majors?
Just when all seemed lost for Jackie Bradley Jr. regarding his future with the Red Sox, he broke out with the best game of his career on Sunday against the Tigers.
The center fielder ran straight back and made a thrilling basket catch, a la Willie Mays. By now, Bradley's heroics on defense are expected. But the offensive eruption -- which included a triple, a homer and five RBIs -- had been long overdue. If Bradley could hit just a little, he'd be a plus on a Major League team. In 189 career games and 540 at-bats, Bradley is a .191 hitter with six homers, 49 RBIs and a .549 OPS.
Considering Bradley's track record in the Minors (.294 average, .391 OBP, .851 OPS), it seems too early to give up on him. It will be interesting to see how manager John Farrell works Bradley into the lineup once Mookie Betts returns from the disabled list this week.
2. Will Hanley, Pablo regain their grooves?
Perhaps Hanley Ramirez's struggles in the outfield shouldn't come as a huge surprise when you consider he's been an infielder his whole career. But Ramirez's offense -- the 20 homers not withstanding -- has been a disappointment. Ramirez has a .302 on-base percentage, compared to the .369 mark he posted for the Dodgers last year. His OPS is .748, far lower than his career .864 number. The Red Sox think Ramirez's swing has gotten too long. Can he get his stroke back in the final few weeks of the season?
Sandoval, the club's other big free-agent acquisition, has endured similar struggles. A .291 hitter in his career, Sandoval is batting a disappointing .257 with 35 RBIs and a .687 OPS. Equally mystifying has been his struggles on defense. Sandoval's 12 errors are more than he had all of last season. It is vital for Sandoval and Boston that he can generate some momentum heading into the offseason.
3. Who's on first?
Though much less heralded than some other Red Sox prospects, Travis Shaw has been a pleasant surprise when given opportunities. The left-handed hitter possesses obvious raw power and is a solid defender at first. Part of the reason Boston traded Mike Napoli is so the team can get more of a look at Shaw to determine if he can become a core piece for next year's team. If not, the Red Sox could get creative at first base, perhaps moving Ramirez there for 2016.
4. What to make of Rusney?
During his most recent callup, Rusney Castillo has provided glimpses of why the Red Sox made such a sizable investment in him. But the consistency is still lacking. Boston plans on getting Castillo in the lineup as much as possible going forward so the club can get a clearer read on his capabilities. One problem has been nagging injuries that have limited his momentum at times, particularly in the Minors. Castillo sometimes looks overanxious at the plate. Defensively, he looks poised to make an impact.
5. Will Buchholz come back strong?
There is every motivation for both Clay Buchholz (strained right flexor) and the Red Sox for the righty to make two to three starts before the season ends. Boston holds a $13 million option on Buchholz for 2016 and a $13.5 million option in '17. The way pitchers are getting paid these days, that isn't a prohibitive cost. The problem is that Buchholz has been slow to recover his confidence and mechanics when bouncing back from injuries in the past. That's why it would make everyone feel good if he could make a seamless return this time. Buchholz was in the middle of a brilliant stretch when he suffered his injury, which made it all the more frustrating.
Ian Browne is a reporter for MLB.com. This story was not subject to the approval of Major League Baseball or its clubs.