Kiermaier among baseball's best defenders
Rays center fielder tops in Majors in defensive WAR
ST. PETERSBURG -- On July 21, Kevin Kiermaier was named the winner of the Rays' 2015 Heart & Hustle Award, and nobody embodies that concept better than Tampa Bay's center fielder.
That hustle is most commonly seen on defensive end, where Kiermaier has made a myriad of running, leaping and diving catches, while also throwing runners out with ease.
"He's a very special player," Rays manager Kevin Cash said. "What he does defensively -- and he does a lot of good offensively when he gets on base, he creates a lot of havoc -- but we know regardless of whether he is on fire at the plate or he is not, he's going to do some big things for us defensively."
Defensively, Kiermaier is as valuable as any player in baseball, as evidenced by his Major League-best 3.28 defensive wins above replacement. The next highest is a tie between San Francisco's Brandon Crawford and Atlanta's Andrelton Simmons at 2.44. At this rate, the 25-year-old Kiermaier is on pace to post a defensive WAR of 4.76, which would be the fifth-highest single-season mark.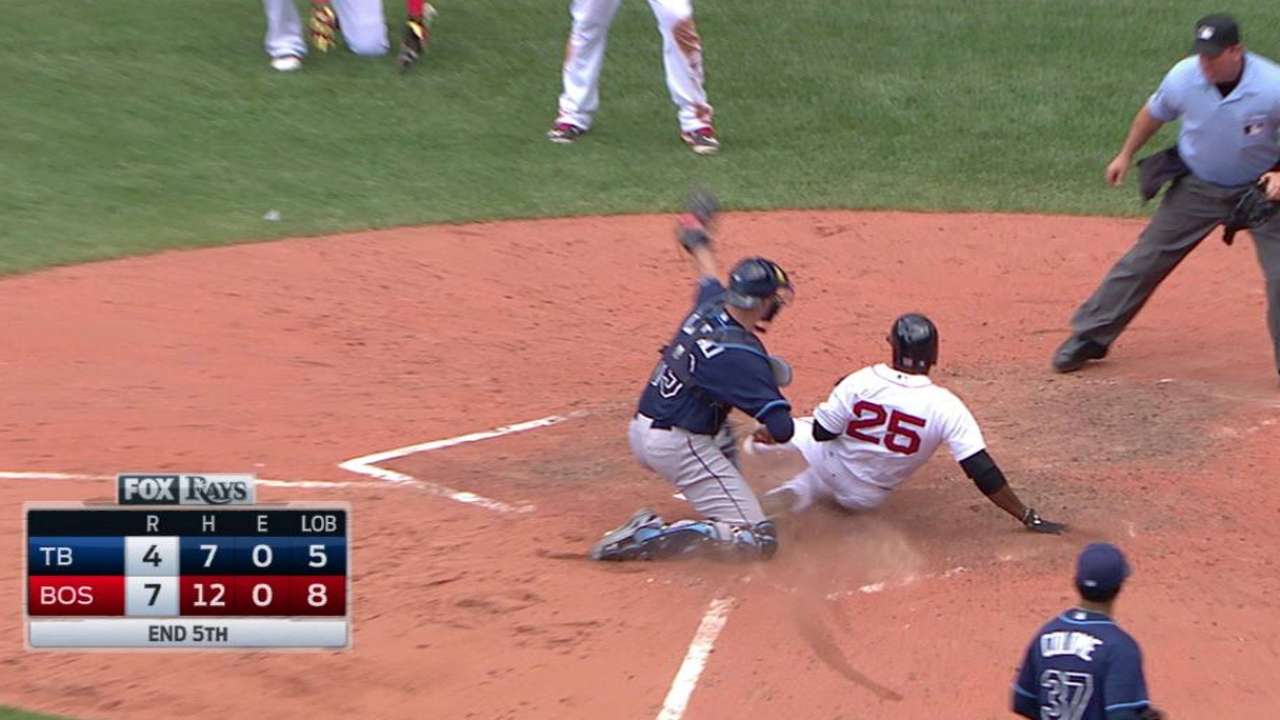 But if numbers aren't enough to support that claim, Kiermaier has certainly passed the eye test.
"You don't say things like this lightly, but I think Kevin is the best center fielder that I've seen defensively at any level or any point in my baseball time," said Tampa Bay first-base coach Rocco Baldelli, who played in the Majors for seven seasons for the Rays and Red Sox as an outfielder and designated hitter.
"There's really not much that you can be critical of," said Baldelli, "and there's really not that much that he does defensively that you can say isn't at the top of the spectrum."
Kiermaier's hustle is both a product of his natural ability and a byproduct of his improbable road to the Majors. He was selected by the Rays in the 31st round of the 2010 MLB Draft out of Parkland College in Champaign, Ill.
"You do wonder how such a good athlete that has shown from the beginning of his career a lot of ability to play the game [was drafted that late]," Baldelli said. "It doesn't make sense at times."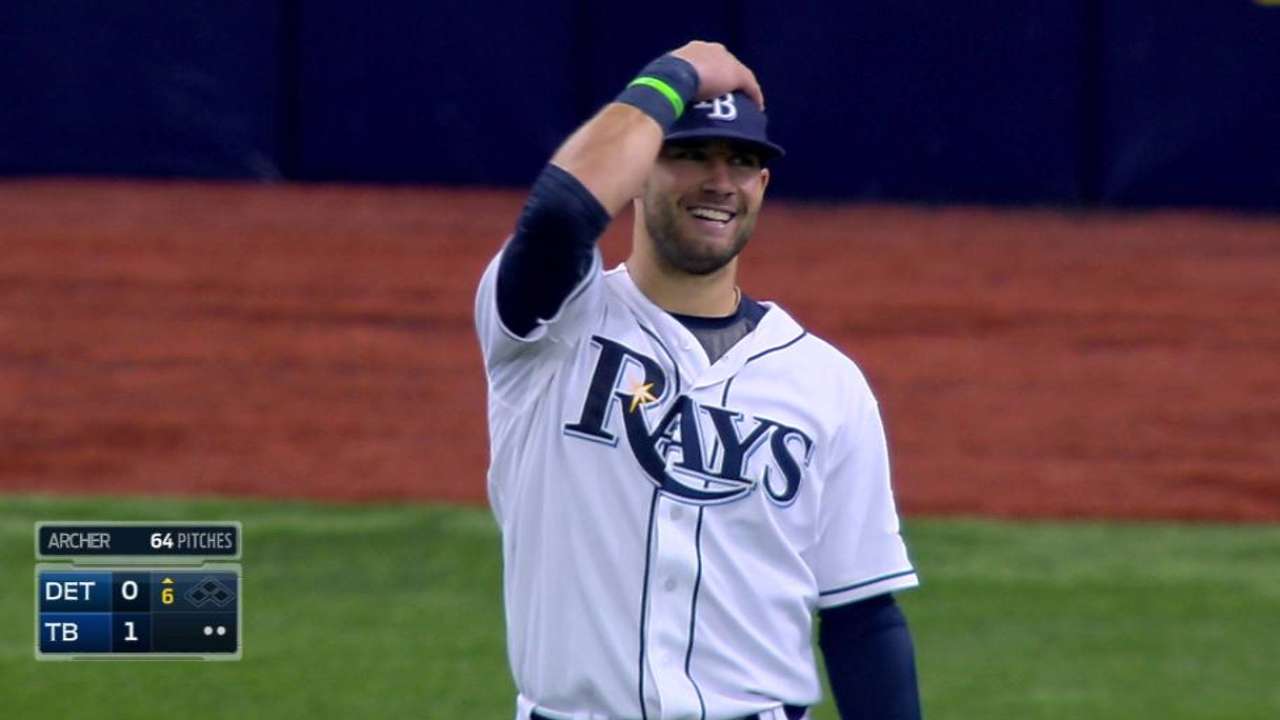 Four years later, Kiermaier found himself occupying Tropicana Field's center field on a daily basis, with the distinction of being a 31st-rounder always by his side.
"I'm never going to forget that I was the 941st pick [in the MLB Draft]," Kiermaier said. "The odds are so against you of making the big leagues, but I'm in that small percentage of people who did make it, despite being a 31st-rounder, so I always use that as a chip on my shoulder. Being the under-the-radar-type guy has always been the storyline of my career, and that's fine with me. I'm right where I want to be."
As good as Kiermaier is defensively, though, his offense is the aspect of his game that holds him back from being an All-Star-caliber player.
Kiermaier sports an on-base percentage of .275, despite being in the Top 20 in overall WAR at 4.42. If that were to hold up, he would be just the 27th player to post an on-base percentage below .300 while also having a WAR of 4 or more, according to baseball-reference.com.
"I know I've been much better defensively than offensively this year, but that's probably going to be the story of my career because of the level of my defense," Kiermaier said.
Last season, Kiermaier burst onto the scene as a rookie, batting .263 with 10 home runs and 35 RBIs in 108 games. This year, those numbers have dropped to a .244 average, four homers and 23 RBIs in 107 games as he continues to mature as a hitter.
"It's just all about going out there and performing and staying within myself," Kiermaier said. "I don't think I've changed much up this year. It's just a tough game, and I'm learning from it."
But no matter how Kiermaier has performed at the plate over his career, one thing has always remained constant: He's always hustling in an effort to make an impact for Tampa Bay.
"I don't ever take my at-bats out to center field," Kiermaier said. "I always keep a good attitude, and I know I can help the team out there. You can count on me to go out there every day and defend with the best of them.
"If I'm not getting hits, I'm going to do my best to take them away."
Troy Provost-Heron is an associate reporter for MLB.com. This story was not subject to the approval of Major League Baseball or its clubs.