Perseverance helps Gimenez, Wilson catch on
Duo stabilized Texas backstop situation after arriving July 31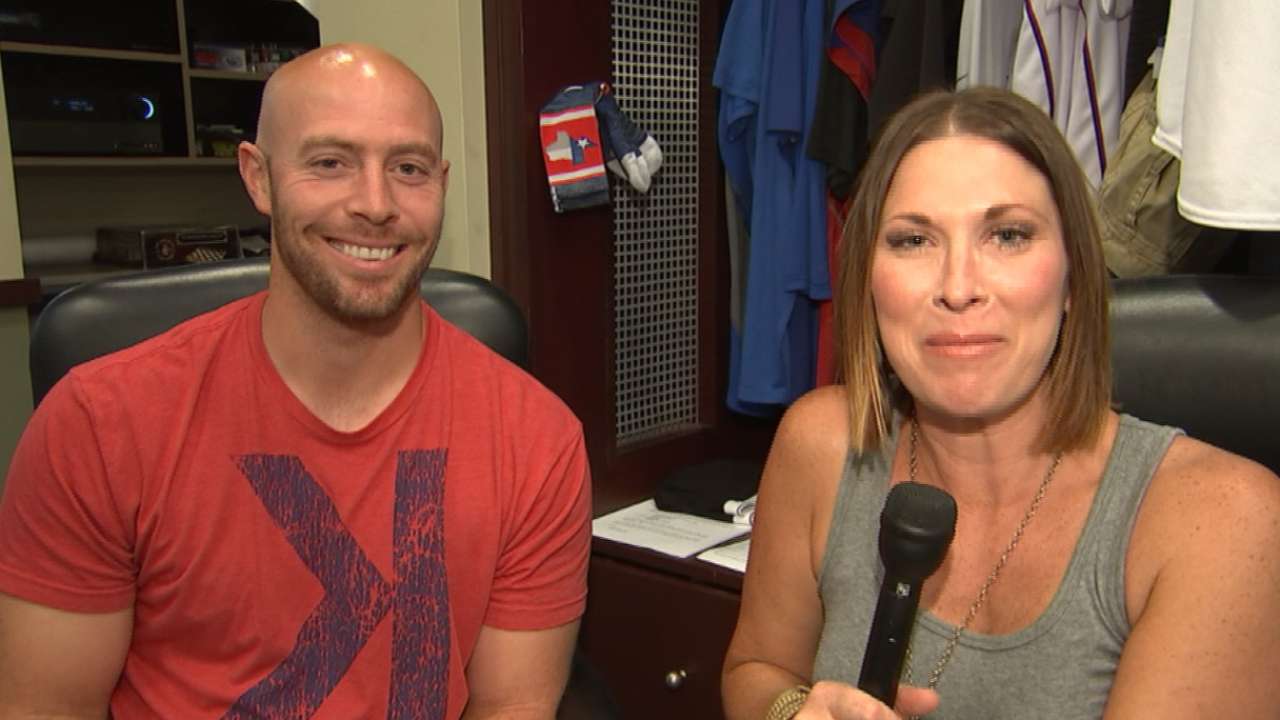 SEATTLE -- The Round Rock Express played four games in Reno at the beginning of June before heading back to Texas. Catcher Chris Gimenez, who lives in Reno, Nev., thought about not getting on the plane.
"I was kind of struggling and not playing the way I'm capable of playing," Gimenez said. "I told the guys, 'If you don't see me on the flight home, it was nice seeing you.' But then I thought, 'It's not how you start, it's how you finish.'"
Gimenez made the plane, and the finish may be totally unforeseen by either him or Bobby Wilson. The Rangers are in a pennant race, and their catching duties are being shared by two players who two weeks ago didn't seem to have the slightest chance of being here.
"It's definitely exciting," Wilson said. "This is what you work for and prepare for, to be able to play meaningful games down the stretch. Sometimes things don't work out but you have to keep working and trust the process. I've always tried to be the best teammate, the best player and the best person I could possibly be. Good things usually happen to those guys."
That appears to be the case with Gimenez and Wilson. Amid the Trade Deadline excitement over the acquisition of pitcher Cole Hamels, it went almost unnoticed that Texas' catching situation completely changed in about a 48-hour period.
Robinson Chirinos went on the disabled list with a strained left shoulder and Carlos Corporan was pulled back from his rehab assignment because his left thumb was too sore to play. Top prospects Jorge Alfaro and Tomas Telis were traded away. On July 31, Gimenez was called up from Round Rock and Wilson was claimed off waivers from Tampa Bay.
All of a sudden, the Rangers had two new catchers.
Gimenez and Wilson are here because they have reputations for being good defensive catchers who know how to call a game and work with pitchers. They are good teammates. They will split duties most likely for the rest of the month, because Chirinos and Corporan may not be back until September. It may go longer than that.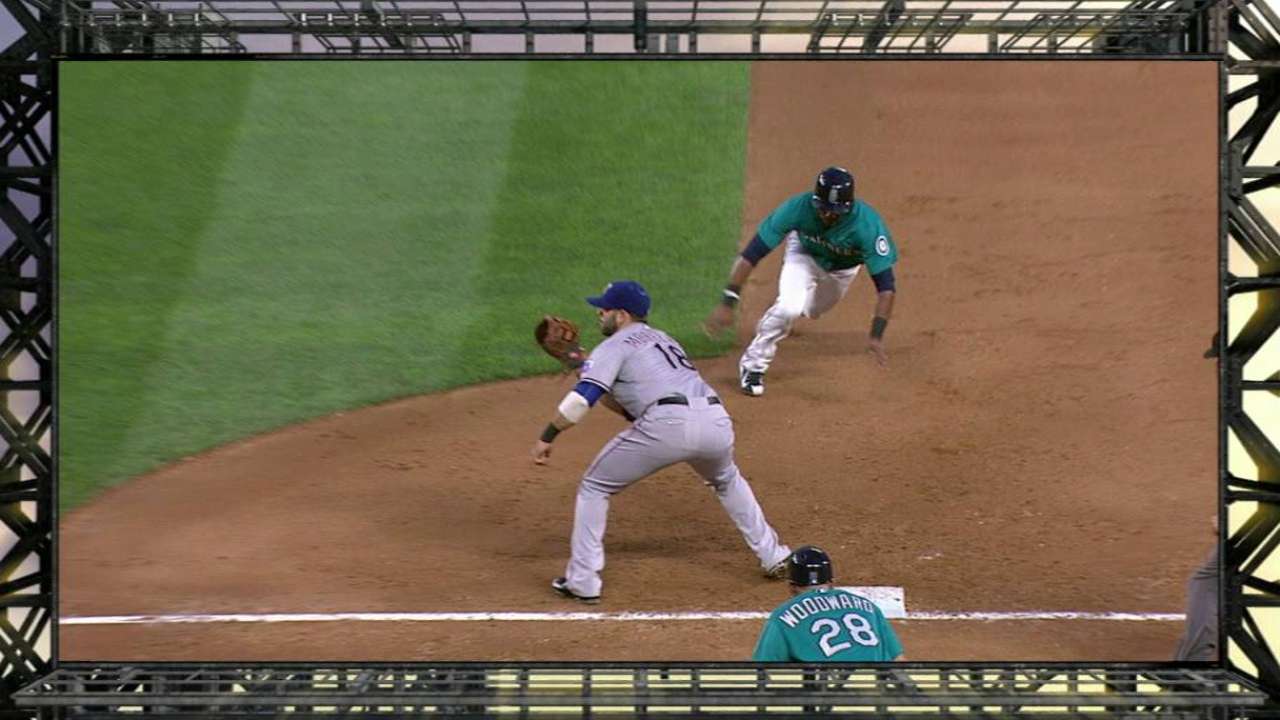 "I think they have done a real good job defensively," manager Jeff Banister said. "We haven't missed a step. Catching is a defense-first priority. The offensive side is a plus. We're fortunate and lucky to have these guys."
Wilson, a 48th-round pick by the Angels out of St. Petersburg College, in 2002, has 13 years in professional baseball. Gimenez, a 19th-round pick in 2003 by the Indians out of Nevada-Reno, has 12 seasons. They have combined to play in 412 Major League games and 808 Triple-A games. Wilson has had one full season in the big leagues. Gimenez has never gone a full season without playing in the Minors.
Between the two of them, there have been 19 occasions when they were called into the manager's office and told they were being sent to the Minors.
"Obviously it's not the career path you expect when you first get drafted," Gimenez said. "But the ups and downs helped me become what I am now at the plate and behind the plate. I had a lot of struggles when I was a young player. I wasn't playing much and I felt I had to get four hits when I was in there to have a chance to play again.
"It took me a few years to learn it's what you do defensively, and just put up quality at-bats. If you can do that, it goes along way."
Wilson had the stability of being in the Angels organization for 10 years. But he has been with the Yankees, D-backs, Rays and Rangers over the past three seasons.
"It has become tough over the past few years moving around, trying to jump into a new organization," Wilson said. "But I still enjoy the game. My wife and kids support me, they enjoy it, too. I guess you can consider me a baseball lifer. I hope I can continue going when I'm done helping younger players."
Wilson has endured despite suffering four concussions as a player, two on foul tips and two on collisions at home plate. New equipment has made the foul tips less of a danger and the new rules should eliminate him getting run over again by Mark Teixeira. But the concussions are real.
"They are awful," Wilson said. "You can't sleep, everything is dizzy, there are a lot of sleepless nights and you don't know the long-term effects. You try to stay on top of it. Your family, no matter what, they are going to worry about you. But my wife [Lori] has been there and she has taken care of me, going through all the protocols."
Both Wilson and Gimenez are married with two children.
"It's more difficult for my wife, but I'm playing because I love the game and I'm taking care of my family," Gimenez said. "I'm still proud of what I accomplished. Not that many people drafted as low as I was can say they have been in the big leagues for parts of seven seasons."
Wilson was the last of six players drafted off a Florida state high school championship team.
"Now there are only two of us still in the big leagues," Wilson said (Casey Kotchman is playing for the Royals' Triple-A team).
It hasn't been easy for either Gimenez or Wilson. But right now they are sharing the catching duties on a Major League playoff contender. No matter what the road has looked like, this is where Gimenez and Wilson dreamed of being all their lives.
T.R. Sullivan is a reporter for MLB.com. Read his blog, Postcards from Elysian Fields, follow him on Twitter @Sullivan_Ranger and listen to his podcast. This story was not subject to the approval of Major League Baseball or its clubs.