Bucs show off potent offense with huge inning
Club posts season-high nine-run frame in seventh en route to sweeping LA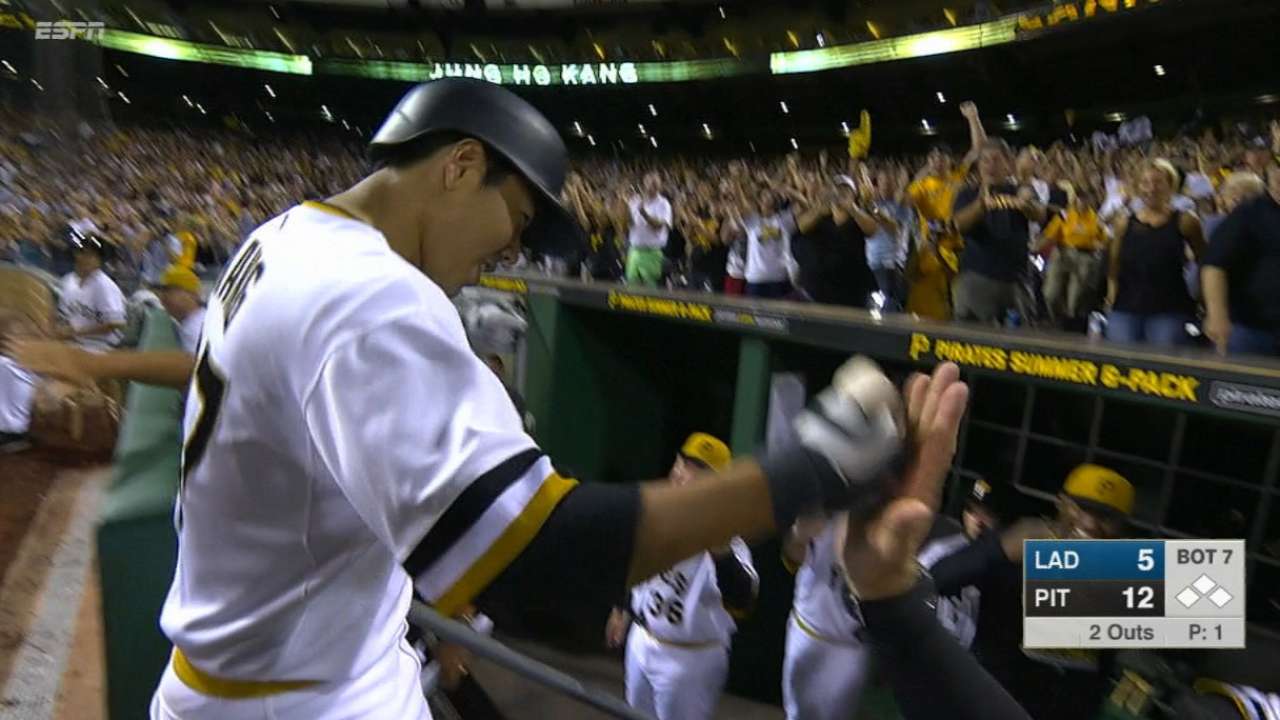 PITTSBURGH -- The sold-out crowd at PNC Park roared as Andrew McCutchen walked to the plate in the sixth inning Sunday night. The bases were loaded with two outs and the Pirates down by two runs, and it was as if all 37,094 people in attendance sensed they were due for a big moment.
McCutchen wound up grounding out. But that moment came after all, as the Pirates responded with their biggest inning of the year, a nine-run seventh that led to a 13-6 win over the Dodgers.
By the time the dizzying display of offense was over, the Pirates had put together their highest-scoring inning and game of the season.
"It says that we're a strong team and it doesn't matter what the score is," McCutchen said. "We're capable of being able to put up some runs -- and put up a lot of runs."
The rally began with one out, when Jung Ho Kang was hit by a pitch. Pedro Alvarez followed with a pinch-hit single, and Francisco Cervelli pulled the Pirates within a run by knocking a single through the right side.
Neil Walker tied things up with a sacrifice fly to left field. Sean Rodriguez singled to center, and Gregory Polanco walked. Starling Marte then put the Pirates ahead with an infield single that traveled about 45 feet and left Marte grinning at first base.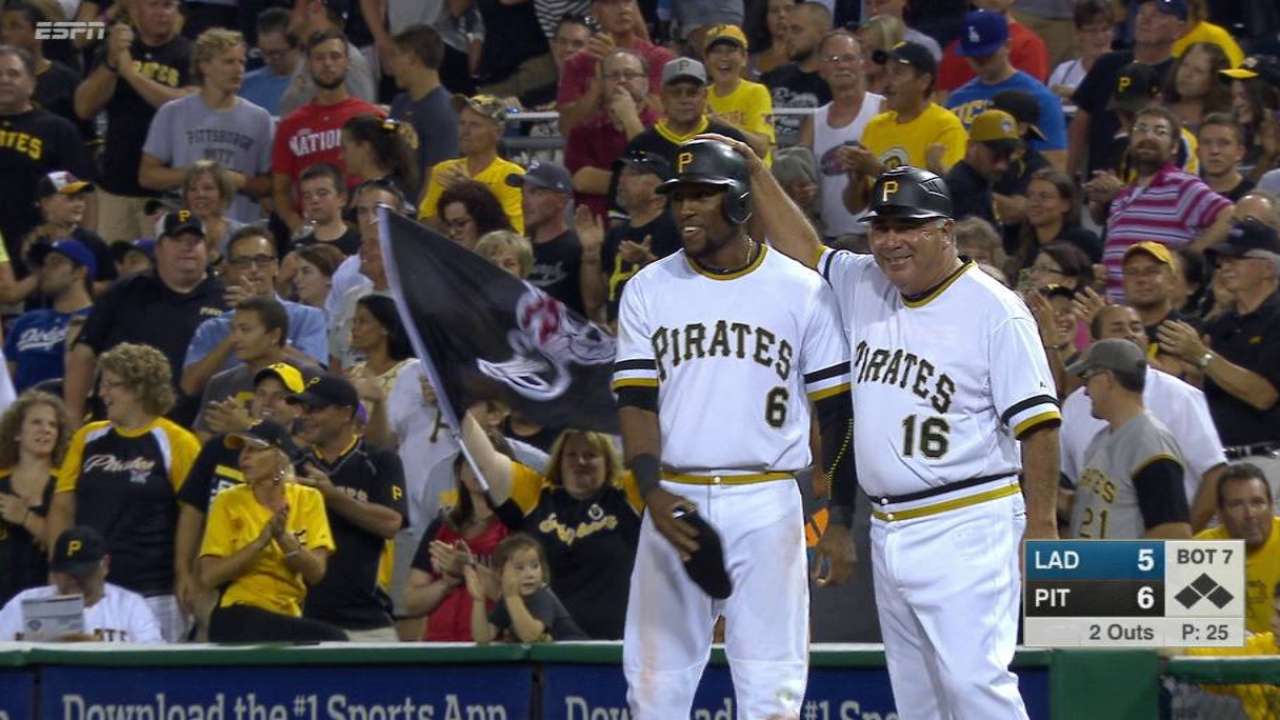 "They're just relentless. They gave 'em too many chances," Pirates starter Charlie Morton said. "You give those guys chances, keep giving them chances, and they're going to do some damage."
McCutchen exemplified that sentiment with his next at-bat. An inning after stranding the bases loaded, he strode to the plate in the same situation with two outs. This time, he laced a two-run single into left field, giving the Pirates a three-run lead.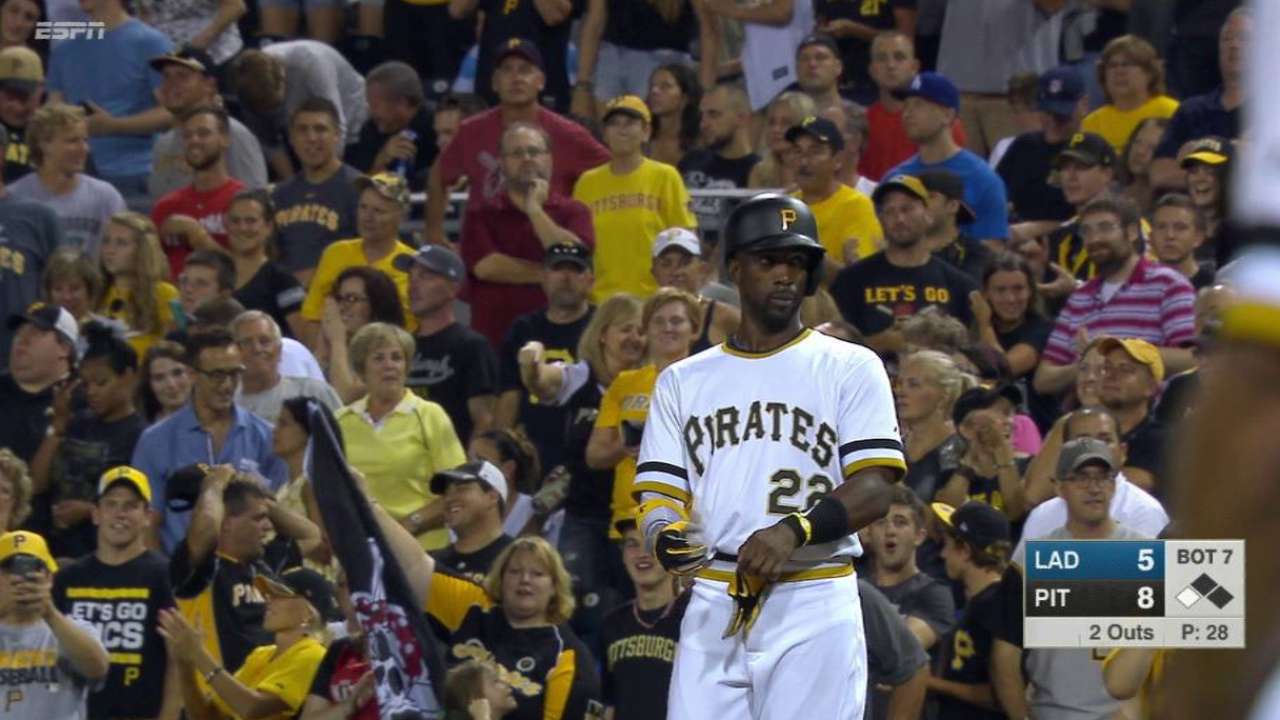 "You don't get that opportunity a whole lot," McCutchen said. "It was good to be able to get that opportunity, that chance and be able to come through."
Aramis Ramirez singled home Marte, and that finally brought an end to Dodgers reliever Jim Johnson's night. But it was not the end of the rally, as Kang crushed the first pitch he saw from Joel Peralta to right field for a three-run homer.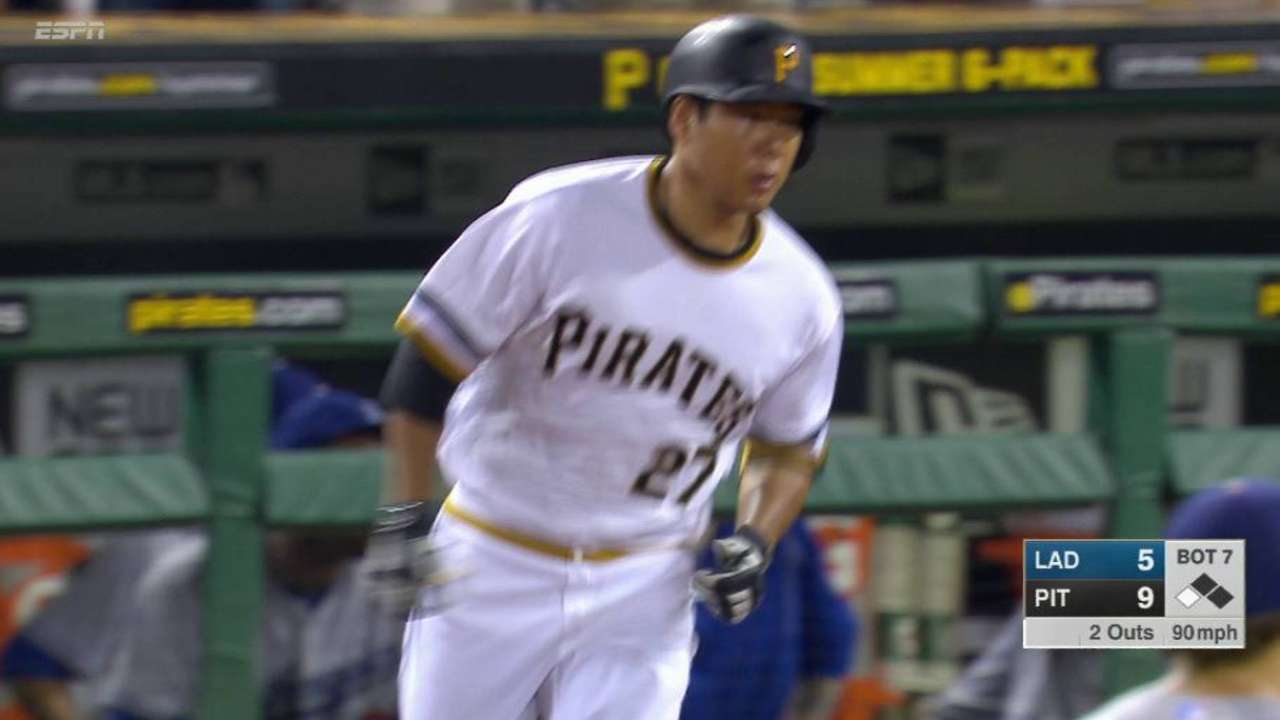 "I don't know how many times I've had a player get hit by a pitch in one inning and then hit a homer in the same inning," Pirates manager Clint Hurdle said.
The Pirates mostly rode their dominant pitching staff to a strong first half, but they've been one of the National League's best offensive clubs since the All-Star break. And there's no better example of their potential than Sunday night's seventh inning.
"We believe we have a good offensive club," Hurdle said. "People talk about how you finish way more than they talk about how you started. The offense seems to be picking up some traction."
Adam Berry is a reporter for MLB.com. Follow him on Twitter at @adamdberry. This story was not subject to the approval of Major League Baseball or its clubs.