Pirates erupt with 9-run 7th, sweep Dodgers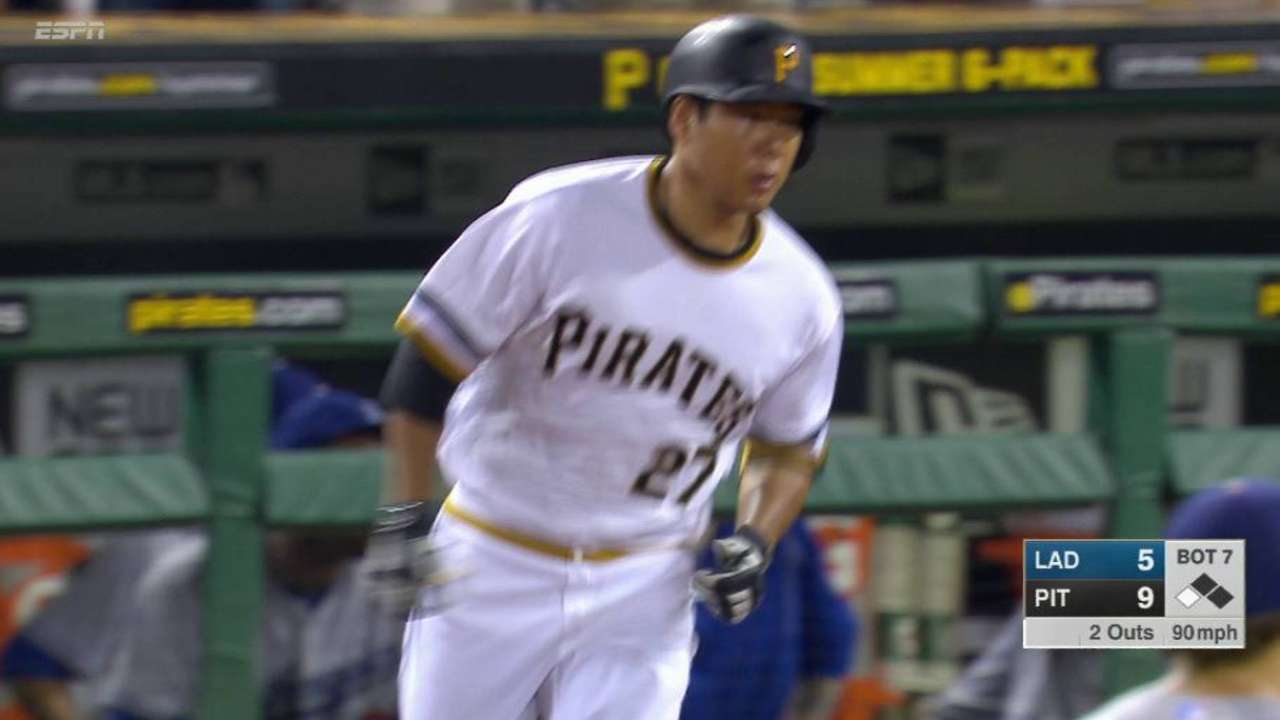 PITTSBURGH -- The Pirates erupted for a season-high nine-run inning against the Dodgers' bullpen in the seventh Sunday night, sending PNC Park's sellout crowd into a frenzy and completing a three-game sweep with a 13-6 win.
Dodgers right-hander Jim Johnson allowed eight of those runs on six hits and a walk while only recording two outs. Pittsburgh entered the inning trailing by two runs but pounded out seven hits, five of them with two outs, and quickly put the game out of reach.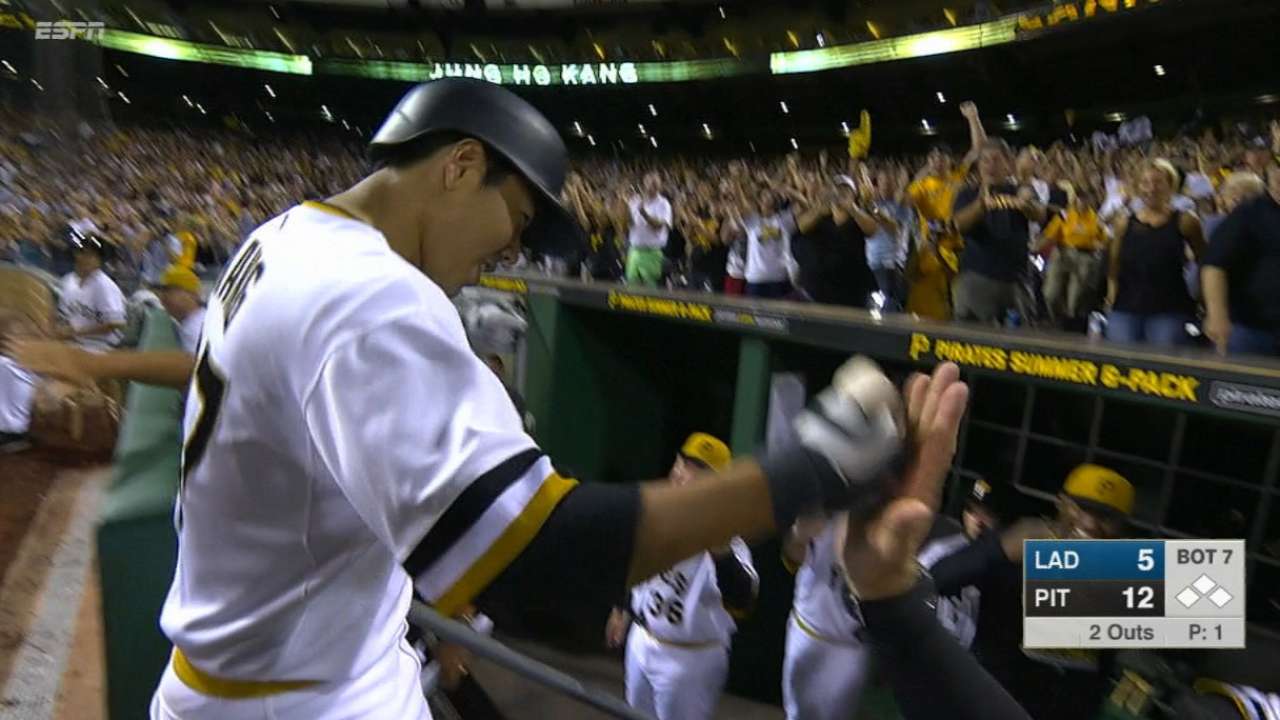 "That's what we've done in the past," Pirates center fielder Andrew McCutchen said. "It doesn't surprise me that we're doing what we're doing now."
McCutchen led the way, crushing a two-run homer to center field in the fifth inning and driving in two more with a bases-loaded single in the seventh. Jung Ho Kang punctuated the Bucs' big inning with an opposite-field three-run homer off Joel Peralta, and Francisco Cervelli went 3-for-4 with a home run and three RBIs.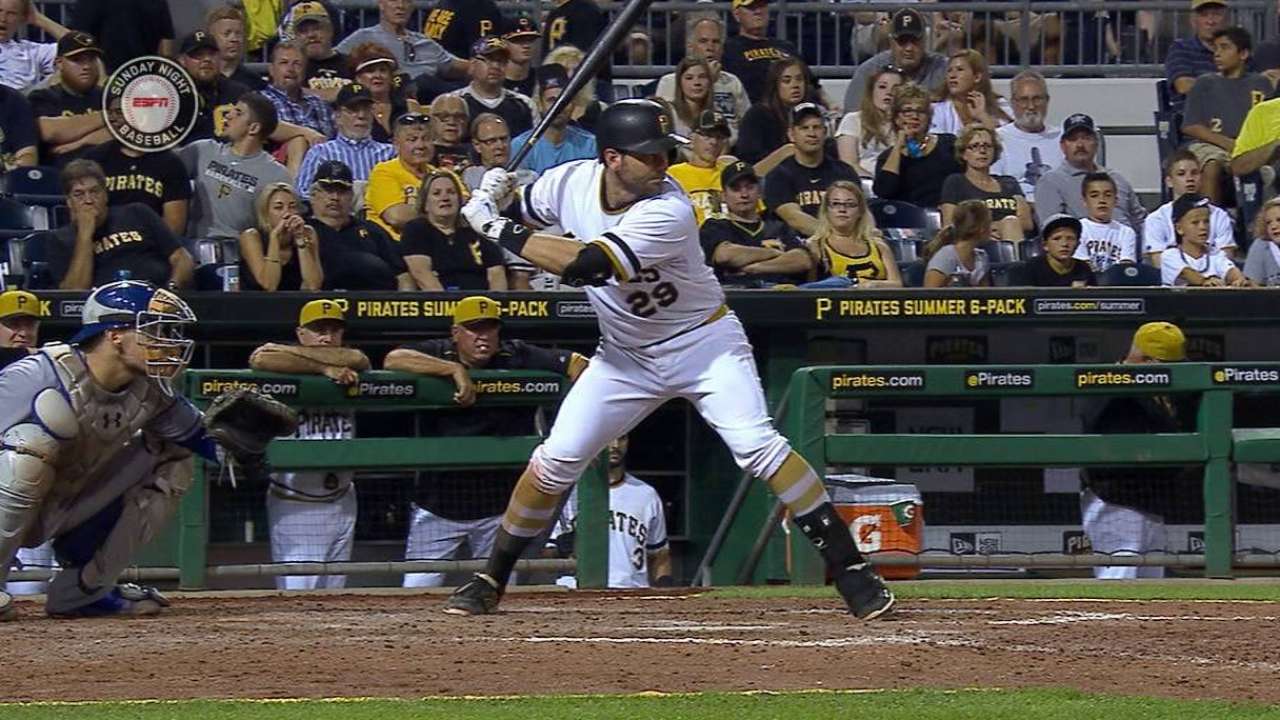 The Pirates have won 15 of their last 18 home games, improving their record at PNC Park this year to 39-18, and 11 of their last 15 overall.
"We believe we have a good offensive club," Pirates manager Clint Hurdle said. "People talk about how you finish way more than they talk about how you started. The offense seems to be picking up some traction."
MOMENTS THAT MATTERED
Rare E-9: Yasiel Puig made a nice play to cut off Pedro Alvarez's long single to right-center that moved Kang to third in the seventh, but Puig's throw to second base was offline and skipped away from shortstop Jimmy Rollins, allowing Alvarez to advance to second. He eventually scored the tying run on Neil Walker's sacrifice fly. Before the inning ended, nine runs had scored. It was Puig's first error of the season.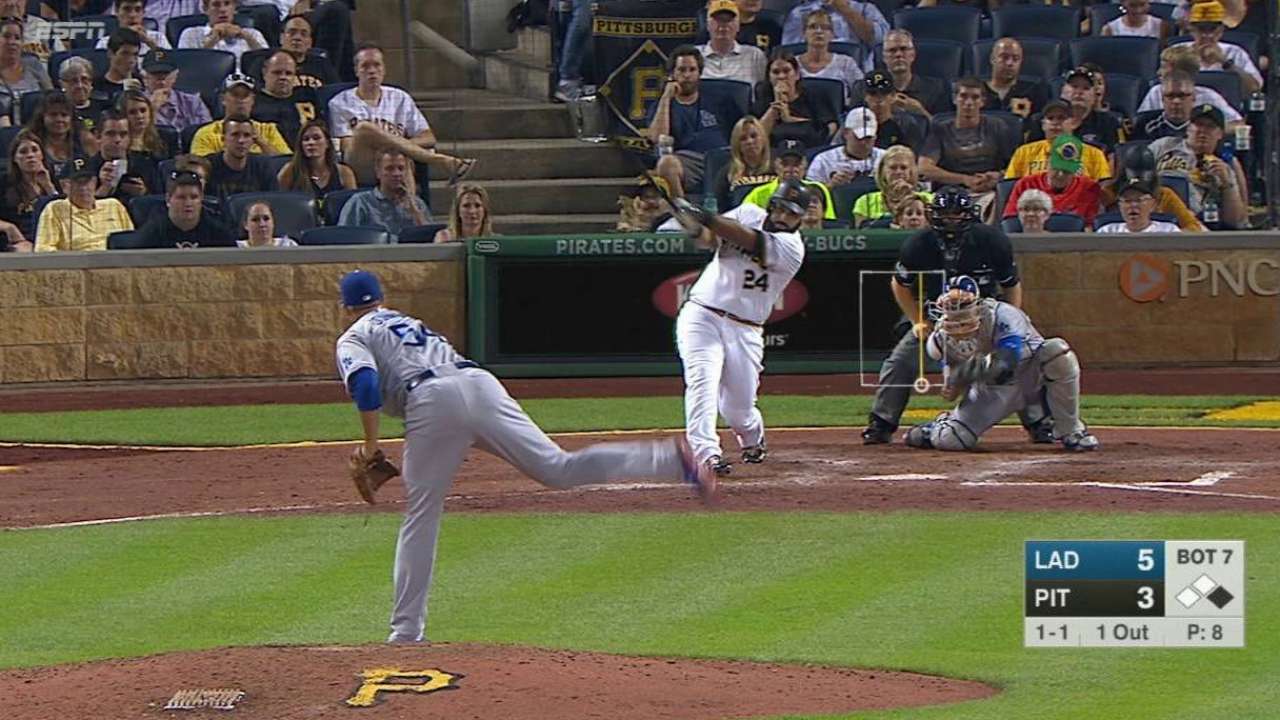 "We want to keep that double play in order and that run off second base, but it's hard to say that play had that much to do with anything," said Dodgers manager Don Mattingly, who was ready to turn the page on the rough weekend in Pittsburgh. "We couldn't get an out after that. You can't lay that inning on Yas. He tried to make a play, the ball checked up, the throw was low enough for Jimmy to cut."
Watch the coach: The Dodgers scored once with one out in the third but ran out of a bigger inning when Yasmani Grandal singled up the middle to apparently load the bases. Third-base coach Lorenzo Bundy held Adrian Gonzalez, but Andre Ethier rounded second and didn't realize third base was occupied until he was halfway there before being tagged out. Carl Crawford then struck out to end the inning.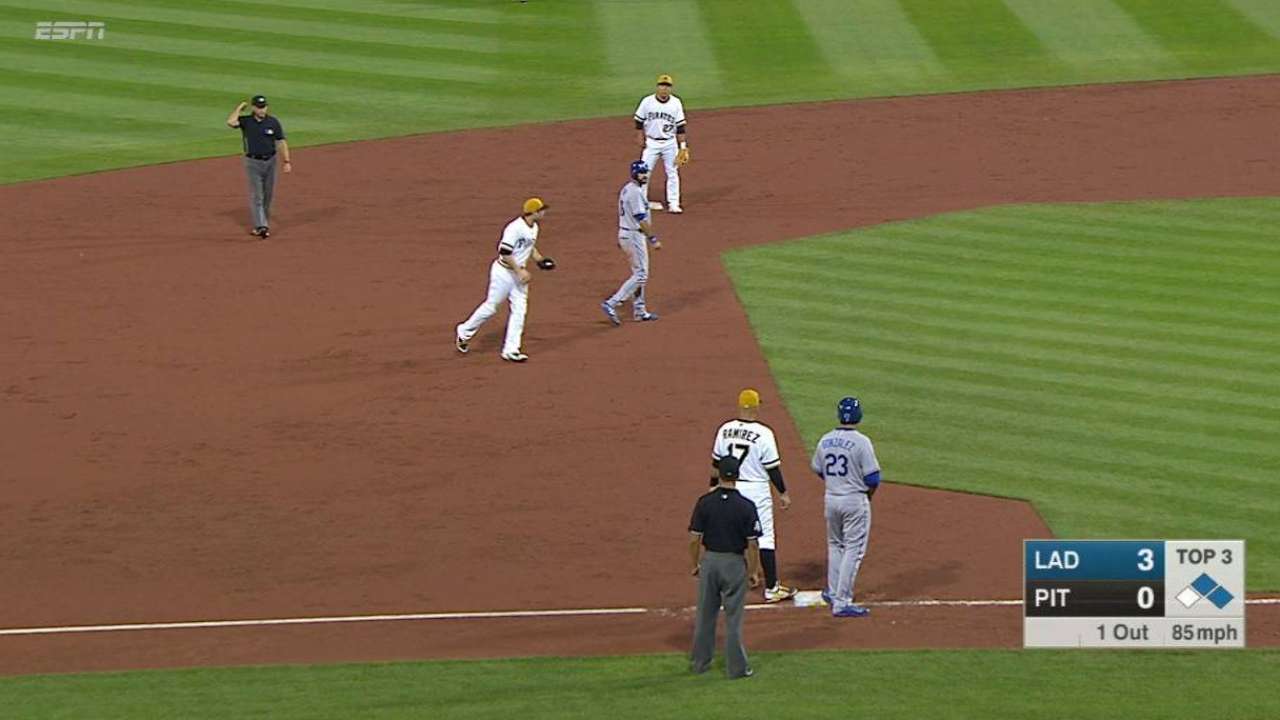 Crushed by Cutch: Dodgers starting pitcher Alex Wood threw five pitches, and Starling Marte drew five pickoff throws at first base, before McCutchen launched a high fastball off the batter's eye in center field for a two-run homer in the fifth inning. Marte clearly stole Wood's attention during McCutchen's at-bat, as it appeared Grandal was coming out of his stance behind the plate to throw down to first base. More >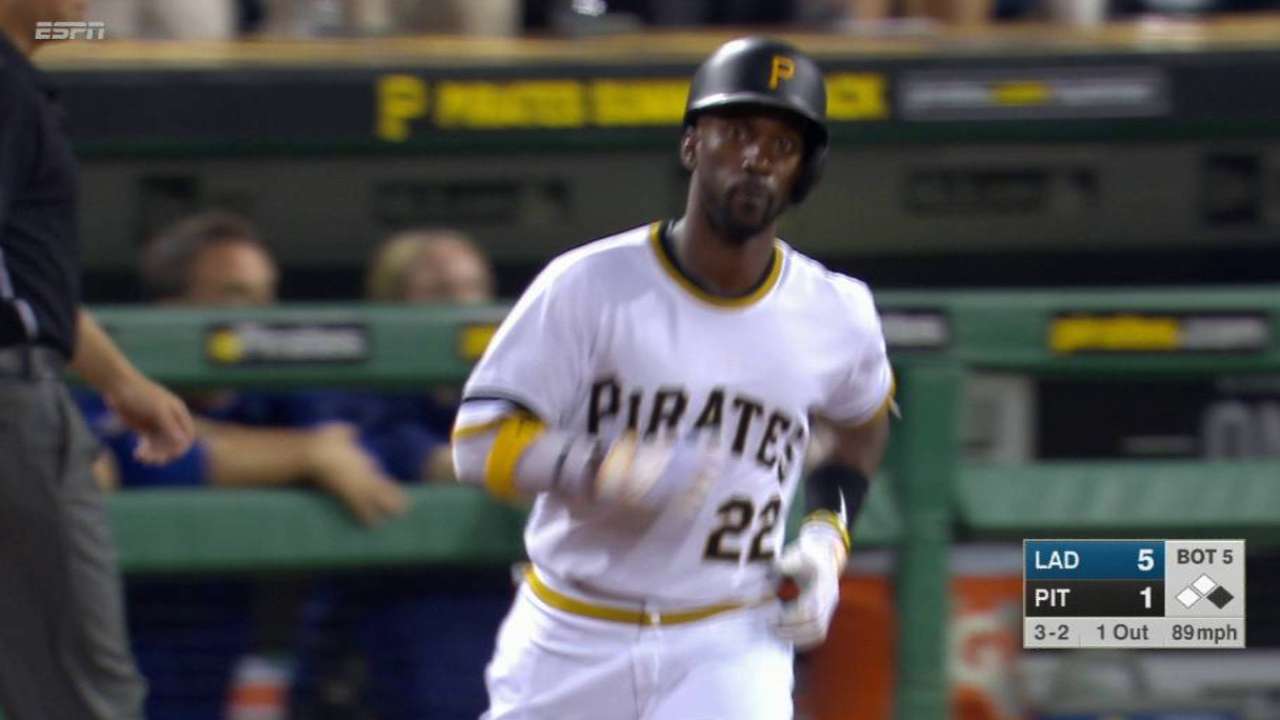 Get hit, then hit one out: Hurdle pointed to one unusual occurrence that encapsulated the Pirates' big seventh inning: Kang was hit by a pitch with one out, their first baserunner against Johnson, then came up again later in the inning and blasted a first-pitch fastball from Peralta to right field.
"I don't know how many times I've had a player get hit by a pitch in one inning and then hit a homer in the same inning," Hurdle said.
• Kendrick departs after straining left hamstring
QUOTABLE
"Everybody kind of followed suit. We've talked about contagions in this game. The hitting part of it got real contagious after the fourth inning." -- Hurdle
SOUND SMART WITH YOUR FRIENDS
The last time the Pirates scored nine runs in an inning in the seventh frame or later was May 17, 2009, against the Rockies. Johnson, meanwhile, became the first Dodgers reliever since 1933 to allow eight or more runs in an inning or less.
This was the Pirates' first sweep of at least three games against the Dodgers since September 2000.
REPLAY REVIEW
With one out in the sixth inning, Walker bounced a ball off the top of the wall in right-center field. Walker sped around the bases and stopped at third, with the play ruled a triple. Crew chief Mark Carlson initiated a review to determine whether Walker's hit was a homer. The call stood as a triple after a two-minute, 17-second review.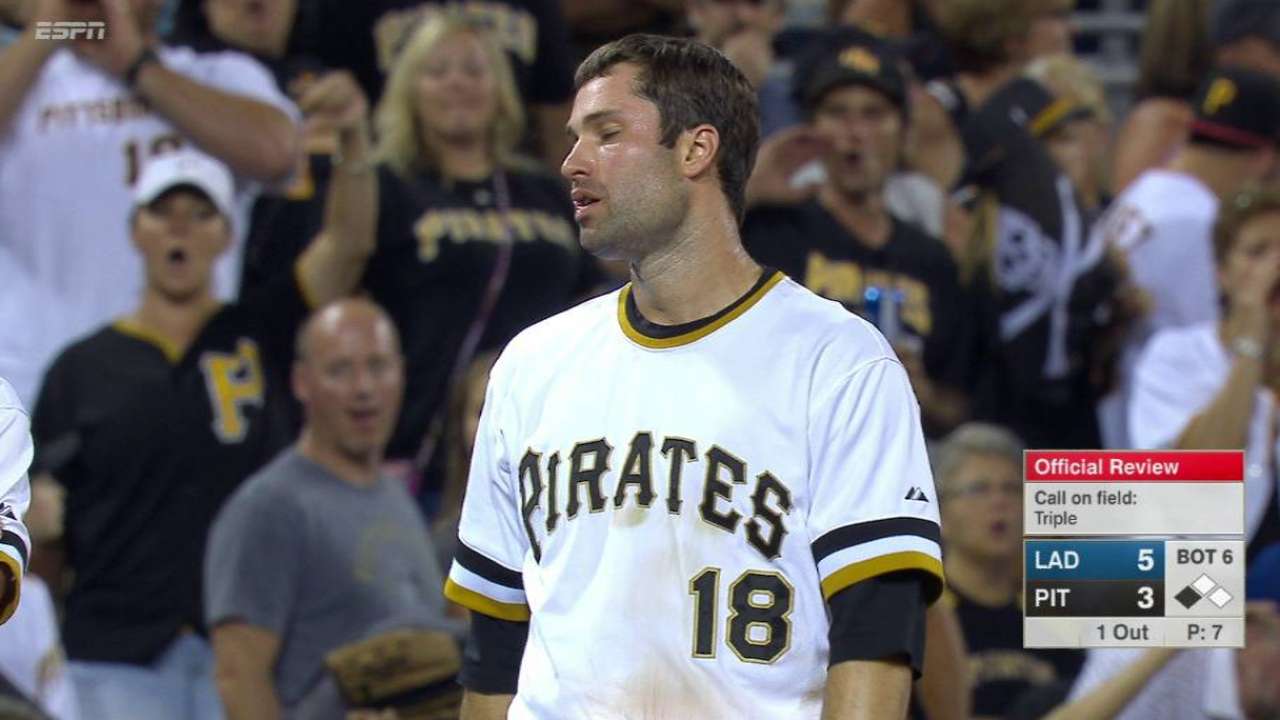 WHAT'S NEXT
Dodgers: The Dodgers return home to open a three-game series against the Nationals on Monday, with Brett Anderson starting against Washington for the first time in his career in a 7:10 p.m. PT start.
Pirates: After an off-day Monday, the Pirates will kick off a three-game series against the Cardinals at Busch Stadium on Tuesday night at 8:15 p.m. ET. The National League Central rivals have split their first 10 games this season, with half of them going to extra innings. Pittsburgh left-hander Jeff Locke will start the series opener.
Watch every out-of-market regular season game live on MLB.TV.
Adam Berry is a reporter for MLB.com. Follow him on Twitter at @adamdberry. Ken Gurnick is a reporter for MLB.com. This story was not subject to the approval of Major League Baseball or its clubs.