Kendrick departs after straining left hamstring
Dodgers prepared for extended absence; second baseman set to have MRI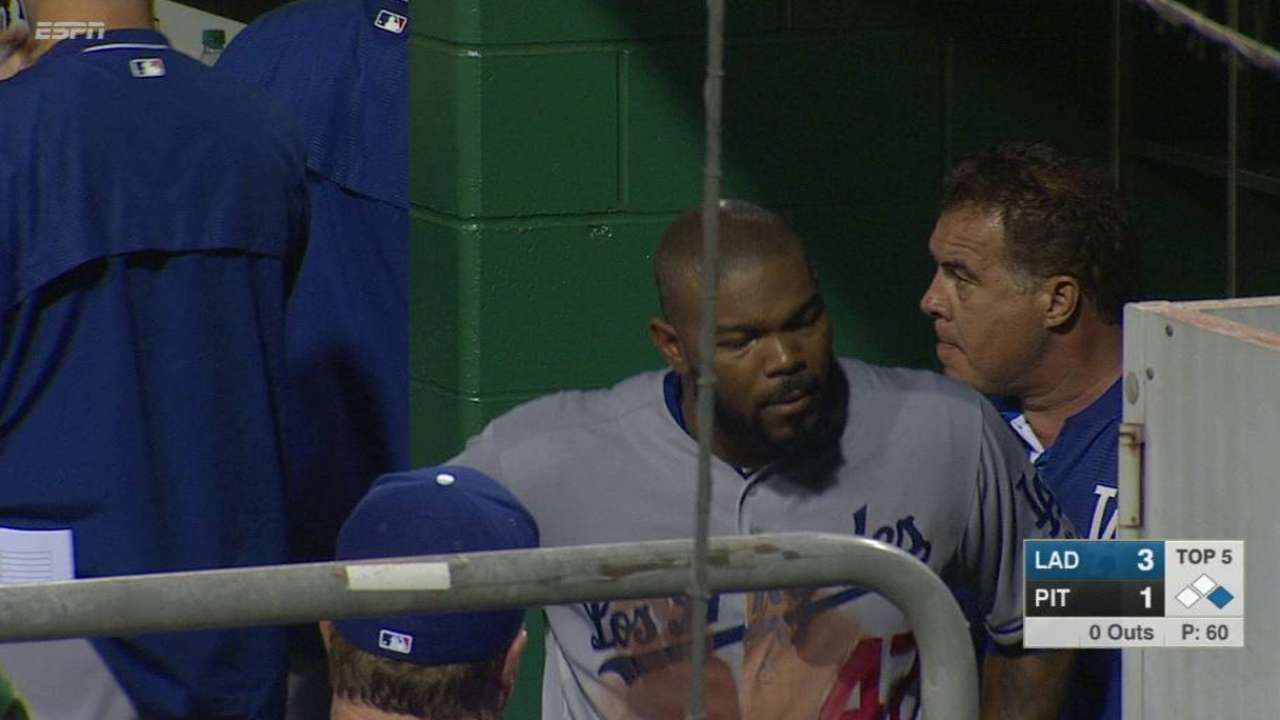 PITTSBURGH -- Second baseman Howie Kendrick will have an MRI on his left hamstring Monday, but manager Don Mattingly is prepared for an extended absence after Kendrick was injured trying to beat out an infield single in the top of the fifth inning of Sunday night's 13-6 loss to the Pirates.
"He'll have an MRI in the morning and we'll obviously know a lot more then," said Mattingly. "But we all know how these hamstrings go. You don't wake up tomorrow and feel a lot better."
Especially not at age 32, having pulled the same hamstring while with the Angels early in 2008 and re-injuring it late that year.
"It just grabbed," Kendrick said. "I saw the play, had a chance to get a hit and instincts take over. I tried to kick it into another gear and it grabbed. And it stinks, because this is the time of year you want to be on the field, not off the field. You want to try to help the team win and put the team in a spot to win games, and there I was hustling and it came back to bite me."
Kendrick led off the inning with a roller that Pirates first baseman Michael Morse shoveled toward pitcher Charlie Morton covering first base as Kendrick stretched to get to the bag first. Kendrick appeared to feel something one stride from the bag and then limped noticeably once he passed it, coming out of the game immediately.
Two innings earlier, Kendrick singled, stole second base and scored on Adrian Gonzalez's second RBI single of the game.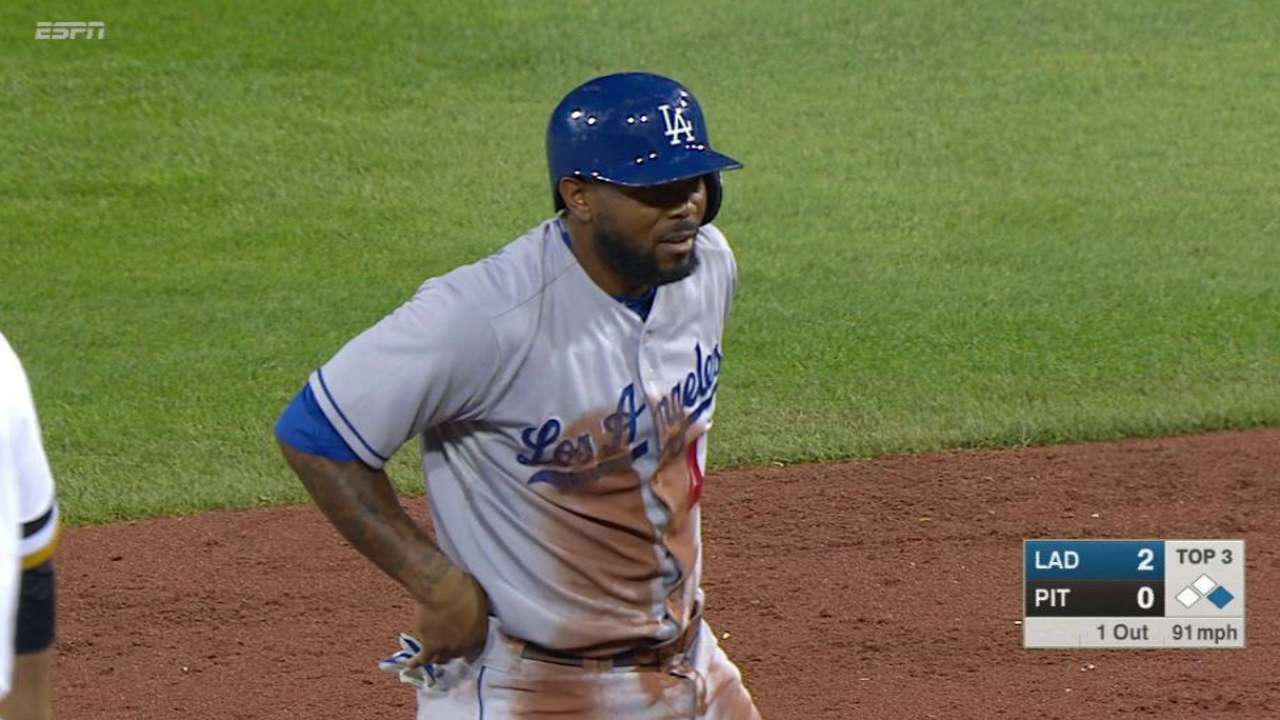 He said the injury was in the same area as the one he suffered with the Angels.
"Very similar," he said. "Don't expect to see me playing tomorrow. I've got to get in the gym, working and getting back on the field."
Kendrick is hitting .296, having played in 105 of 111 games with nine home runs, 49 RBIs and a .758 OPS.
Kendrick was replaced by Enrique Hernandez, who homered and singled. It was Hernandez's second home run in as many games.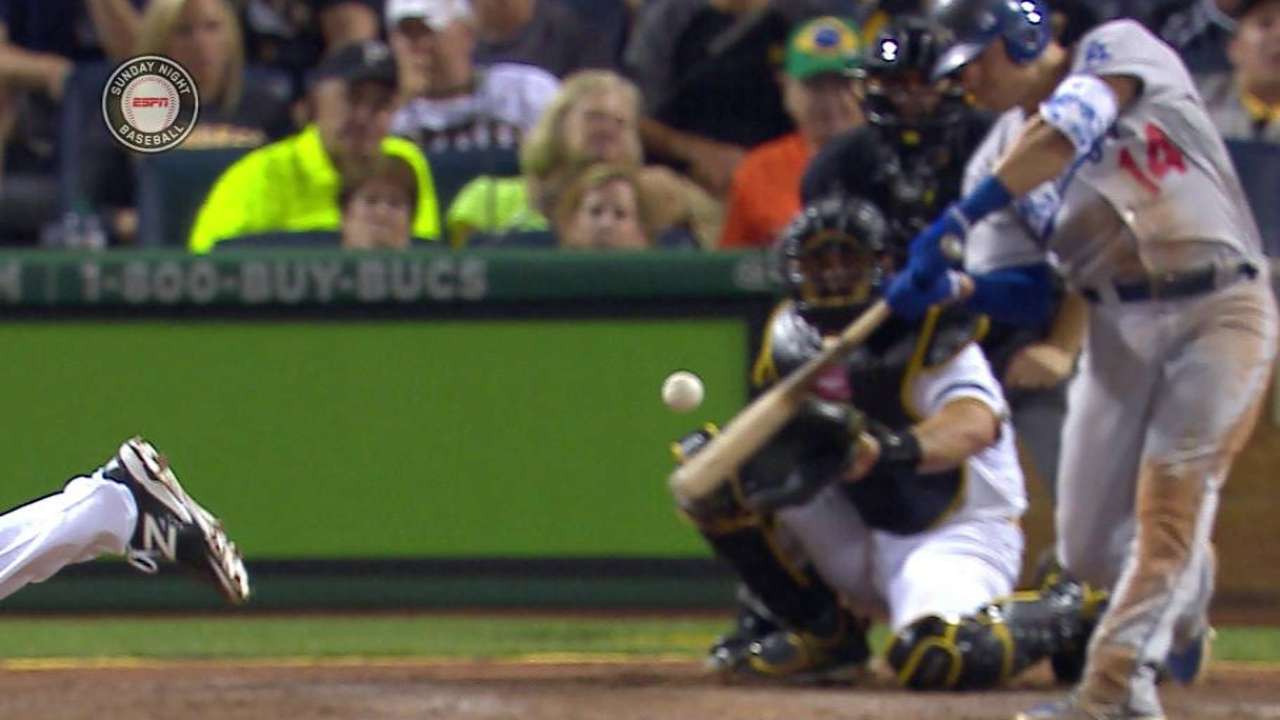 Mattingly was non-committal about what the Dodgers would do for a replacement for Kendrick, although a roster spot will be needed in a few days when Justin Turner returns from the disabled list.
"It's a big void," Mattingly said. "Howie is bread and butter, a leader, a big part of us. Basically, a big chunk of us. I don't know exactly who we'll bring. We'll talk on the plane tonight. Kiké swung the bat well against a righty tonight and deserves a chance to play. We'll talk about our different options."
Among the options is No. 4 prospect Jose Peraza, the 21-year-old second baseman acquired from the Braves at the non-waiver Trade Deadline and now playing at Triple-A Oklahoma City.
Ken Gurnick is a reporter for MLB.com. This story was not subject to the approval of Major League Baseball or its clubs.