Markakis, Pierzynski unable to extend hit streaks
Veterans boasted two longest active streaks in National League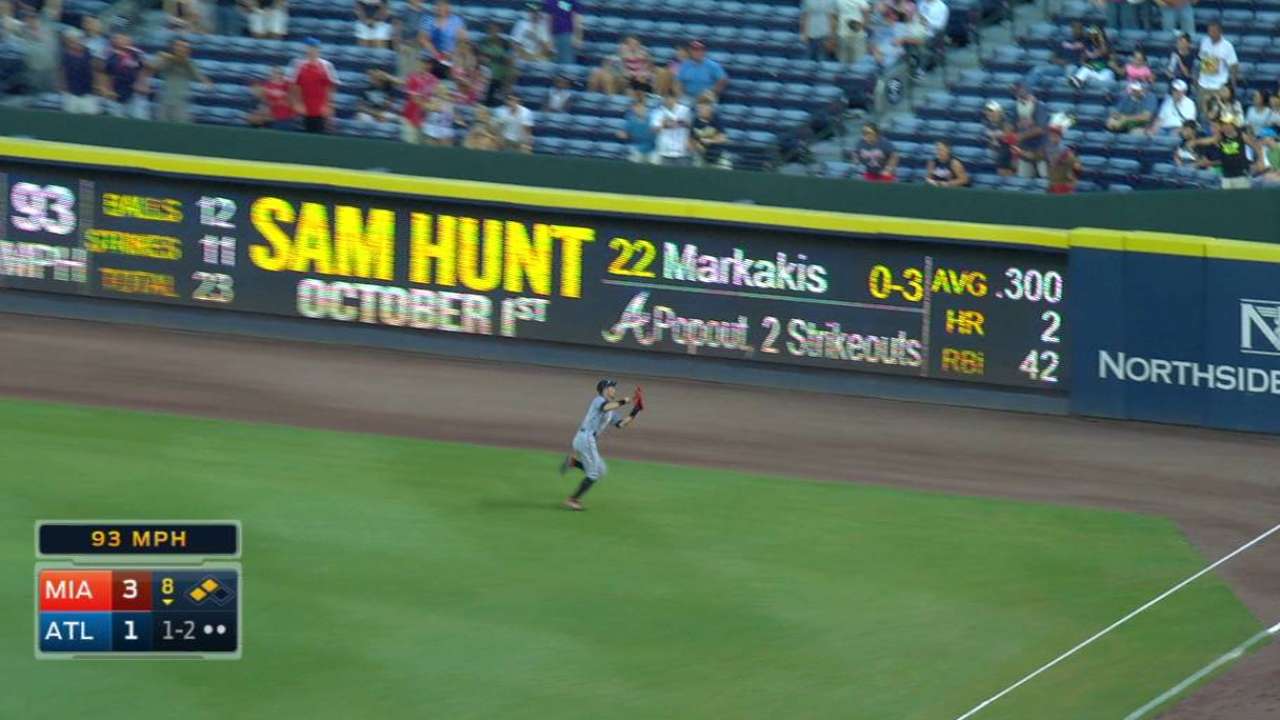 ATLANTA -- Nick Markakis and A.J. Pierzynski both ended their hitting streaks Sunday afternoon, as the Marlins took the finale of a four-game series at Turner Field, 4-1, behind the arm of Brad Hand.
Markakis' 15-game hitting streak was the best in the National League, while Pierzynski's 13-game streak was the second-best. The two veteran hitters anchored the middle of the Braves' lineup this homestand, during which the club scored 5.83 runs per game through the first six games.
But Hand, who had just one start under his belt since June 8, managed to cool down both hitters. The two both went 0-for-4 on Sunday after combining to go 22-for-48 (.458) during the first six games of the homestand.
"[Hand] threw well, and unfortunately, we couldn't get it done," said second baseman Jace Peterson. "It seemed like every ball we hit to the outfield they caught."
Braves manager Fredi Gonzalez echoed the sentiment about Miami's outfield, which deployed Gold Glovers Christian Yelich and Ichiro Suzuki in left and right, and Cole Gillespie in center.
"Their outfield play today was very, very good," Gonzalez said. "Gillespie made a couple of nice plays."
The Marlins outfield also came up big during the eighth inning with the tying run on second base and two outs -- with Markakis at the plate and his streak on the line.
"We had a chance to tie the game with probably our hottest hitter on our team," Gonzalez said of Markakis. "And he hit a nice hooking ball down the right-field line and Ichiro ran it down."
Markakis' 15-game hit streak was a team-best this season, and the 31-year-old outfielder hit .364 (24-for-66) during that stretch. For Pierzynski, it was actually his second 13-game hit streak of the season -- his first went from April 8 to May 1 -- with the veteran catcher hitting .431 (22-for-51) this time around.
Even after 0-for-4 days at the plate on Sunday, both players are hitting exactly .300 this season. Not too shabby for a couple of old, "professional hitters," as Gonzalez likes to say.
Carlos Collazo is an associate reporter for MLB.com. This story was not subject to the approval of Major League Baseball or its clubs.