Two replays prove challenging for Nats
HBP leads to go-ahead run; Rendon cut down at home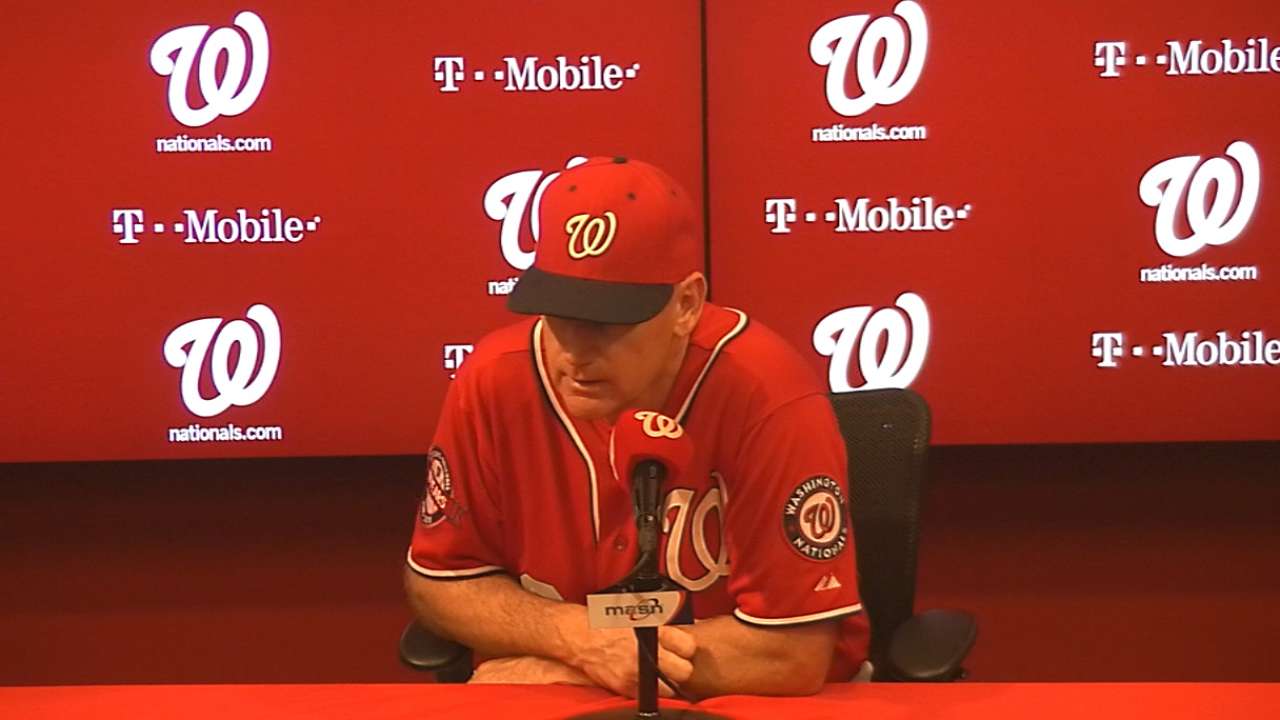 WASHINGTON -- Drew Storen stood in front of reporters following the Nationals' 6-4 loss on Sunday still in disbelief on how a critical call was reversed in the eighth inning.
In a tie game with a man on first and no outs, the Rockies' Michael McKenry squared around to lay down a sacrifice bunt, but jumped out of the way when a Storen fastball ran in on him. It was initially ruled a foul ball on the field, but the replay showed the ball hit McKenry's hand, not the bat, and he was awarded first base.
"Looking at the video evidence, I still don't understand how that was reversed," Storen said of the call. "Anytime a play like that, you are looking at a hit-by-pitch or foul ball, that's a big call. Like I said, something needs to change with that because that's not accurate."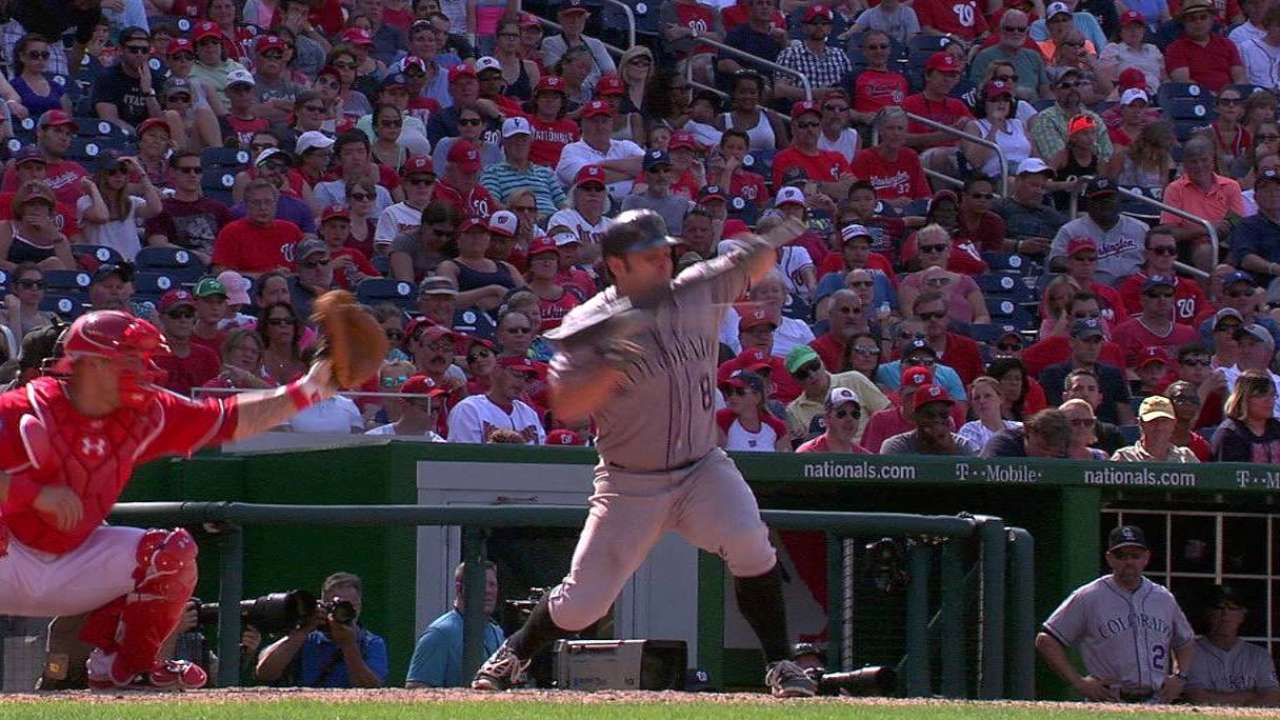 The call turned out to be huge, as McKenry scored the go-ahead run for the Rockies following a DJ LeMahieu single that scored two to put Colorado up, 6-4. The critical play was just one of many that occurred in Sunday's series finale that could have differed the outcome, but the hit-by-pitch was one that Nationals manager Matt Williams was sure to point out in the postgame news conference.
"I think that you can certainly look to the bunt attempt and hit batsman that sets that inning in motion," Williams said.
Another big one came a half-inning earlier, when Anthony Rendon tried to score on a Ryan Zimmerman single to right field. Colorado's Carlos Gonzalez fielded the ball and fired a rocket to home plate, where McKenry had plenty of time to turn and put the tag on Rendon.
Washington's second baseman slid right into McKenry at the plate, which prompted Williams to challenge whether the Rockies' catcher violated the home-plate collision rule. Following a review, the call on the field was confirmed and Rendon was ruled out, ultimately keeping the game tied.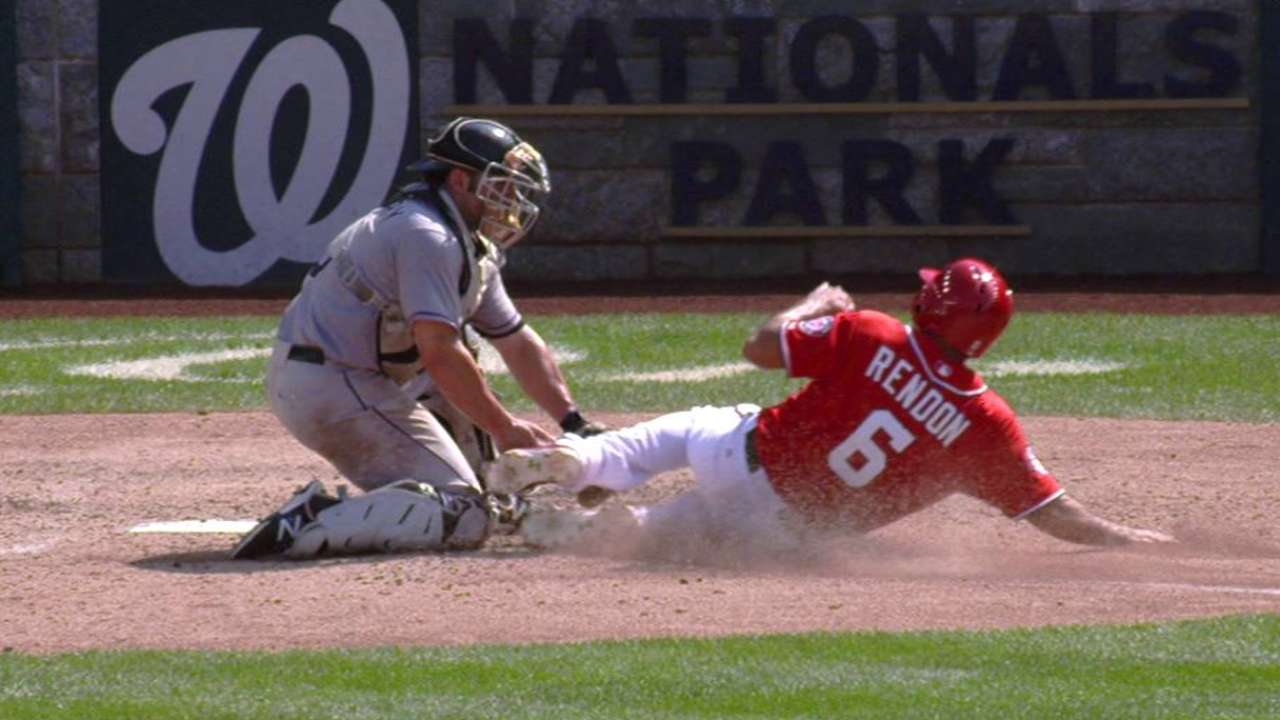 "The review at the plate is that blocking the plate constitutes not giving them a lane to slide so they could reach the plate," Williams said. "But the ball beat him enough where he could catch it and come in front of the plate. That's perfectly legal once he has the baseball."
Rendon, who returned to the lineup on July 25 after missing about a month with a left quad strain, said he thought he had a good jump off second but couldn't do anything differently at the plate once he was already beat.
"It's kind of a lose-lose situation," he said. "I was talking to the umps in the field. So, like if you take him out and he's not blocking the plate you're a jerk or whatever. Then if you don't slide, you're out. It's just unfortunate."
As of result of these two plays, among various other factors, Storen was credited with his second consecutive loss after giving up a go-ahead grand slam in the eighth inning of Friday night's loss. The two losses come after the reliever produced 14 scoreless outings from June 26-Aug. 6.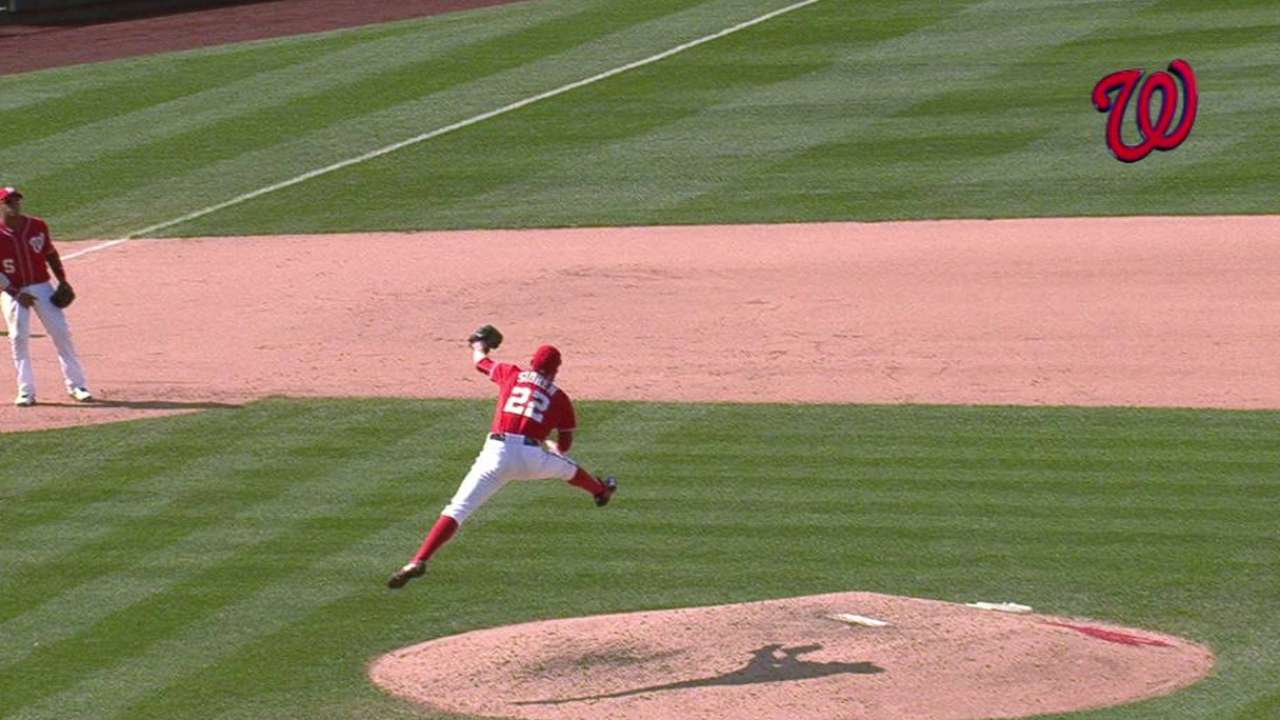 "He's still great, he's still an amazing pitcher," Rendon said in defense of Storen, who has 29 saves in 32 opportunities this season. "It's two games. ... You guys are going to quit on him already? I was 0-for-4 the other night, 0-for-5, you going to quit on me too? We have bad games."
Connor Smolensky is an associate reporter for MLB.com. This story was not subject to the approval of Major League Baseball or its clubs.