Gorzelanny, Krol can't contain Bradley
Tigers relievers allow Red Sox's No. 9 hitter to drive in four
DETROIT -- The Tigers' bullpen, which began the day as the fourth-worst unit in baseball, endured another tough day as it allowed five runs in Sunday afternoon's 7-2 loss to the Red Sox.
Lefty reliever Tom Gorzelanny -- whose contract had been purchased from Triple-A Toledo just hours before -- surrendered a leadoff homer in the seventh to Jackie Bradley Jr., the Boston center fielder who entered with just one extra-base knock this season.
Then in the eighth, lefty Ian Krol yielded a bases-clearing triple to the left-handed-hitting Bradley. The reliever was tagged with a four-spot in the inning.
Before Sunday, Bradley was hitting .121 over 71 plate appearances. He had only one multihit game this year and four RBIs, then tallied five in the finale.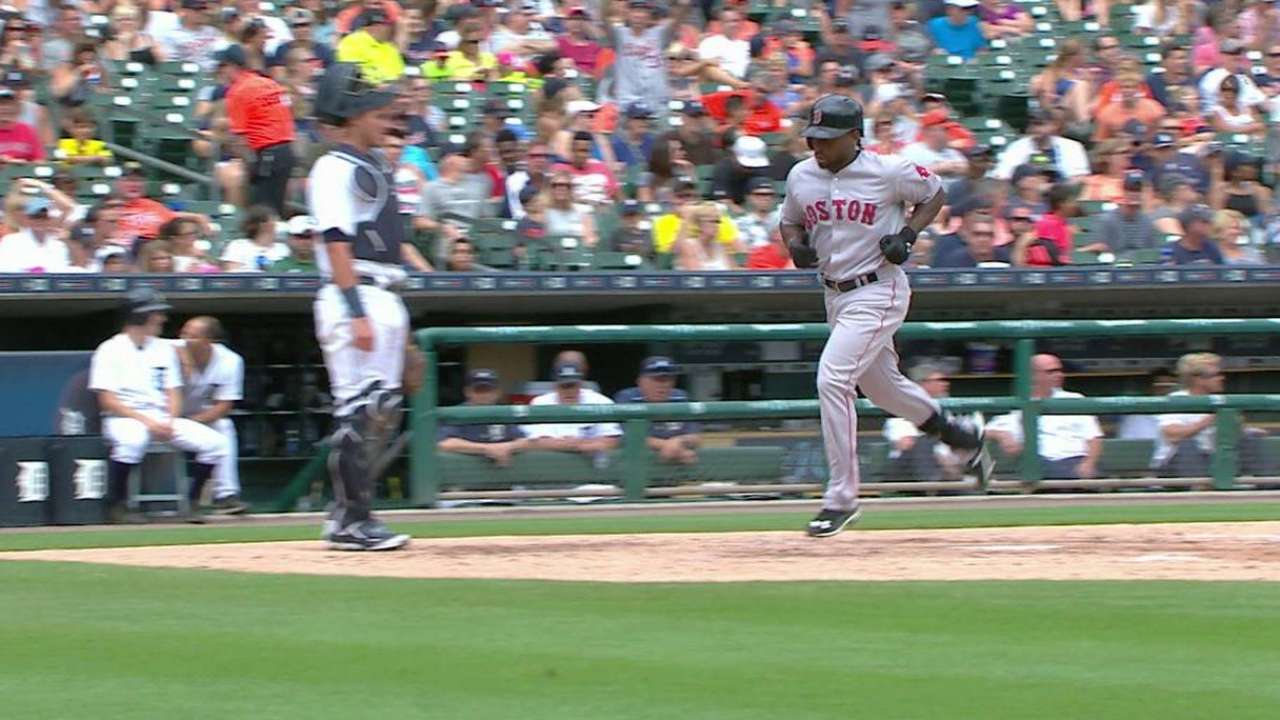 Put simply, he was someone Tigers manager Brad Ausmus expected his bullpen could handle.
"Generally speaking, that hitter in the lineup isn't the one you're concerned about," he said, "but you still have to get him out. He's still a Major League player.
"Somebody's got to perform [in the bullpen]. Simple as that. We've got to get outs. As a manager, you're trying to put guys into a position where they can get some outs."
Sunday, Ausmus had a limited bullpen with which to work. Alex Wilson was out with shoulder fatigue and Blaine Hardy had thrown 45 pitches Saturday. The Tigers had also dealt away closer Joakim Soria -- one of Ausmus' most reliable options -- before the non-waiver Trade Deadline.
When Krol allowed a pair of singles to begin the eighth, the manager stuck with the lefty and later instructed him to intentionally walk Josh Rutledge, loading the bases with two out for Bradley.
"Generally speaking, you'd rather have a lefty face a lefty," Ausmus said. "Bradley struggles more against lefties. Krol is a little bit better against lefties. And he's hitting under .200, so we've got to get him out."
The move, which Krol called a "no-brainer," backfired. Bradley recovered from a 1-2 hole to work a 3-2 count before lacing a 93-mph fastball down the right-field line, and, three pitches later, Brock Holt plated the center fielder with a sharp line drive.
"It stung pretty bad," Krol said. "You work so hard to get your numbers down to where they were. You put in the work every day, but that's baseball. One swing of the bat can ruin your day."
The outcome didn't please Ausmus, who said it's "becoming more difficult" to trust Krol in key situations. For the Tigers, that inconsistency among the relief corps has become all too common.
"If the starter goes five or six, we have to find a way to get to the eighth or ninth," Ausmus said. "Right now, we're not doing that consistently."
Alejandro Zúñiga is an associate reporter for MLB.com. Follow him on Twitter @ByAZuniga. This story was not subject to the approval of Major League Baseball or its clubs.