CarGo carries Rox with 2 HRs, rocket arm
All-Star right fielder cuts down potential go-ahead runner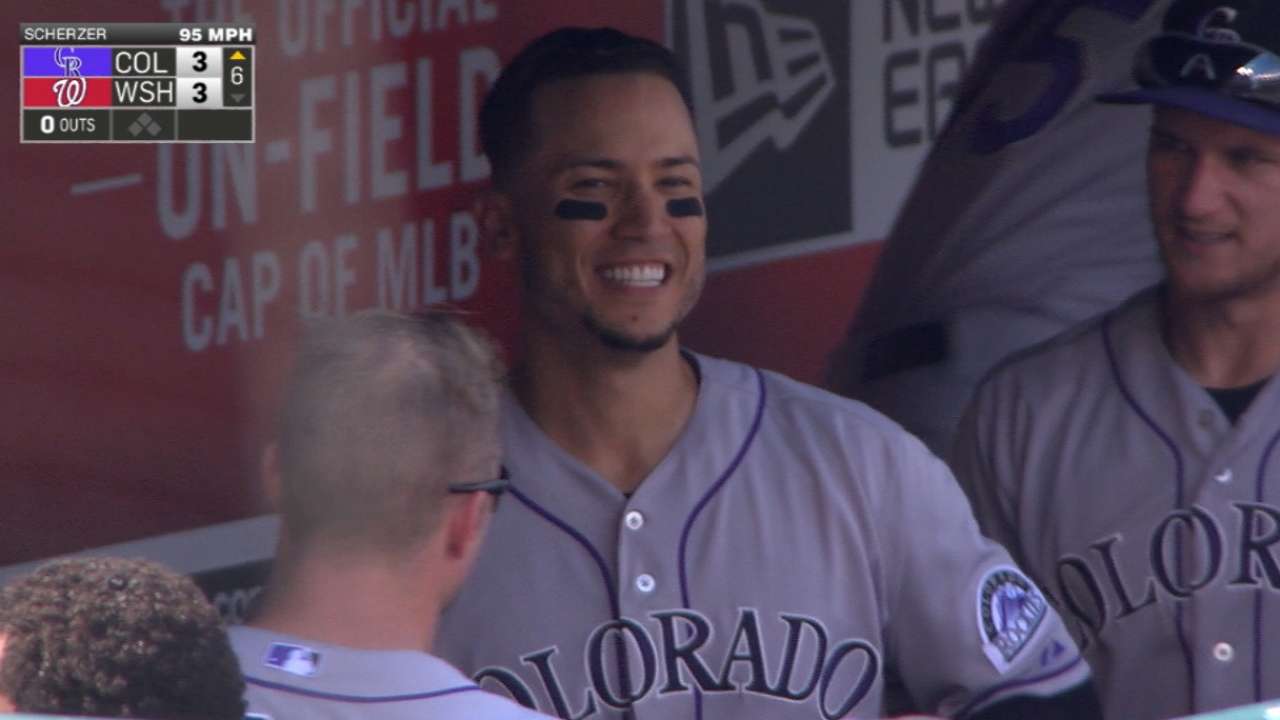 WASHINGTON -- In case anyone had forgotten about Carlos Gonzalez's ability since his go-ahead grand slam in the eighth inning on Friday night, the Rockies' All-Star right fielder provided quite a reminder in Sunday's series finale, crushing two home runs and chipping in a run-saving outfield assist in Colorado's 6-4 win at Nationals Park.
"That's what we've seen for a long time around here," Rockies manager Walt Weiss said. "And you know it was still in there. He is 29 years old. It's not like his skills are diminishing."
With two outs in the first inning, Nationals ace Max Scherzer threw Gonzalez a breaking ball that never broke. Gonzalez tagged it into the Nationals' bullpen.
"I was just waiting on fastball, and then I kind of just used my hands to find the barrel and hit it out to right field," he said.
Scherzer won round two with a 97-mph fastball up in the zone, but Gonzalez's sixth-inning at-bat made him the winner by unanimous decision.
He sent another 97-mph offering deep into the right-field second deck, projected by Statcast™ to land 433 feet away from home plate. It was his 25th of the season and marked his fourth multi-homer game since July 24.
"It's frustrating because I didn't have good results today and they hit three bombs off me," said Scherzer, who also surrendered a solo shot to Daniel Descalso in the fourth inning. "CarGo, he's on fire right now."
With the game tied in the seventh, Gonzalez added to his prolific series, proving he is more than just a big bat. Ryan Zimmerman laced a one-hopper right at the right fielder, and runner Anthony Rendon never broke stride as he rounded third base.
"As soon as I caught the ball I knew I was going to throw the guy out at the plate," Gonzalez said. "I had a lot of time, so I didn't rush. I was just kind of getting in position to make a really good throw, a strong throw. And it was money, right in the chest for our catcher."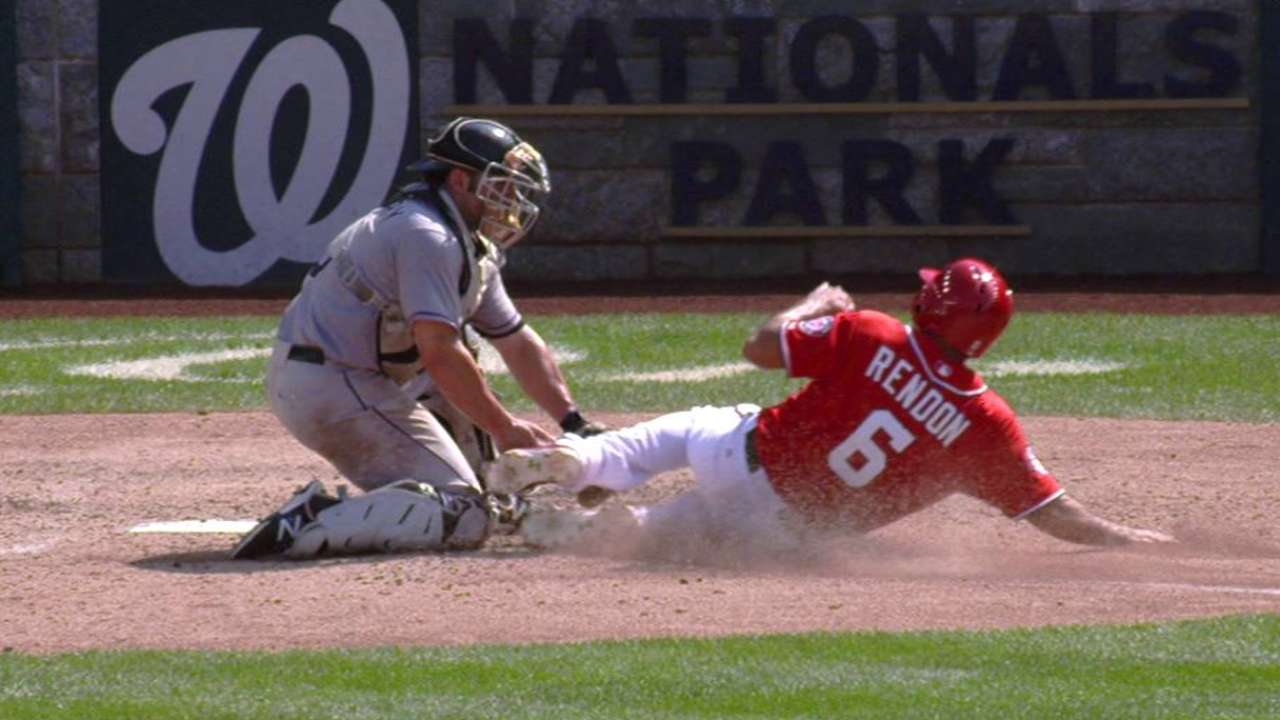 Rendon was out by three steps and Gonzalez locked up his sixth outfield assist, despite Nationals manager's Matt Williams attempt to get the call overturned for a violation of the home-plate collision rule.
"When you hit a home run everybody gets excited when you get to the dugout," Gonzalez said. "But when you throw somebody out, the first person out there was [pitcher John Axford.] And he told me, 'I love you every day even more.'"
Jacob Emert is an associate reporter for MLB.com. This story was not subject to the approval of Major League Baseball or its clubs.