Verlander upbeat despite taking tough loss
Tigers righty allows just two unearned runs over six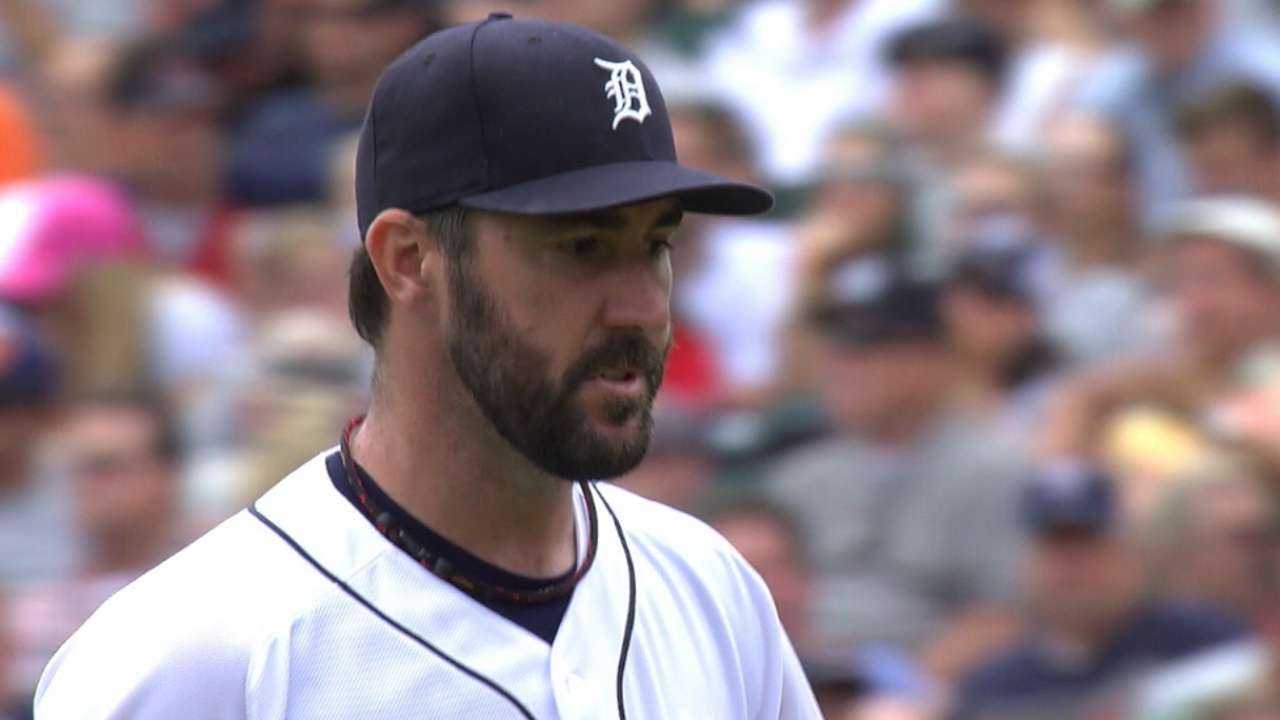 DETROIT -- Sometimes, pitches can be good enough to create problems for the hurler's defense.
That's how Justin Verlander felt as the Tigers' right-hander watched the Red Sox score two unearned runs without hitting a ball out of the infield in the second inning of Sunday's 7-2 loss. Those were his only blemishes over six solid innings, but they were enough for Verlander to pick up his fifth loss.
"Those can be frustrating if you let them," Verlander said of the infield hits. "Also, you have to realize that you're still in the middle of an inning. If you get frustrated that they keep missing balls badly enough to get infield hits, then all of a sudden you give up a double, and then you're in real trouble."
With two out and a man on first in the second, Alejandro De Aza reached on an error by second baseman Ian Kinsler. Josh Rutledge then loaded the bases with a soft single to shortstop Jose Iglesias, Jackie Bradley Jr. worked a run-scoring walk and Brock Holt capped the rally by reaching on a dribbler to Kinsler to drive in the second run.
It took Verlander 33 pitches to escape the jam, which forced manager Brad Ausmus to turn to his bullpen after the sixth.
"You just have to turn the page and try to limit the damage as best as you can," Verlander said. "Those things happen. Usually, you don't like to see infield hits happen multiple times in an inning. It's tough to get guys out at this level when they're racking up hits that way."
Verlander's outing was otherwise an encouraging sign that he's regaining his consistency after missing the first two months with a right triceps strain. He tossed three clean frames, struck out seven and only allowed one extra-base hit, which came on a line drive that was misplayed by Rajai Davis in left field. Despite an elevated pitch count, he was also able to reach 97 mph with his fastball in the fifth.
"I think the life on [my fastball] has been much better," Verlander said. "Getting a lot of swings and misses on my fastball, which is nice to see. It's something I didn't see much at all last year. Just shows me that all the work I've been putting in is moving in the right direction."
The righty has yielded two earned runs or fewer in six of his 10 outings, though the Tigers are 1-9 when he starts. But even if that's beginning to aggravate him, Verlander hasn't shown it and remains steadfast in his optimism.
"Mechanics are feeling much more repeatable," he said. "Everything's coming along. I've been able to pitch pretty well for a stretch of starts. ... Just continue to pitch well, and hopefully the wins come."
Alejandro Zúñiga is an associate reporter for MLB.com. Follow him on Twitter @ByAZuniga. This story was not subject to the approval of Major League Baseball or its clubs.