Teachable moment: HR not all bad for Nelson
Brewers righty to learn from mistake made on pitch to Carpenter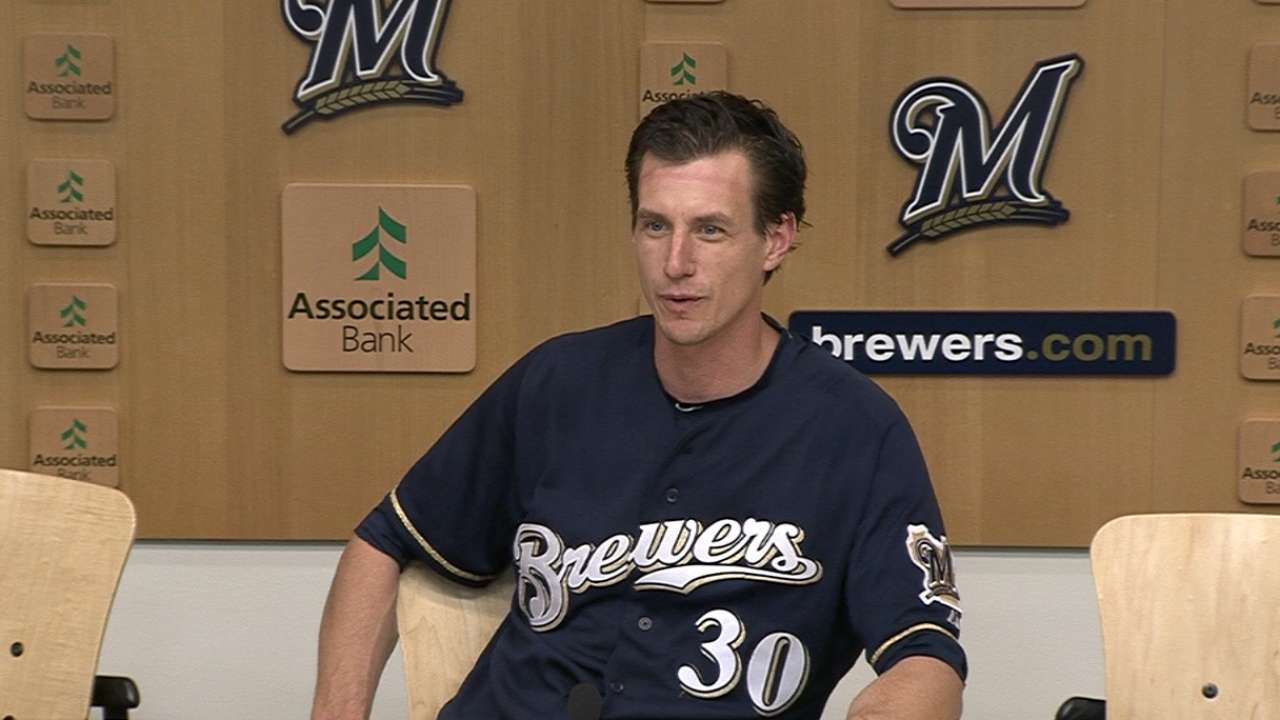 MILWAUKEE -- Brewers manager Craig Counsell strode to the mound in the seventh inning Sunday with the game on the line, said a few words to his 26-year-old starting pitcher and slapped Jimmy Nelson on the left shoulder. Counsell had his best left-handed reliever (Will Smith) ready to face the Cardinals' best left-handed hitter (Matt Carpenter), but this was Nelson's moment. He had earned this moment, Counsell would say.
Carpenter was about to connect against Nelson for a go-ahead three-run home run, but Brewers pitching coach Rick Kranitz recalled the inning with a smile in the wake of Milwaukee's 5-4 win at Miller Park.
"It's a process," Kranitz said. "When you're going to the next level, [Nelson] has to do that. He has to go out and get [Carpenter] out. He's that guy for us. He's going to be the guy we probably lean on to be able to pitch big games."
Kranitz quickly added, "Which he did today. He made a mistake. We talked about it and we'd probably go about it a little differently next time. That's OK. You learn from it."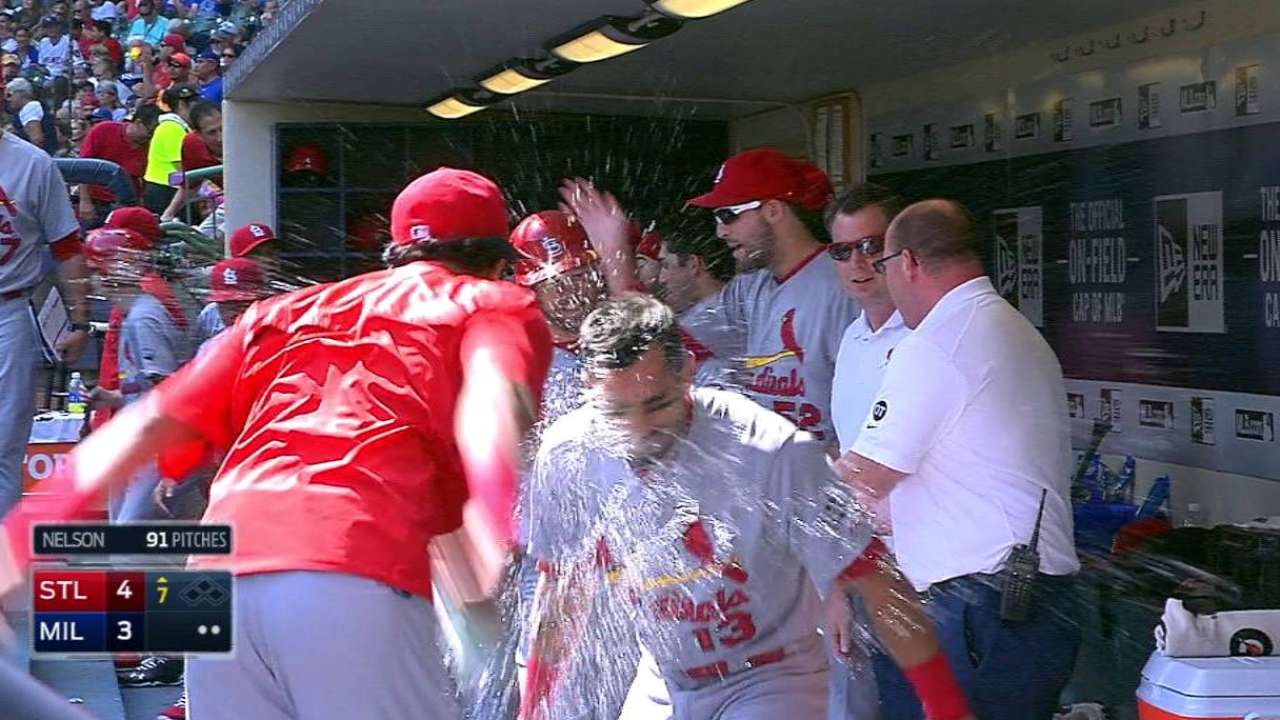 The lesson was location. Nelson had just gotten a called strike with a backdoor slider -- "a position we're not quite comfortable throwing to yet," Kranitz said -- and tried to repeat it. But this one was low and in the middle of the plate, in a hot zone for Carpenter, who sent the baseball to the second deck of bleachers in right field for a 4-3 Cardinals lead.
"We made a mistake," Kranitz said with a shrug. "But he pitched great today. His timing, his delivery, it's all right there right now. It's all coming together."
In his first full Major League season, Nelson is 9-9 with a 3.65 ERA through 23 starts, more than a run per game better than his second-half stint with the Brewers in 2014. Over his past nine starts, Nelson is 6-1 with a 2.26 ERA and 16 walks versus 52 strikeouts.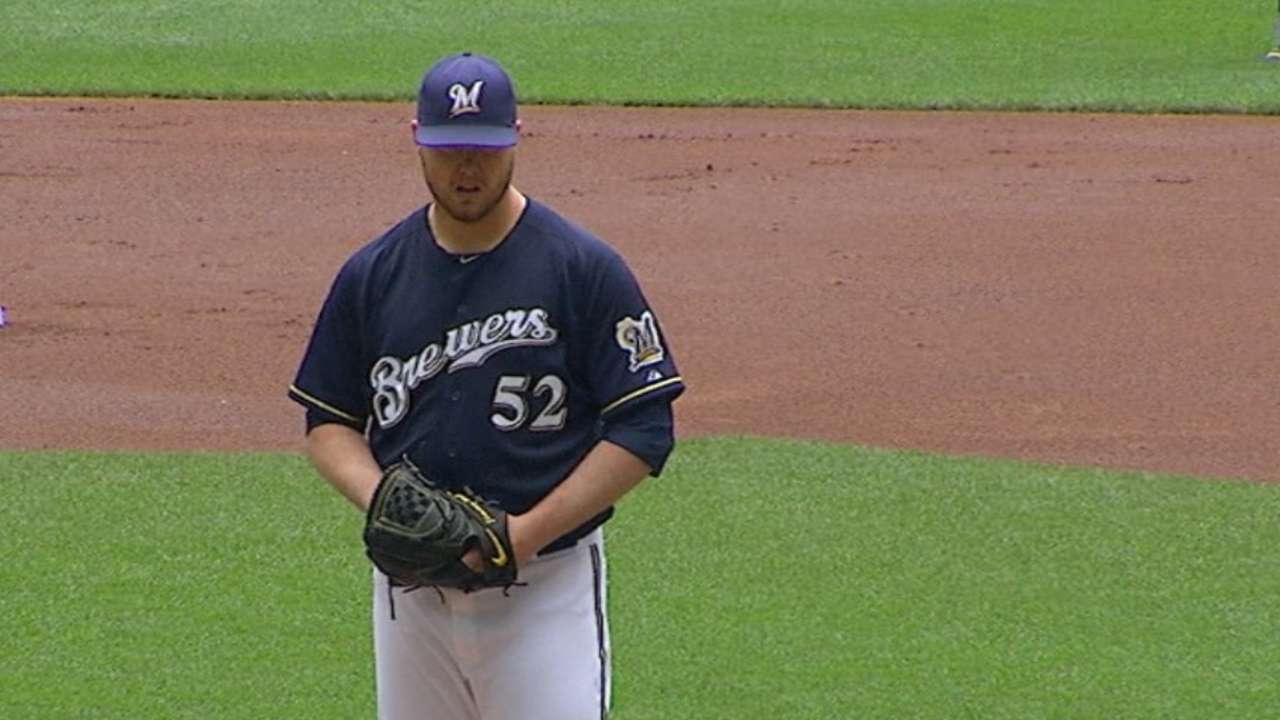 He continued that hot streak on Sunday, when Nelson kept the Cardinals off the scoreboard through the fifth. The Cardinals scored once in the sixth to cut the Brewers' lead to 3-1, and set up their go-ahead rally in the seventh with an infield single and a ground-ball single through the right side.
Two outs later, Nelson faced runners at second and third with Carpenter coming to the plate. Counsell made his mound visit and said, "Make your pitches."
"It was the most locked in I've been in the big leagues," Nelson said. "That's why it's a shame it had to end like that."
He was referring to his own outing, which was over after the seventh. But Nelson noted that Sunday was a good day for the Brewers, who won after Khris Davis hit his second two-run home run of the game in the eighth.
"As a starter, we want to be in there. We feel like we can get that guy," Nelson said. "I felt like I could if I made my pitches. There was one pitch right there I didn't make. … [Counsell] trusted me because I had been making quality pitches the whole game. You try to do your best to show him the entire year that you can get out of jams."
Adam McCalvy is a reporter for MLB.com. Follow him on Twitter @AdamMcCalvy, like him on Facebook and listen to his podcast. This story was not subject to the approval of Major League Baseball or its clubs.