One-run losses marked by missed opportunites
White Sox give Royals a test, but come up short on breaks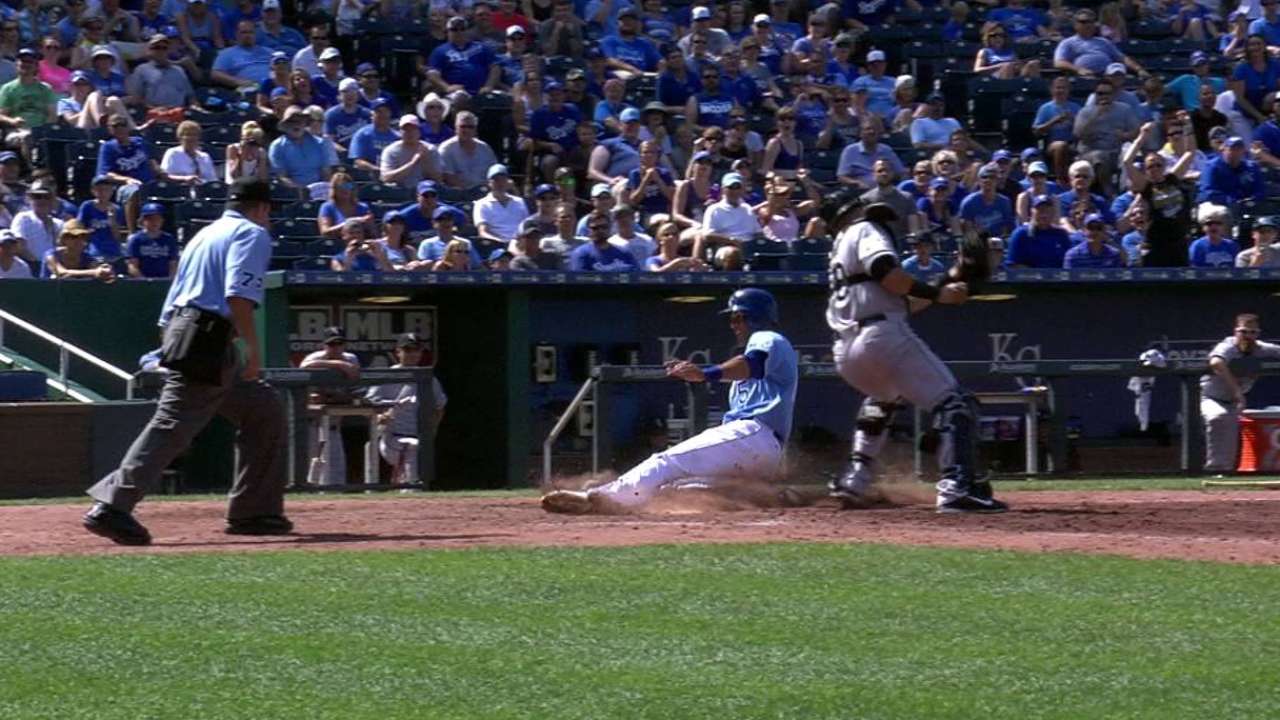 KANSAS CITY -- A little jam shot toward first by Omar Infante. A scoop and off-balance throw home by hard-charging Jose Abreu. A good break off third and nice slide at the plate by Alex Rios just ahead of the tag.
That was the play that gave the Royals a 5-4 victory over the White Sox on Sunday. And that was the RBI fielder's choice that not only snapped a tie but symbolized the entire frustrating weekend for Chicago, which dropped three one-run games to fall seven game under .500 at 51-58.
The White Sox were tantalizingly close on numerous occasions, but never could break through and gain meaningful separation. The recurring theme was that they would battle back to tie or get within range all weekend, only to see the first-place Royals (66-44) make a play, make a pitch or get a key hit that kept the White Sox at arm's length.
Thus, the White Sox are 1-6 against the Royals since the All-Star break and 3-10 on the season, and return home Monday with serious work to do if they are to contend for an American League Wild Card.
"It's always tough," White Sox manager Robin Ventura said. "You see the opportunities that you have. We've had some guys on third base [with fewer than two outs] and haven't been able to get them in. They all add up and then you're on the opposite end of a one-run game."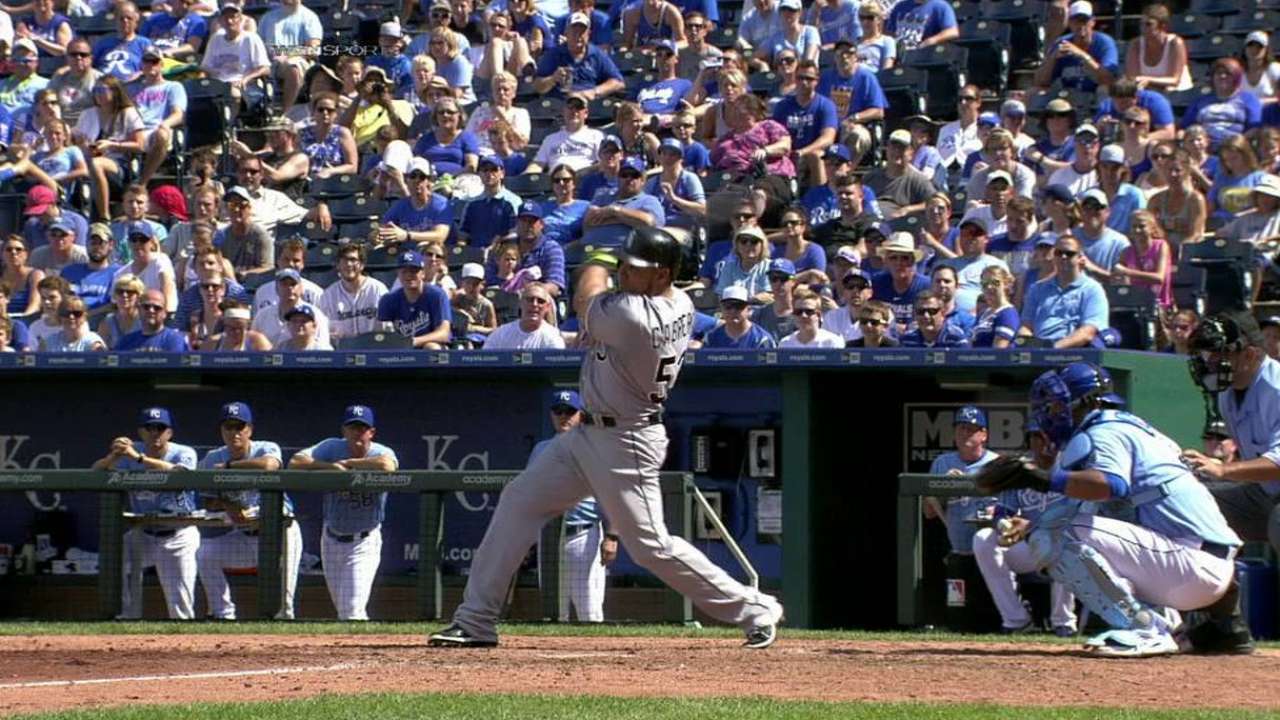 he White Sox led for only one-half inning in the series. They took a 2-0 lead in the fourth inning on Saturday, only to see the Royals roar right back for three runs in the fourth. On Sunday, Melky Cabrera came through with a clutch two-out RBI single off hard-throwing Kelvin Herrera that tied the game at 4 in the eighth.
Right-hander Jake Petricka entered and the Royals responded quickly. A one-out single by Rios and a ground-rule double by Paulo Orlando were well-struck. That set the stage for Infante's jam shot that forced Abreu to make a backhanded play before firing home.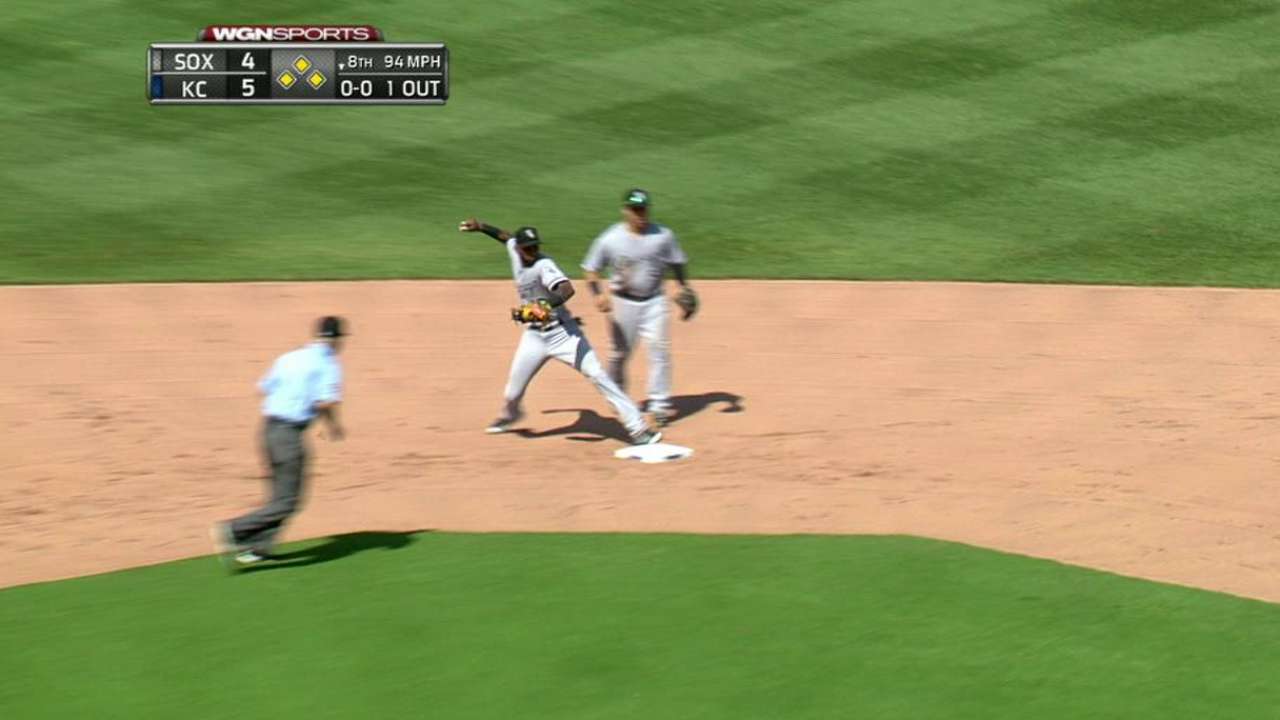 "If you put the ball in play, you get breaks like that," Petricka said. "Hats off to a team that fights like that."
Three games, three one-run losses.
"It's a break one way or the other," Petricka said. "It's just part of the game."
Robert Falkoff is a contributor to MLB.com. This story was not subject to the approval of Major League Baseball or its clubs.