Reading fundamentals: Rios scores winning tally
Gets good jump on Infante's softly hit ball in 8th inning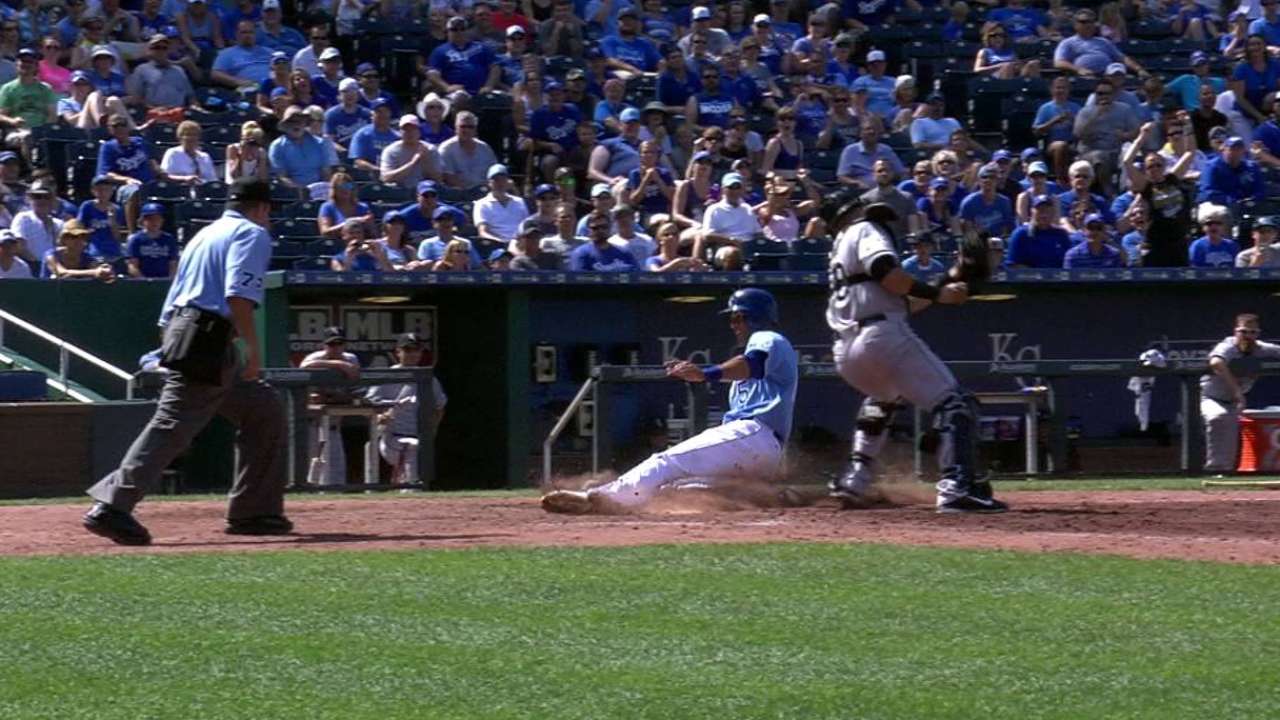 KANSAS CITY -- The Royals pushed across the winning run on Sunday on perhaps their most poorly hit ball all day.
With runners on second and third and one out in the eighth inning, Omar Infante hit a squibber off the end of the bat that floated toward White Sox first baseman Jose Abreu.
Alex Rios, the baserunner at third, had to freeze immediately to make sure Abreu didn't catch it in the air. The ball died, though, and bounced on the infield grass, and Rios then raced home, beating Abreu's throw to the plate. The Royals took the lead, 5-4, and eventually won the game, completing a three-game sweep of the White Sox.
"We were going on contact there," Royals manager Ned Yost said. "The impressive thing about that was the read he had. That's a tough ball because, off the bat, you're looking for the ball down. That ball wasn't down, it was up. You have to gauge and judge if the guy is going to be able to catch it while you're breaking and be able to get back if he does. He read it perfectly."
Rios admitted there was a degree of difficulty to the read.
"The contact play was on and the hardest thing is making sure the ball is down," Rios said. "That one was a little tough. But you could read from where [Abreu] was playing and the fact that the ball didn't have much juice on it that it was going to fall. Then you go."
And Rios showed he still has some juice left in his legs.
"Maybe a little," he said, smiling.
Jeffrey Flanagan is a reporter for MLB.com. Follow him on Twitter at @FlannyMLB. This story was not subject to the approval of Major League Baseball or its clubs.