Weaver overcomes rocky first in return start
In first outing since June 20, Angels righty allows two early runs before settling in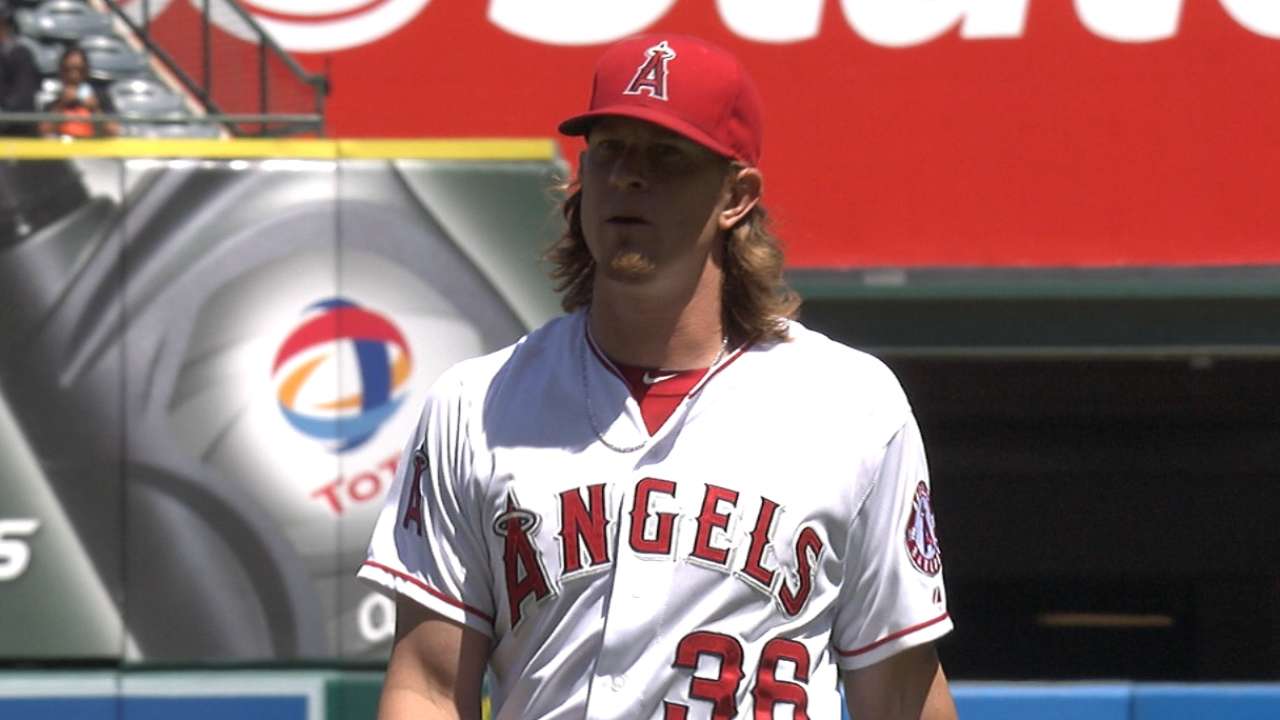 ANAHEIM -- Jered Weaver's first start since June 20 began with two first-inning runs allowed to the Orioles, three hits, a hit batter and 30 pitches. It got much better.
Returning to the rotation after almost two months on the disabled list -- when he was dealing with left hip inflammation and working out issues with his delivery -- Weaver settled down after the rocky first and held the O's scoreless for the next four frames in the Angels' 5-4, 11-inning walk-off win on Sunday. He walked none and struck out seven, including the side in the fourth inning. Most important, his mechanics were back in sync.
"Those last four innings were money," Weaver said. "I was able to keep my weight back and not try to rush the ball to the plate. Just stayed within myself, and everything mechanically felt good after that."
Weaver's fastball was slower than he'd hoped -- it started at around 84-85 mph and dropped into the low 80s toward the end of his outing -- but his command was solid, as he mixed and matched his fastball and secondary pitches effectively. That's much more important, anyway, for a pitcher who hasn't hit 90 mph in a long time.
"Obviously, the velocity wasn't quite where I want it to be. But push that aside, I was able to locate my pitches, which I'd had problems with early on," Weaver said. "It was nice to be able to throw the ball like I know I can and be able to spot up like I know I can. It was a good one to work off of."
But the veteran right-hander didn't know it would work out when he first took the mound. Weaver said he was anxious. Nervous.
"I was kind of itching to get back out there, and I think in the first inning I let the emotions get the best of me and I was kind of erratic," Weaver said. "But I was able to stay within myself after that and make some pitches."
Weaver's outing was encouraging for the Angels, who are in the middle of a postseason race and need one of their clubhouse leaders to be back to form for the season's stretch run -- especially now that C.J. Wilson is likely to miss the rest of the season with bone spurs in his left elbow.
Weaver only threw 85 pitches against Baltimore as the Angels continue to stretch him out, and manager Mike Scioscia said after the game that Weaver should be good to start again in five days. Weaver said he could have gone back out for the sixth on Sunday, but Scioscia was "pretty adamant" that his day was done. And after the first inning, it was a good day.
"His arm stroke looked really good," Scioscia said. "I think there's still more in there that he'll get, but he was hitting his spots easy. ... Hopefully he'll build off this."
• The Angels used four relievers on Sunday, but setup man Joe Smith wasn't one of them. Smith had right forearm tightness and Los Angeles wanted to avoid using him as a precaution, but Smith said after the game that he's good to go for Monday's series opener against the White Sox.
Smith, who had his right arm wrapped after Sunday's game, said the Angels' training staff physically tested out his arm -- he didn't need any scans. He also played catch before the game and said he felt good.
David Adler is an associate reporter for MLB.com. Follow him on Twitter @_dadler. This story was not subject to the approval of Major League Baseball or its clubs.