Yanks' bats looking to rebound after rough weekend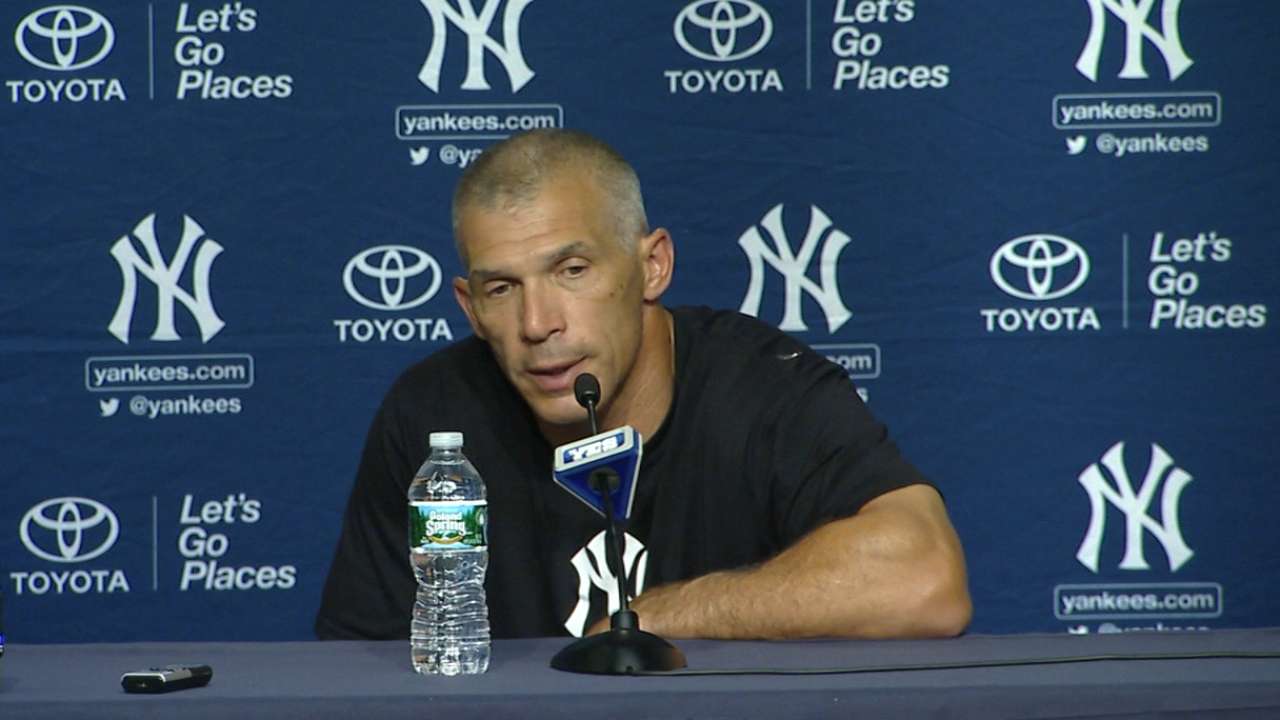 NEW YORK -- The magic streak came to a screeching halt after 16 years and 2,665 games. With the Yanks' 2-0 loss to the Blue Jays on Sunday at Yankee Stadium, the club was shut out in back-to-back games for the first time since 1999.
The Angels shut out the Yankees in a routine, regular-season game on May 12, 1999. The following day, May 13, it happened again. From May 14, 1999, until this weekend, the Yankees hadn't been shut out in consecutive games until the Blue Jays turned the trick.
Combined with Saturday's 6-0 loss, Sunday's defeat meant the end of the Yankees' streak -- the longest in Major League history, according to the Elias Sports Bureau. The men in pinstripes haven't scored a run in their last 26 innings, which is their longest scoring drought since 1991, also according to Elias. Additionally, they've been held to three hits or fewer in consecutive games for the first time since '92.
The statistics are telling. But manager Joe Girardi indicated he's not reading too much into the offensive woes the Yanks have endured as of late.
"Offenses go through this. Every offense is going to go through this from time to time," said Girardi. "We have a good offense. We just struggled this weekend for whatever reason.
"You're going to go through some good times and bad times, and you've just got to come back and play well. When we go to Cleveland, we go from there. It's not our first three-game losing streak of the year, I don't think, so we've got to bounce back."
The Yankees' hitters seemed to echo the thoughts of their skipper, with Brett Gardner, Mark Teixeira and Alex Rodriguez all acknowledging the hitters didn't do their part this weekend.
Gardner indicated he, in particular, has an important role of getting on base as the second hitter in the lineup. He and Jacoby Ellsbury, Girardi said, are the only two Yankees who are really made to run and work the basepaths.
"We're in the top of the order for a reason: Get on base and set the table for the big guys," Gardner said. "Give them RBI opportunities. Jacoby and I, the last few days ... we didn't necessarily do a real good job getting on base in the top of the order, so it's definitely frustrating for us. I can't speak for him, but I know we take a lot of pride in what we do."
Rodriguez spoke about how there is still plenty of time for the Yanks to bounce back and added an entire season isn't defined by one slump.
As a veteran in the clubhouse, he knows this. The offense, he said, will come.
"We definitely took a punch this weekend," said Rodriguez, "and good teams punch back.
"There's no time to panic for us. We've had a very good season, so far. We're in first place for a reason. We like our team. We trust our team."
Grace Raynor is an associate reporter for MLB.com. This story was not subject to the approval of Major League Baseball or its clubs.