Despite losing, Tanaka delivers a solid performance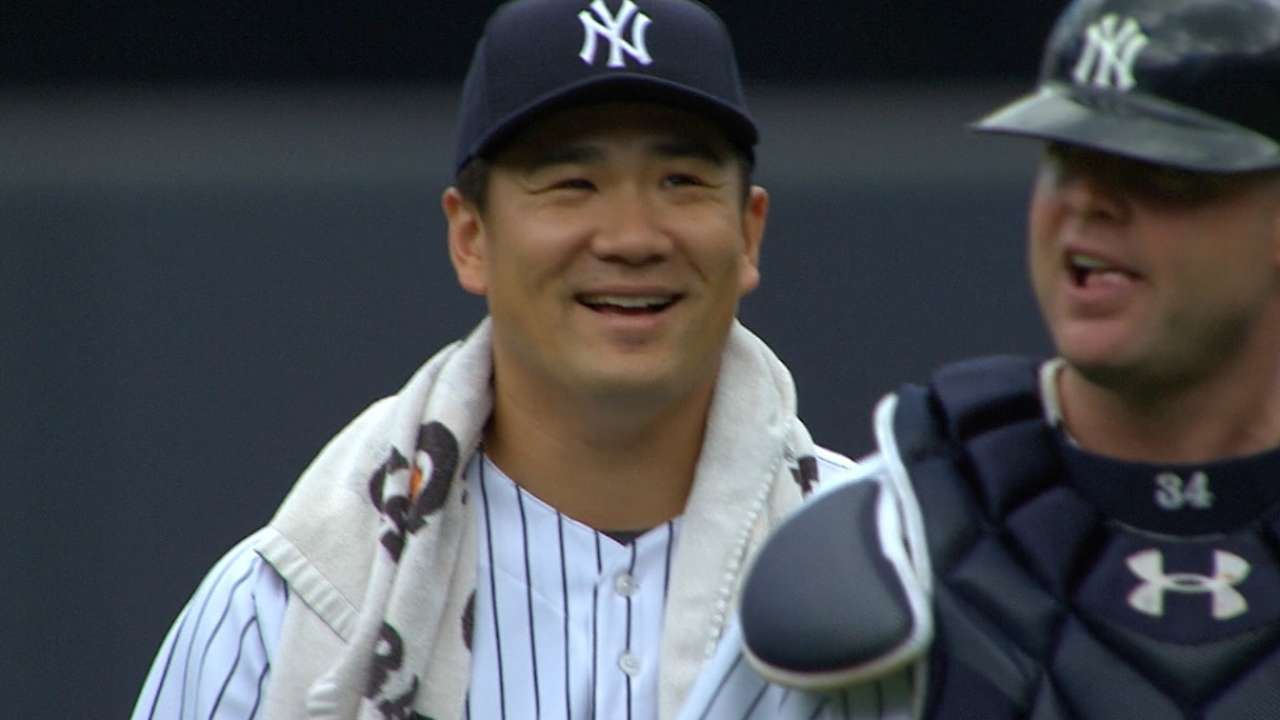 NEW YORK -- Before he ever stepped foot on the mound on Sunday afternoon, Masahiro Tanaka was well aware of what was at stake. Prior to Sunday, the Blue Jays had taken the first two games of the series over the American League East-leading Yankees.
Tanaka knew the importance of this series and the importance of not getting swept, so he did his best to avoid it. He threw his first pitch at 1:10 p.m. ET -- a swinging strike to Troy Tulowitzki. By 1:14, though Tanaka didn't know it, the game had been decided. A solo homer by Josh Donaldson in the first inning proved to be the game-winner, as the Blue Jays went on to beat the Yankees, 2-0, to cut New York's lead to 1 1/2 games.
On the whole, Tanaka pitched well, throwing six innings of two-run, three-hit ball with no walks and five strikeouts. But Donaldson's homer ultimately sealed the game before the Yanks picked up their bats, and Jose Bautista gave the Blue Jays some extra cushion when he hit a solo shot in the fourth.
"I got into a better rhythm, just those two home runs just went where [they] weren't supposed to go to. They got the most out of it, so [I'm] not particularly happy about that," Tanaka said through his interpreter. "But, other than that, I think I pitched pretty well."
His manager, Joe Girardi, thought the ace pitched well, too. He lauded the fact that Tanaka only gave up three hits, and mentioned it was unfortunate that two of them were home runs.
Yet, despite Girardi's satisfaction with how Tanaka was throwing the ball, he pulled him after just 80 pitches. After the game, he shed some light on why.
"Well, he hasn't thrown many days on normal rest," Girardi said. "So I just felt that was the first time he's really done it in a long time, and I decided to take him out."
Tanaka's last three starts have now all been six innings, after having had a stretch before that when he went for at least seven three straight times.
The righty said he felt like he could have pitched more, but said he understood Girardi's decision.
"I was good to go. I could have pitched a little more out there. But, like I said, I understand," said Tanaka. "I think Joe was looking more towards the whole season, rather than just this particular game, so I understand his decision. But to answer your question, 'Yes, I think I would have been able to go out and pitch more.'"
Tanaka's has now made six straight quality starts at home. But with no run support, his four-game home winning streak was snapped.
"It's just a bump in the road," said first baseman Mark Teixeira. "We've been swinging the bats well all season, and this is just an unfortunate timing [for] this series -- because we had two really good pitching performances and weren't able to capitalize on them."
Grace Raynor is an associate reporter for MLB.com. This story was not subject to the approval of Major League Baseball or its clubs.