Twins starters working through rough stretch
Pelfrey, Santana, Hughes combine for nine innings, look to make hitters more uncomfortable
CLEVELAND -- Phil Hughes will board a plane Monday, and he will not think about baseball during the flight.
He will not think about baseball when he returns home to his family in Minnesota, and it will not cross his mind as he closes his eyes to drift away into his slumber that night.
After an 8-1 loss in Sunday's series finale in Cleveland, the Twins have lost seven of their past eight and 16 of 22 since the All-Star break. They've been outscored 25-5 in the past 24 hours, and Hughes has allowed 15 earned runs in his past three starts.
Good time for an off-day.
Hughes could use a break. He thinks the rest of his teammates could, too.
"I hope that's kind of the case for a lot of guys in here," Hughes said. "Your mind starts wandering to negative places."
Hughes' opposition on Sunday, Corey Kluber, lasted nine innings. In a three-game set against their division rivals, Twins starting pitchers lasted a total of nine innings combined.
Hughes, Mike Pelfrey and Ervin Santana allowed 22 runs on 29 hits. They struck out just five batters, walking four. Of their 208 pitches thrown, 122 went for strikes.
Twins pitchers, as a group, pitch to contact more than any other unit in baseball. That's their philosophy, as it has been for quite some time. But pitching to contact successfully doesn't come from just putting the ball over the plate. It requires hitters to be off balance as well, and the Twins simply let the Indians' hitters become too comfortable in the box.
"We need to do a better job of pitching inside and not giving these guys such comfortable at-bats," Hughes said. "You saw these guys, they were just swinging at every first pitch they could possibly even reach. We have to find a way to combat that. I think that was really exploited this series. Everybody knows we have a group, especially the starters, that are strike-throwers. For us to be successful, we're going to have to make adjustments when we need to."
It began with Pelfrey on Friday, who allowed 10 hits in 3 2/3 innings. Santana gave up another 10, but in 2 1/3. Then there was Hughes, who gave up nine hits in three innings. Seven of those nine hits came within the first two pitches of the at-bats. Yan Gomes' RBI double in the third inning and Abraham Almonte's two-run homer in the following at-bat each came on the first pitch. By that time, the Indians led 7-0.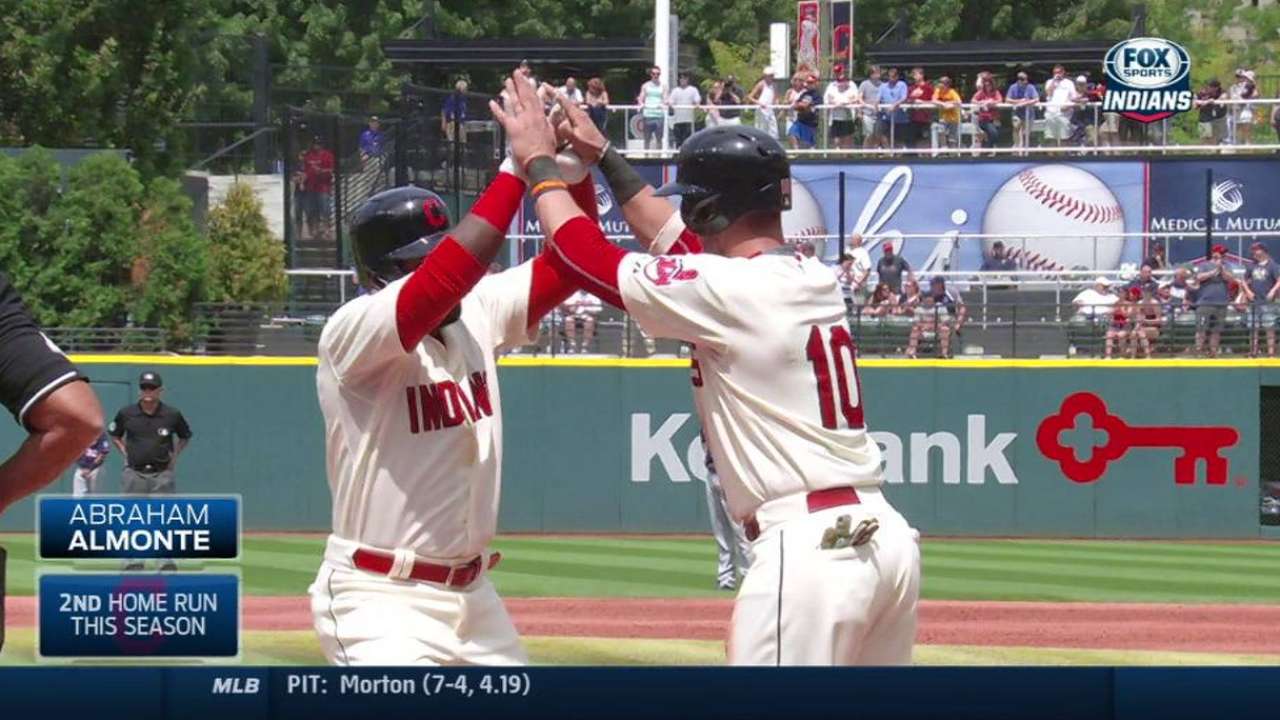 "When teams are scoring runs and they're piling up the hits, it makes for an atmosphere, offensively, where you just go up there and you take your hacks," Twins manager Paul Molitor said. "If you're out there and you're seeing the way guys are teeing off on you, you'd think you would try to at least make them a little more uncomfortable. I think we could probably improve on that."
August Fagerstrom is an associate reporter for MLB.com. This story was not subject to the approval of Major League Baseball or its clubs.