Pitching, offense align to wrap up big series
Francona says Tribe's new faces really playing like team as club rolls on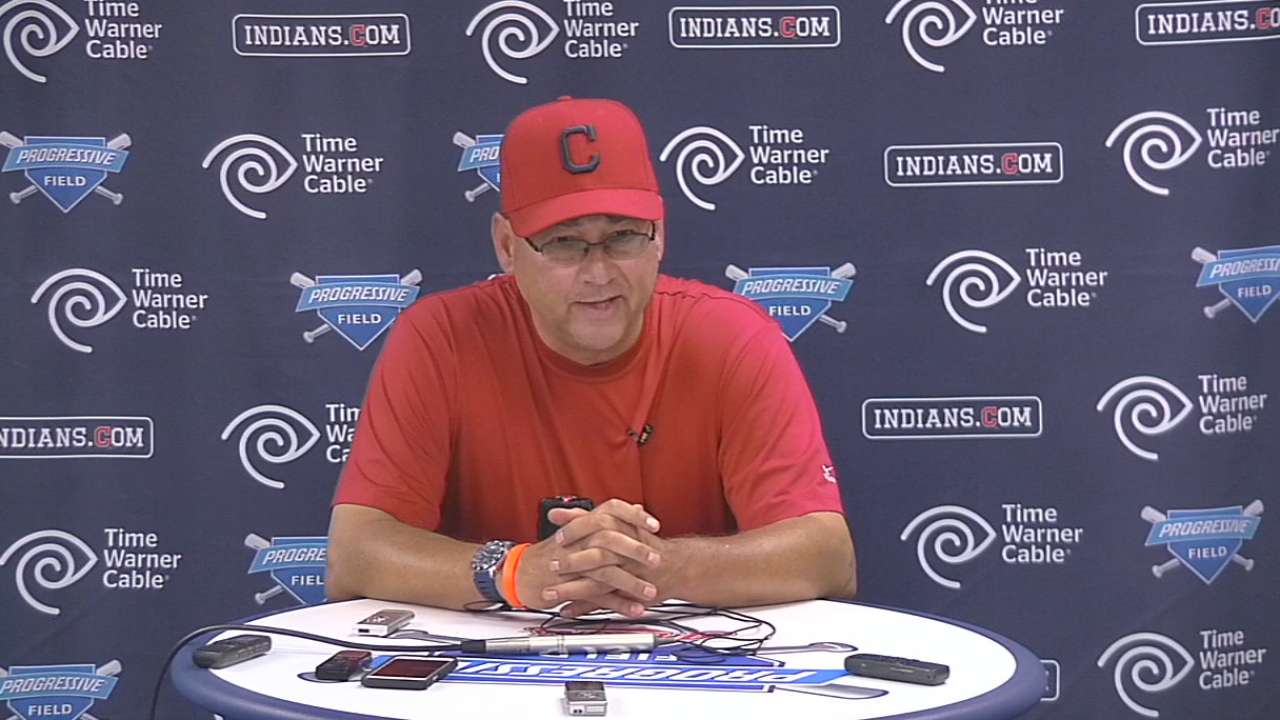 CLEVELAND -- Chris Johnson lacks the benefit of hindsight. Although, in this case, not being able to look back at the trials endured by the Tribe over the first four months of this season is probably more beneficial than having all the missteps and misfortunes stockpiled in the memory bank.
Johnson is one of the Indians' new guys and, as far as he is concerned, what took place this weekend is the norm.
"I think the team's great," said Johnson, smiling after Cleveland's 8-1 win on Sunday.
In the finale of a three-game series with the Twins, Indians ace Corey Kluber spun a complete-game gem and the Cleveland offense continued its unexpected ambush of Minnesota's pitching staff. Featuring some new faces in the wake of a slew of trades, the Indians pounded out 34 runs and 47 hits over the past three games, following a seven-game road trip with only 16 total runs scored.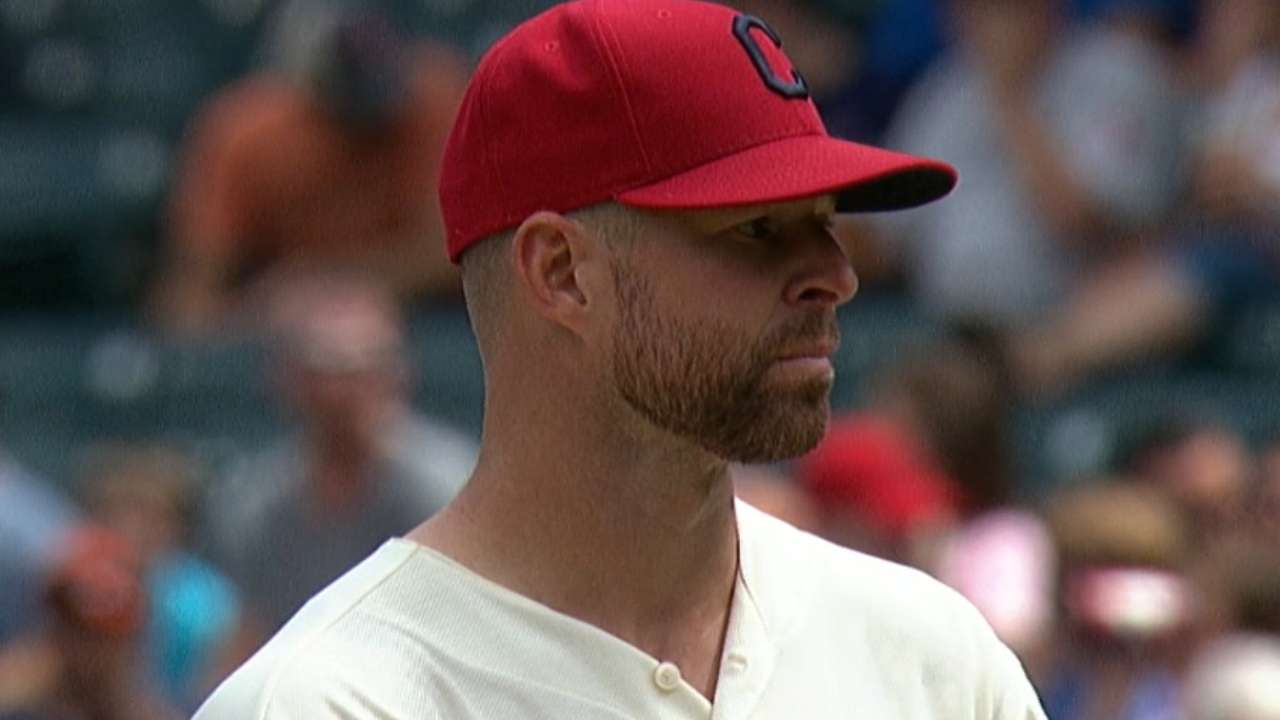 It was a rare alignment of both pitching, offense and defense for an Indians (51-59) team that suddenly is playing like it has an Ohio-sized chip on its shoulder. Scoring runs has been an ongoing issue all season, but with players such as Johnson, Abraham Almonte, Jerry Sands, a couple rookies and others on second or third chances, the Tribe is suddenly on a roll.
Players expected to be the offensive leaders -- veterans such as Nick Swisher, Michael Bourn and Brandon Moss -- are no longer around.
And, yet, the Indians have finally shown signs of life.
"It's kind of amazing," Indians manager Terry Francona said. "We have so many new faces, and yet we seemed to be more of a team this weekend. We were fighting all year for that. ... The last two days have been really, you could use words like 'encouraging,' besides the fact that it was flat-out fun. We played with so much energy. I know we had a lot of hits and guys were on base, but everybody played with energy. I love that."
Kluber has pitched without much in the way of run support all season -- largely explaining his 7-12 record -- but he had a wealth of it at his disposal on Sunday. The right-hander responded by aggressively attacking Minnesota's lineup, carrying a perfect game into the fourth inning and a no-hitter into the seventh. The Twins struck for a run in the ninth, but that was too little, too late in light of Kluber's 10-strikeout showing.
Backing Kluber were new players such as Johnson, who churned out four hits in his first start for the Indians, and Almonte, who launched a homer for the second straight game and made an impressive leaping catch at the wall in center field. Core players Yan Gomes and Michael Brantley also combined for four hits and two runs in the win. Jose Ramirez and Carlos Santana chipped in two RBIs apiece, too.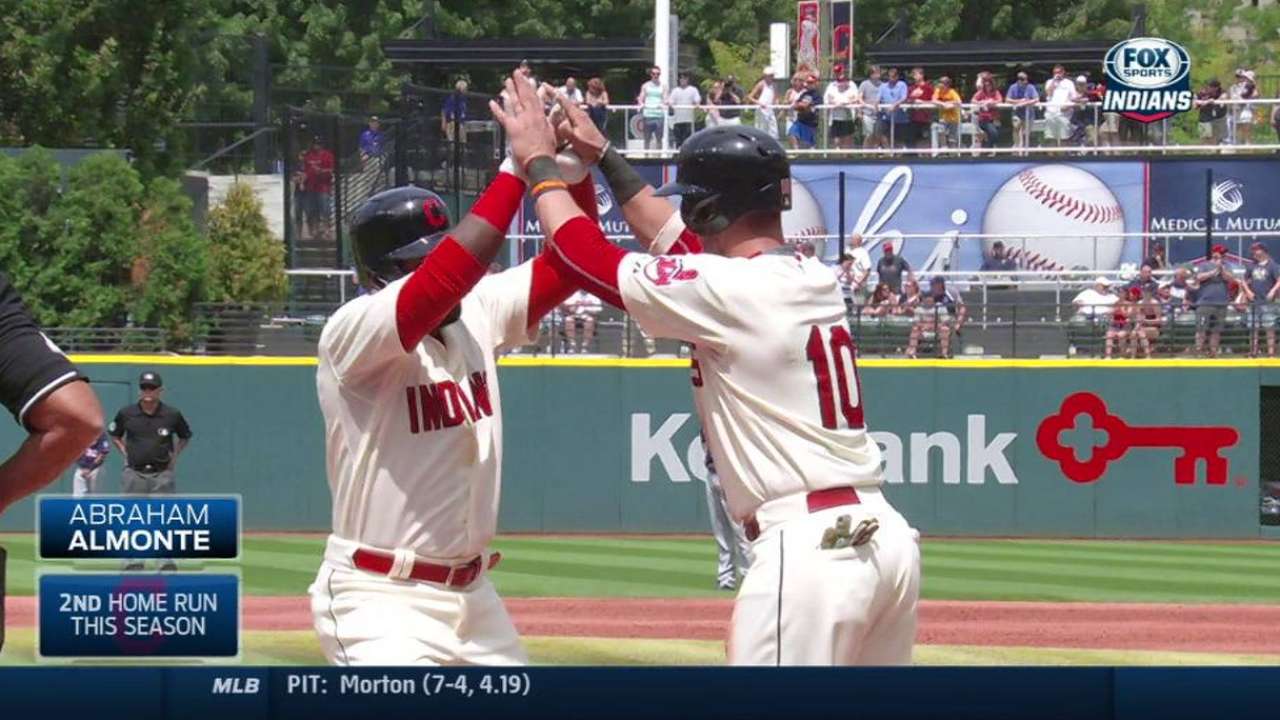 "We talked about it a couple weeks ago," Kluber said, "about coming out and taking the game to people, playing with energy, all that kind of stuff. We did a really good job of that the last few days, and I think that's the way we need to play moving forward, and we had pretty good results from it."
Francona agreed.
"This is the direction we need to go," said the manager. "We need to play every game like it's our last game and see how much better we can get."
As for all the issues from earlier this season, Johnson smiled.
"I don't know what you're talking about," he quipped.
Jordan Bastian is a reporter for MLB.com. Read his blog, Major League Bastian, follow him on Twitter @MLBastian and listen to his podcast. This story was not subject to the approval of Major League Baseball or its clubs.