A. Jones relishes return at Alumni Weekend
Former All-Star outfielder looks back at incredible Braves teams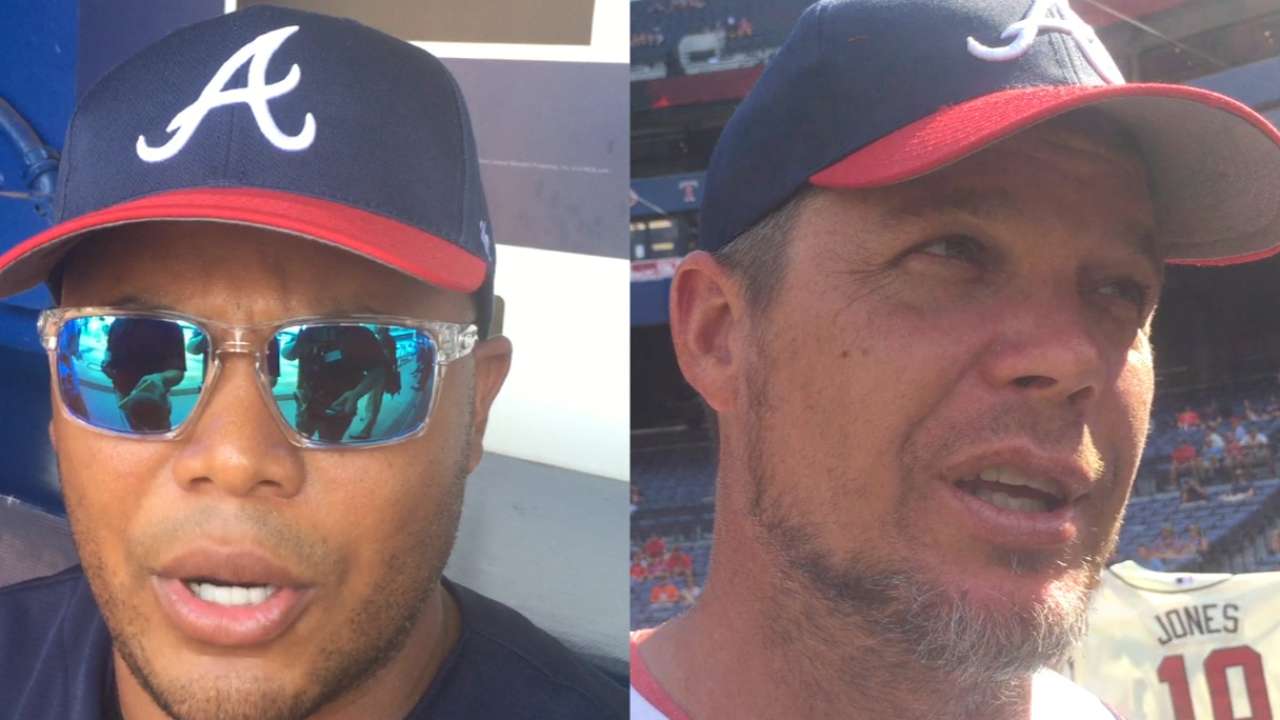 ATLANTA -- Though he might not have the same athletic frame that he possessed while winning 10 consecutive Gold Glove Awards, Andruw Jones flashed a very familiar confident smile as he enjoyed his first Alumni Weekend with the Braves.
Jones reunited with many of his old Atlanta teammates on Friday and participated in an alumni softball game that preceded Saturday night's game against the Marlins at Turner Field. Since ending his decorated 11-season stint with the Braves at the end of the 2007 season, his only previous trips to Turner Field came while he was playing for the Dodgers and Yankees.
"When I came here [as an opponent], it was a different feeling, but wearing a Braves uniform and being back on Turner Field, it's fun," Jones said. "It gives the fans something to cheer for when they see the players they haven't seen in a long time."
This weekend also gave the Braves a chance to celebrate the 20th anniversary of the 1995 World Series championship team. Greg Maddux, John Smoltz, Tom Glavine, Chipper Jones, David Justice, Mark Wohlers, Marquis Grissom and Ryan Klesko were among the members of that club who reunited this weekend to enjoy the celebration.
The Braves made five trips to the World Series during the 1990s and won 14 consecutive division titles (1991-2005). But the only world championship they captured during that span came courtesy of their Game 6 win over the Indians in the 1995 World Series. Glavine surrendered one hit over eight scoreless innings and Justice delivered a solo homer that proved to be enough when Wohlers induced the Carlos Baerga flyout that Grissom snared in center field.
"We probably could have had one more along the way, but thankfully Marquis caught that ball in center field," Maddux said.
Maddux was among those who admitted that as he and his teammates discussed some of those glory years they shared together in Atlanta, they found themselves listening to recollections that over time have steadily become more embellished.
"You relive some of the memories and of course the stories change now, but it's still a good story," Maddux said. "Everybody remembers something different. That is kind of the beauty of it because all the guys sit up there and tell war stories that are not anything like you remembered. Time changes a lot of stuff."
Mark Bowman is a reporter for MLB.com. This story was not subject to the approval of Major League Baseball or its clubs.