Shaffer comes up big in home debut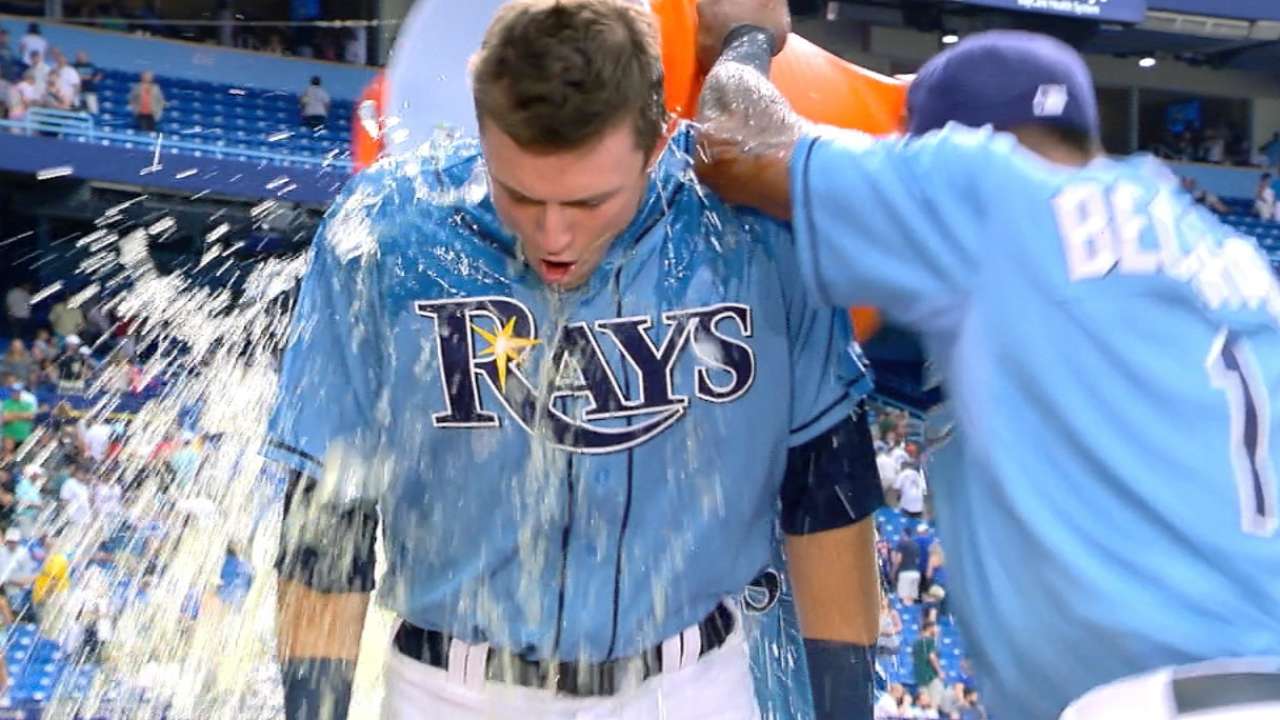 ST. PETERSBURG -- In his first appearance at Tropicana Field, Richie Shaffer did a nice job of endearing himself to the home crowd during the Rays' 4-3 victory over the Mets on Sunday.
The 24-year-old rookie went 3-for-3 at the dish, but none of his plate appearances proved to be bigger than his at-bat in the seventh inning.
With things deadlocked at 3, Shaffer stepped to the plate worked the count to 2-2 against Mets starter Bartolo Colon before finally unloading on his pitch and driving it over the left-field wall for what would be the game-winning solo home run.
"I had two knocks going into that, so he sort of changed his approach up a little bit," Shaffer said. "He started me off with a couple of breaking balls, but I wasn't going to give in early. Once I got two strikes, it was like, 'Alright, if he tries to throw it again, I've got to swing at it.'
"But I was still looking for the two-seam [fastball] he throws. I was just looking for it out over the plate and sure enough I got it, put a good swing on it and didn't miss."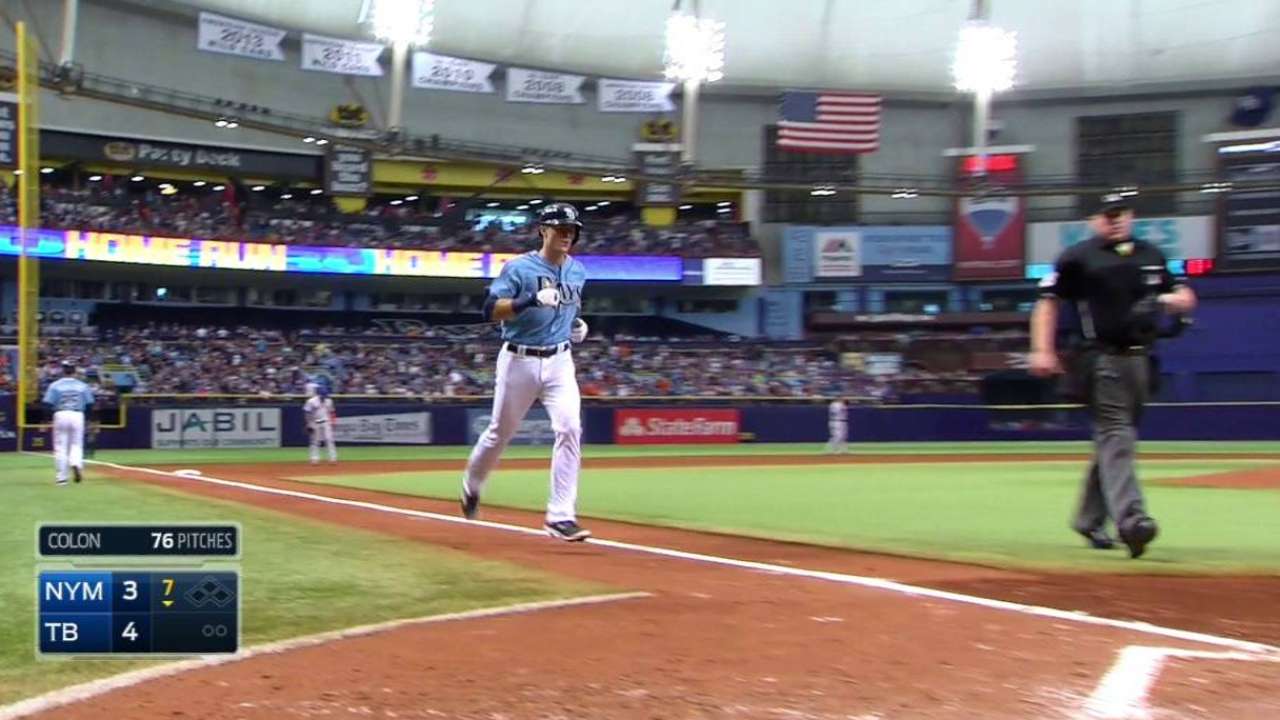 After crossing home plate, Shaffer walked into the dugout and celebrated with his teammates; and this time, they weren't his imaginary teammates he was gesturing with after his first Major League home run in Chicago on Tuesday.
"I was running around [the bases], ready to get back to the dugout and give everyone high-fives and get everyone pumped up," Shaffer said. "And I actually got to high-five everybody this time, instead of making my own friends."
Aside from the go-ahead blast, the rookie -- who is now batting .400 (4-for-10) with two RBIs and five runs scored -- also proved pivotal in the Rays comeback effort after the team found themselves in a 3-0 deficit in the second.
In his first at-bat of the day, Shaffer, who started at designated hitter and admitted that he is still getting used to the routine of being a DH, grabbed the Rays first hit of the contest to lead off the third inning after Colon had retired the first six batters he had faced. He eventually came around to score the Rays' opening run on a John Jaso sac fly after Rene Rivera doubled him over to third.
Two innings later, he led off the frame again, and once again, he delivered a single that ignited the Rays two-run rally that set up his seventh-inning heroics.
"[Shaffer has] a lot of discipline," Rays manager Kevin Cash said. "It's not always the ideal situation to let a young guy come up here and DH. We're so strong at those positions that he plays and to see that, that can put more anxiety on a young player.
"You've got to sit there and not be a part of the defensive part of the game and he just goes up there, continues to be patient, selective, and when he gets his pitch, he handles it. It's been pretty impressive, the at-bats that he's put together."
Troy Provost-Heron is an associate reporter for MLB.com. This story was not subject to the approval of Major League Baseball or its clubs.