Montgomery struggling to regain early dominance
SEATTLE -- On June 30 in San Diego, Mike Montgomery became first Mariners pitcher since 2001 to throw back-to-back shutouts, taking a no-hitter into the seventh inning against the Padres.
With that start he joined elite company, becoming just the 12th rookie to throw two straight shutouts since 1980. The start was his sixth in a row of six or more innings at the time.
Since his second shutout, though, the 26-year-old lefty has had a difficult time regaining that dominance. In seven starts since, he has gone 1-2 with a 5.25 ERA and has not lasted seven innings, though he has flashed that effectiveness at times.
In his Saturday start against Texas, Montgomery needed just nine pitches to retire the Rangers in order and did not allow a hit until a Chris Gimenez double with two outs in the third.
From there, Montgomery's afternoon unraveled. He walked three Rangers hitters in a three-run, 37-pitch fourth inning. Montgomery finished the frame, but with his pitch count up to 82, his afternoon was done and Seattle's bullpen had to work seven innings in what became an extra-innings loss.
Manager Lloyd McClendon said after the game that he was disappointed in Montgomery's outing. When asked about the rookie lefty's recent struggles, McClendon said he thought the 6-foot-4 lefty had been thinking too much, something he hadn't seen much from Montgomery before.
"One thing is this kid's gotta understand is when he came into the big leagues, he was successful because the catcher put down a sign and he threw a pitch," McClendon said. "Now he's thinking too much, too much shaking. Just follow the game plan and pitch."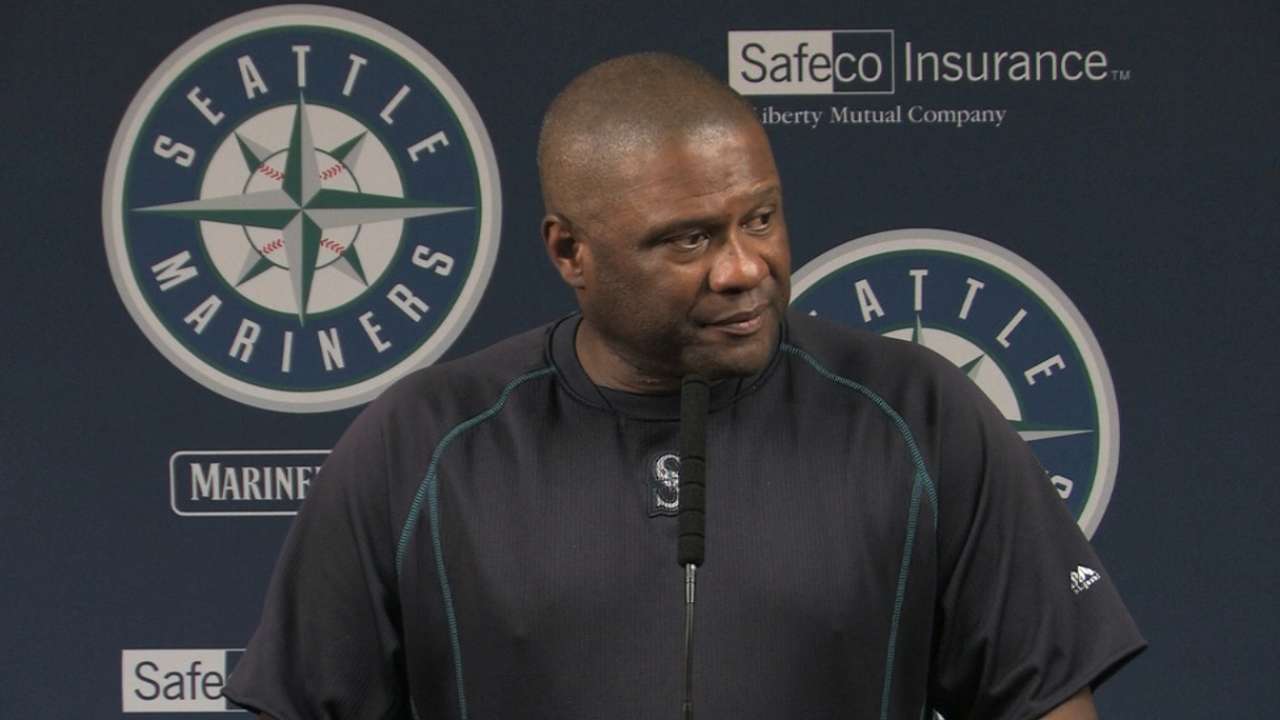 "Really just came down to that fourth inning. I just wasn't in the zone," Montgomery said after Saturday's game. "I wasn't throwing enough strikes. Whether it was mechanically or not, I think I was just rushing a little bit."
Montgomery, who threw just 43 of his 82 pitches for strikes Saturday, said he failed to attack the zone after early-inning success. When he tried to be too fine, Texas' offense capitalized, cutting his afternoon short.
"First couple innings I felt good and just sort of lost it a little bit," Mongtomery said. "I've got to do a better job of attacking the zone throughout. They're going to put together good at-bats if I don't keep attacking them and they're going to take walks and wait for their pitch to hit."
Andrew Erickson is an associate reporter for MLB.com. This story was not subject to the approval of Major League Baseball or its clubs.