Paxton feels no pain after throwing off mound
Mariners lefty sidelined with finger injury since late May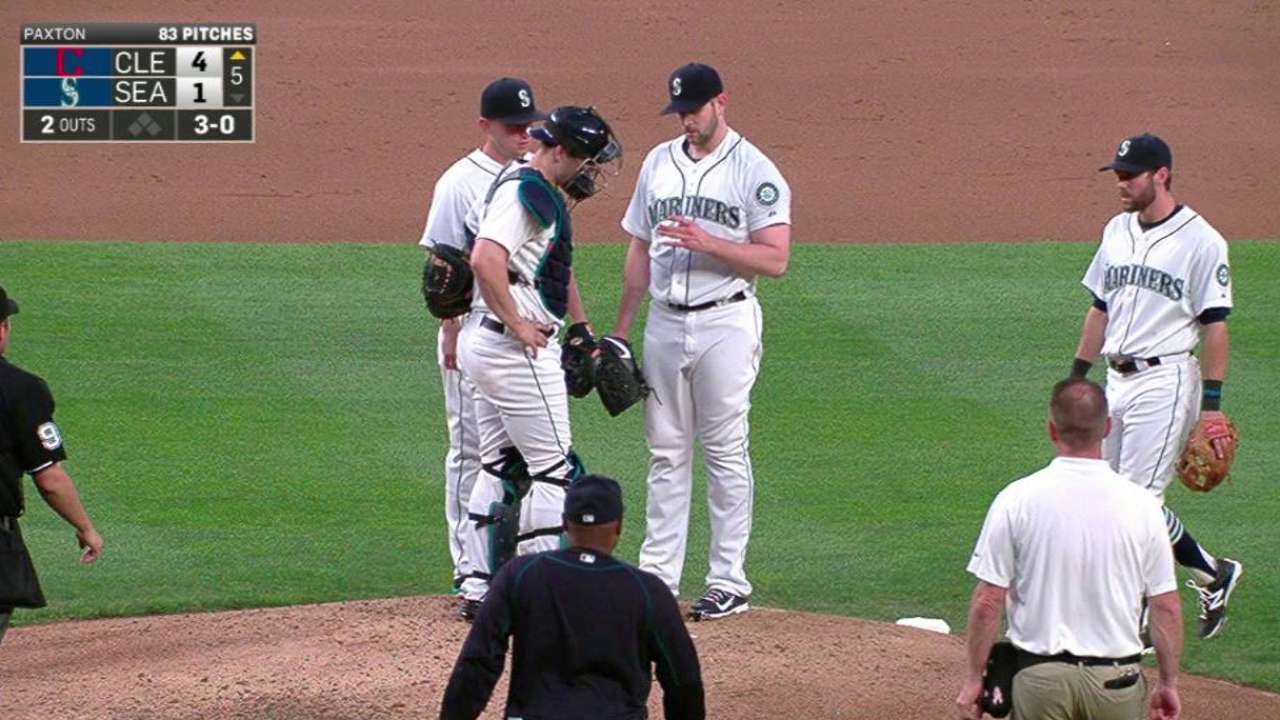 SEATTLE -- Game action for James Paxton is still quite a ways off, but the lefty starter said he was encouraged by his first pitches off a mound since injuring a tendon in his left middle finger on May 28 against the Indians.
Paxton threw 25 pitches -- all fastballs -- in the Mariners' bullpen before Sunday's 4-2 win at about 80 percent effort and said he came away without feeling pain in his finger.
"Felt awesome. I was happy to be back out on the mound and the ball was coming out well," Paxton said. "No pain whatsoever."
Mariners manager Lloyd McClendon said the 6-foot-4 lefty has several more steps to go before returning to the Mariners' rotation.
"I don't know how big of a step it is. A big step would be getting him back in the game competing but it's step in the right direction," McClendon said. "I think we're a ways away from [Major League action]. We just need to continue to progress and hopefully get him healthy enough where he can compete again."
Paxton said he'll throw another bullpen session in the coming days if all goes well. In addition to fastballs, he said he would throw a few breaking pitches.
"I'll throw more pitches and I'll mix in a few breaking pitches at the end just to spin some stuff and see how it feels," Paxton said.
Before the May start that landed him on the disabled list, Paxton had been on a roll, going 3-0 with a 0.90 ERA in three starts between May 12 and May 23.
"Just a relief that I can still do it," Paxton said. "It's not like [the injury is] going to be there forever and I'm just happy to be out there throwing the ball and having it come out like it was before."
Andrew Erickson is an associate reporter for MLB.com. This story was not subject to the approval of Major League Baseball or its clubs.