Napoli fine with part-time role with Rangers
'I want to win here, make the playoffs and go on a run,' he says
SEATTLE -- Mike Napoli was an everyday player when he was with the Rangers in 2011-12. He returned as a part-time player most likely to play only against left-handers.
He did not start against right-hander Felix Hernandez in Sunday's 4-2 loss and may not start the three games in Minnesota since the Twins are scheduled to go with right-handers Kyle Gibson, Mike Pelfrey and Ervin Santana in the three-game series.
Napoli, who can be a free agent this offseason, said he is fine with a part-time role as a backup to Mitch Moreland at first base.
"I want to win," Napoli said. "I have done good for myself in the game. I know people know I can play the game and play it the right way. I'm not worried about the offseason or where I will be next year. I want to win here, make the playoffs and go on a run.
"I'm fine with the role. Mitch is one of the better hitters in the league. He deserves the opportunity to be out there."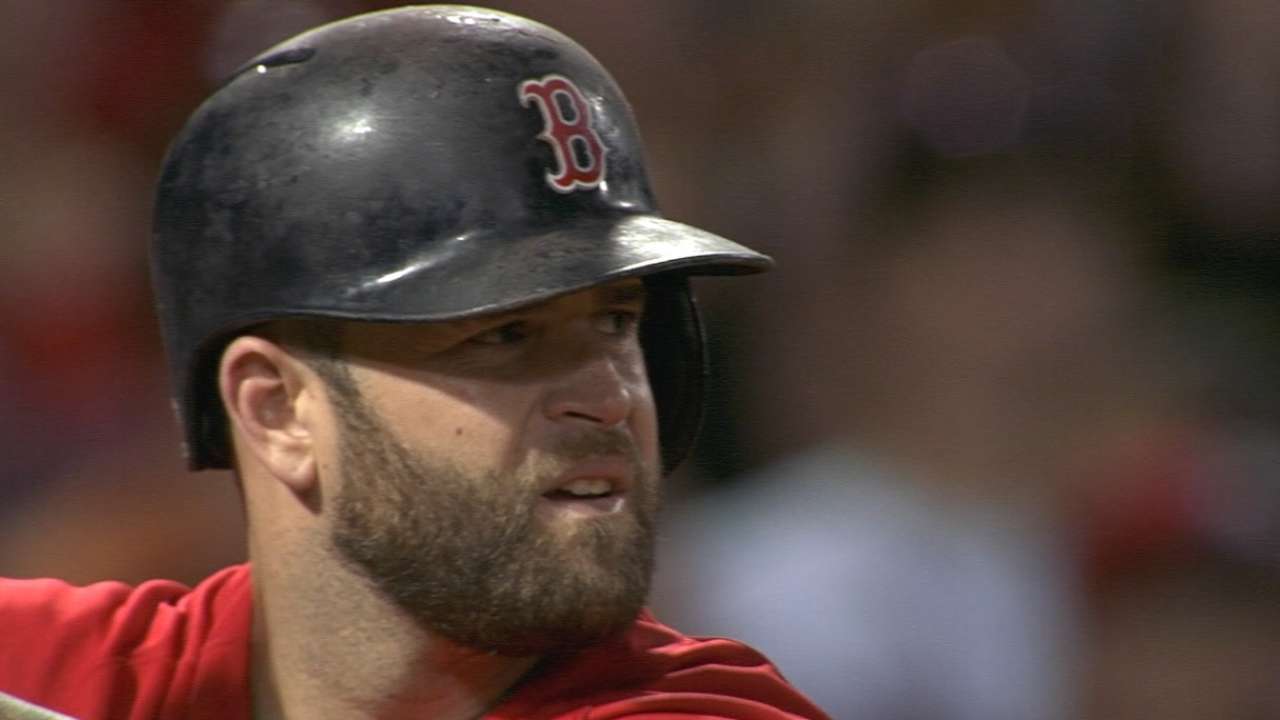 Napoli was acquired from the Red Sox on Friday for cash considerations or a player to be named.
"If I was going to get traded, it was good to come back here," Napoli said. "I know a lot of people here, I have friends in Dallas, it was nice. I'm going to do what they need me to do. I want to win. I'm excited to do whatever, go out and play the game the right way and help us win."
During his two seasons with the Rangers, Napoli hit .275 with 54 home runs, 131 RBIs and a .552 slugging percentage. He was close to that level his first two seasons in Boston, hitting .254 with 40 home runs, 147 RBI and a .453 slugging percentage.
He production has fallen this season. At the time of the trade, he was hitting .207 with 13 home runs, 40 RBIs and a .386 slugging percentage. But it has been better lately. In his last 19 games, Napoli has hit .258 with three home runs, 10 RBIs and a .516 slugging percentage.
"I'm feeling better at the plate," Napoli said. "I had a rough couple of months but I think I have figured some things out. I have calmed my swing down and calmed my body down. I'm having better at-bats. I feel comfortable right now.
"You go through slumps but usually you work your way out of it. I have been a streaky hitter in my career. I was trying everything but it was just tough for me to get out of it. I finally figured it out. I had so much motion in my swing. ... I just tried to simplify it. Get the foot down early and just track the ball."
Napoli brought his bats to Texas but no catching gear. He hasn't caught since 2012 and isn't sure his body could handle it. He did say he would be willing if there was an emergency but his catching days are mostly over.
T.R. Sullivan is a reporter for MLB.com. Read his blog, Postcards from Elysian Fields, follow him on Twitter @Sullivan_Ranger and listen to his podcast. This story was not subject to the approval of Major League Baseball or its clubs.