Cubs plan to find time for Schwarber to catch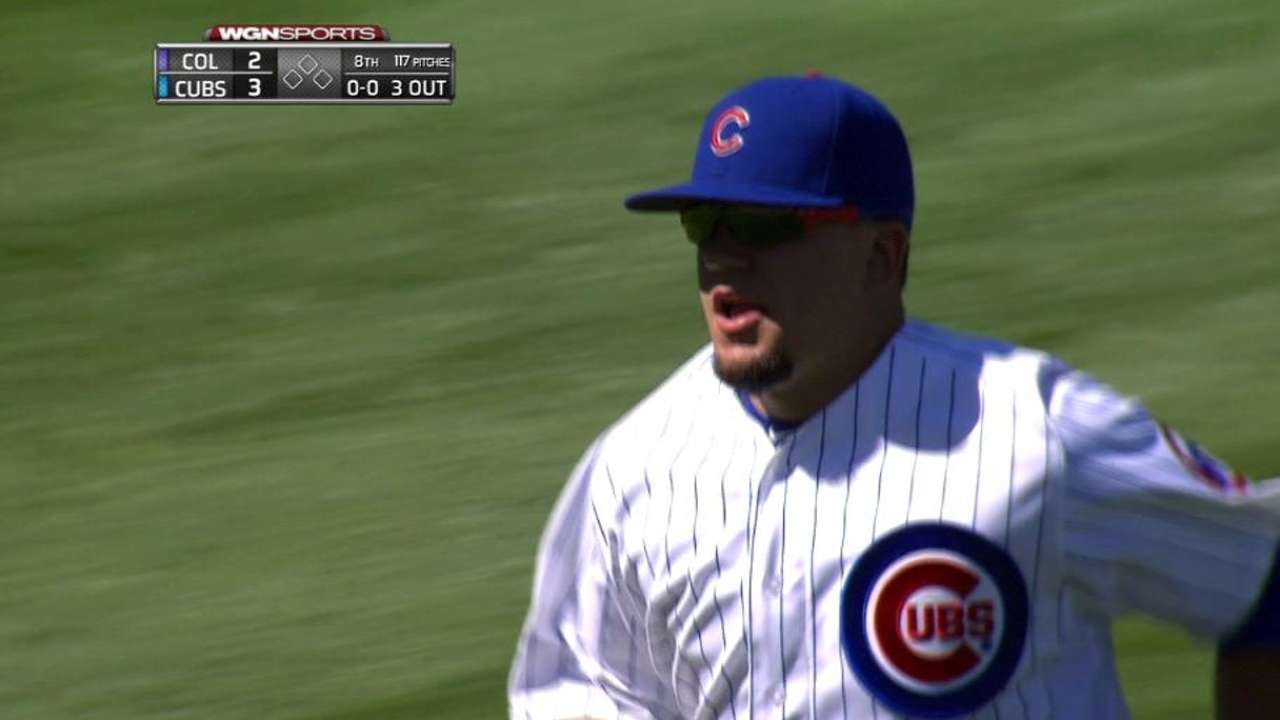 CHICAGO -- Kyle Schwarber has started in left field three straight games. When will the rookie catch again?
"It's just going to be creatively working him in behind the plate with three catchers again," Cubs manager Joe Maddon said Sunday. "I can't tell you exactly when I'll pop him behind the plate. We'll figure it out."
So far, David Ross has been matched with Jon Lester, and with Miguel Montero back from the disabled list, he's caught Kyle Hendricks and Jake Arrieta. Schwarber is continuing to work on catching drills with coach Mike Borzello and also catch bullpen sessions.
"He's not overwhelmed by anything," Maddon said. "He's eager -- he's this eager guy. 'Give me some more, give me some more.'"
• Jason Motte knows too well the ups and downs of being a late-inning reliever. On Thursday, he struck out two of the three Giants batters he faced in the seventh inning. On Saturday, the Cubs right-hander entered with two on and one out in the ninth and retired the first batter he faced before serving up back-to-back RBI singles.
What's the difference?
"It's all location, location. Regardless of how hard you throw, what you do, what you have, what you don't have, it's all about where you throw it," Motte said Sunday. "That's where I've been getting in trouble is balls coming back over the middle. It's all about location."
Motte had a 2.97 ERA (11 earned runs over 33 1/3 innings) in 39 games before the All-Star break and went 5-for-5 in save situations. Since the break, he's compiled a 6.30 ERA (seven earned runs over 10 innings). He won't blame the Tommy John surgery he had after the 2012 season.
"It's been two years now since the surgery," Motte said. "I feel like my arm strength is fine. I feel fine out there. I'm not exactly where I was before surgery -- I'm not 97 to 99 [mph]. But even when I was there, it was still about location. I found that out very early on. It doesn't matter how hard you throw."
A perfect example, he said, is the Reds' Aroldis Chapman, who easily throws 100-plus. But the Cubs' Taylor Teagarden was able to connect against Chapman on July 22, taking advantage of a fastball over the plate.
"You make one mistake and that's all it takes," Motte said. "Today's a new day. When I'm out there, I don't care what happened yesterday."
• The Cubs' starting pitchers pick their warmup songs, and Hendricks' is "Purple Haze" by Jimi Hendrix. Why? Hendricks told the Cubs' music folks to pick something by Hendrix. The pitcher's nickname at Dartmouth was "Jimi" for the legendary rocker.
Carrie Muskat is a reporter for MLB.com. She writes a blog, Muskat Ramblings. You can follow her on Twitter @CarrieMuskat and listen to her podcast. This story was not subject to the approval of Major League Baseball or its clubs.