Murphy's walk-off knock caps big win over O's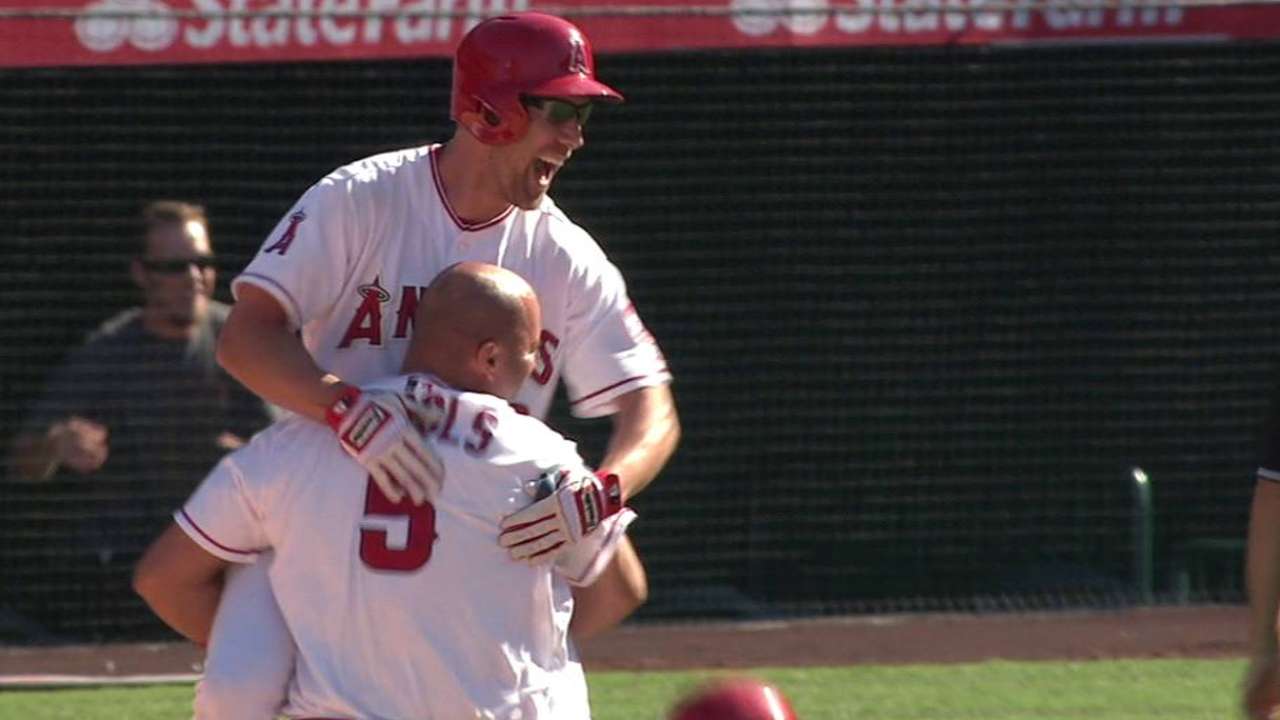 ANAHEIM -- On a full count with the bases loaded and two outs in the 11th inning Sunday, David Murphy cracked a walk-off single to deep left field off Orioles reliever Brian Matusz, lifting the Angels to a 5-4 win at Angel Stadium.
After Carlos Perez led off the inning with a double into the left-field corner, Johnny Giavotella and Kole Calhoun both struck out for the Angels. Matusz then intentionally walked Mike Trout and Albert Pujols to load the bases and set up a lefty-lefty matchup with Murphy. Matusz quickly fell behind, 3-1, but got back to a full count before Murphy ended the game.
"None of those pitches were too close, the ones that I took," Murphy said. "I got to 3-1, had the take on. And I got to 3-2, got a pitch up and middle, and that's a hot zone for me. Praise the Lord the ball fell." More >
Calhoun and Murphy homered to back Jered Weaver, who came off the disabled list and held the Orioles to two runs over five innings in his first start since June 20. He left with a 4-2 lead, in line for a win, but Cory Rasmus surrendered solo home runs to Baltimore's Gerardo Parra and Chris Davis in relief of Weaver in the sixth.
MOMENTS THAT MATTERED
Weaver buckles down in return: Weaver's return to the Angels' rotation didn't start well. He gave up two runs on three hits, hit a batter and threw only 16 strikes in a 30-pitch first inning. But he was much better from there, holding the Orioles scoreless on one hit over the next four innings. Weaver didn't walk a batter and struck out seven in his five innings, punching out the side in the fourth.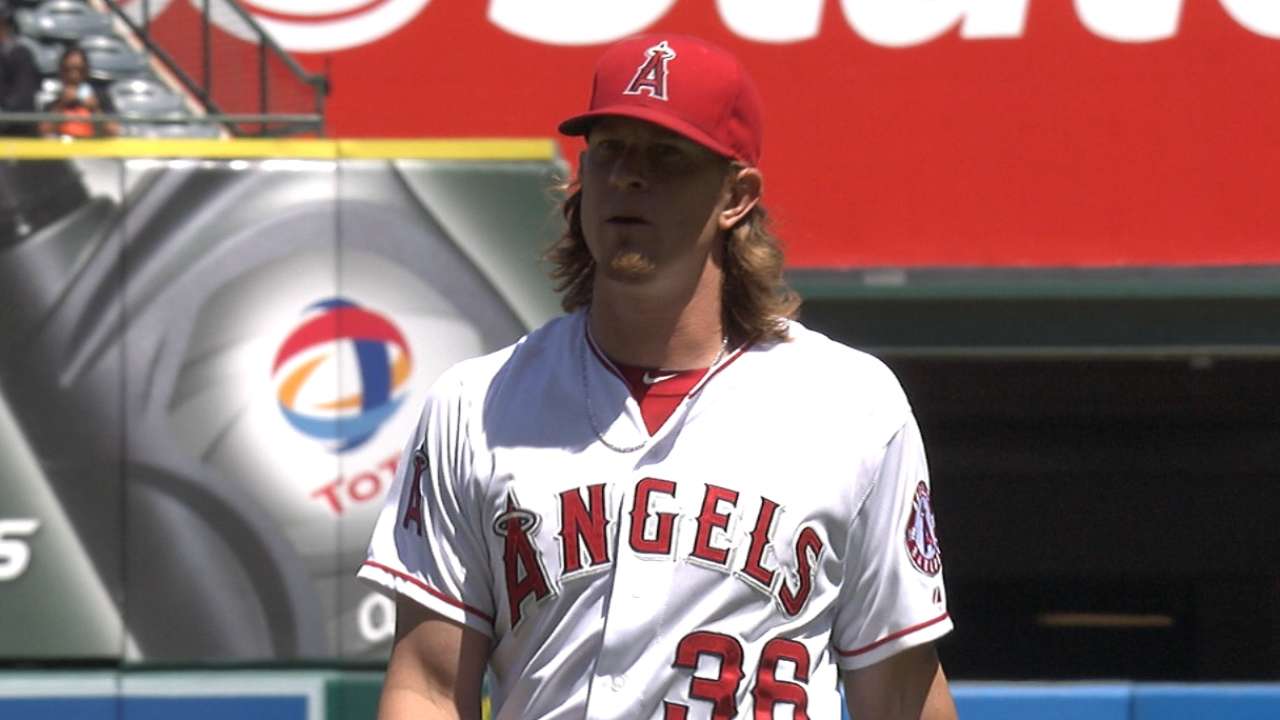 "Those last four innings were money," Weaver said. "I was able to keep my weight back and not try to rush the ball to the plate. Just stayed within myself, and everything mechanically felt good after that." More >
New jack city: Parra, who joined the Orioles on July 31, went deep to right field in the sixth inning for his first homer and RBI in a Baltimore uniform. He hit nine home runs for the Brewers this season. An out later, Davis hit No. 29, also to right field, getting the O's even at 4.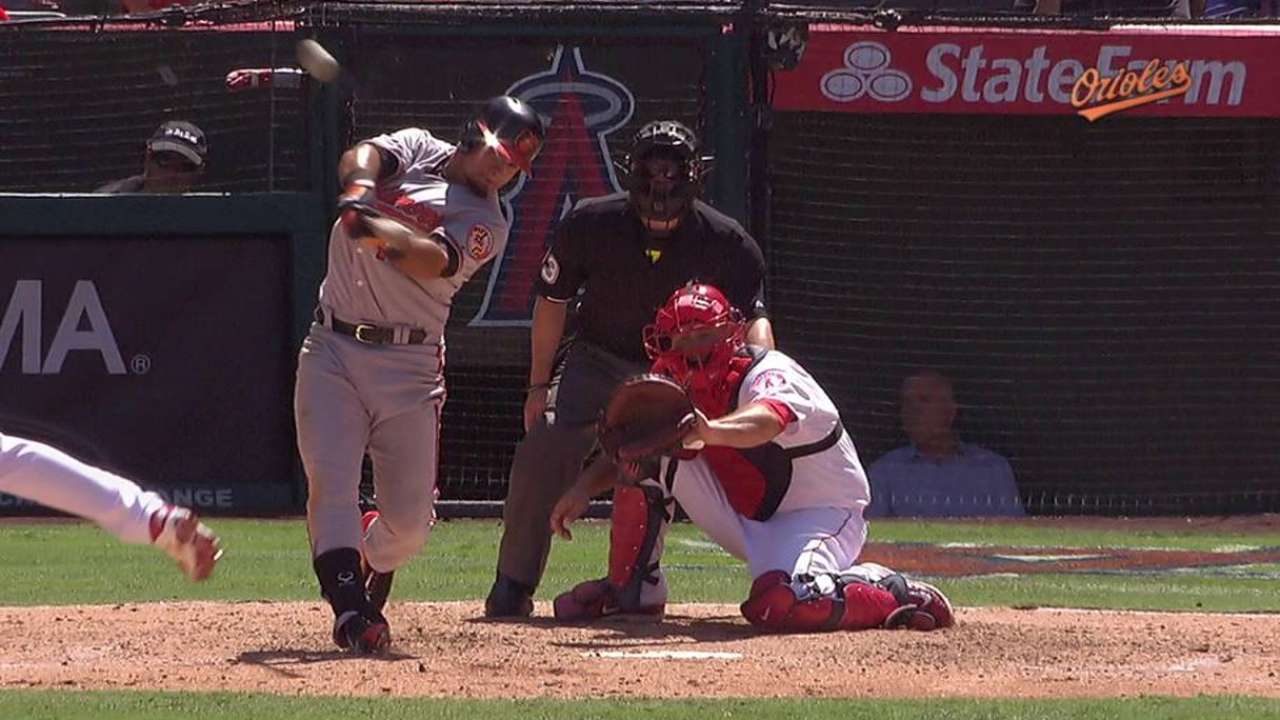 "[The homer] felt great," Parra said. "I'm just not happy that we lost. That's great baseball today, I'd just like to make it a win. We'll come out tomorrow, and see what happens."
Murphy picks up Trout, Pujols: Murphy's first home run as an Angel, and the 100th of his career, was a big one. Trailing the O's, 2-1, in the third inning, the Angels put runners on the corners with nobody out, but Trout and Pujols struck out in back-to-back unproductive at-bats. Murphy then fell into an 0-2 hole, but Miguel Gonzalez left him a fastball where he could drive it, and Murphy hit a two-out, three-run homer just over the right-center-field wall to give the Angels a 4-2 lead.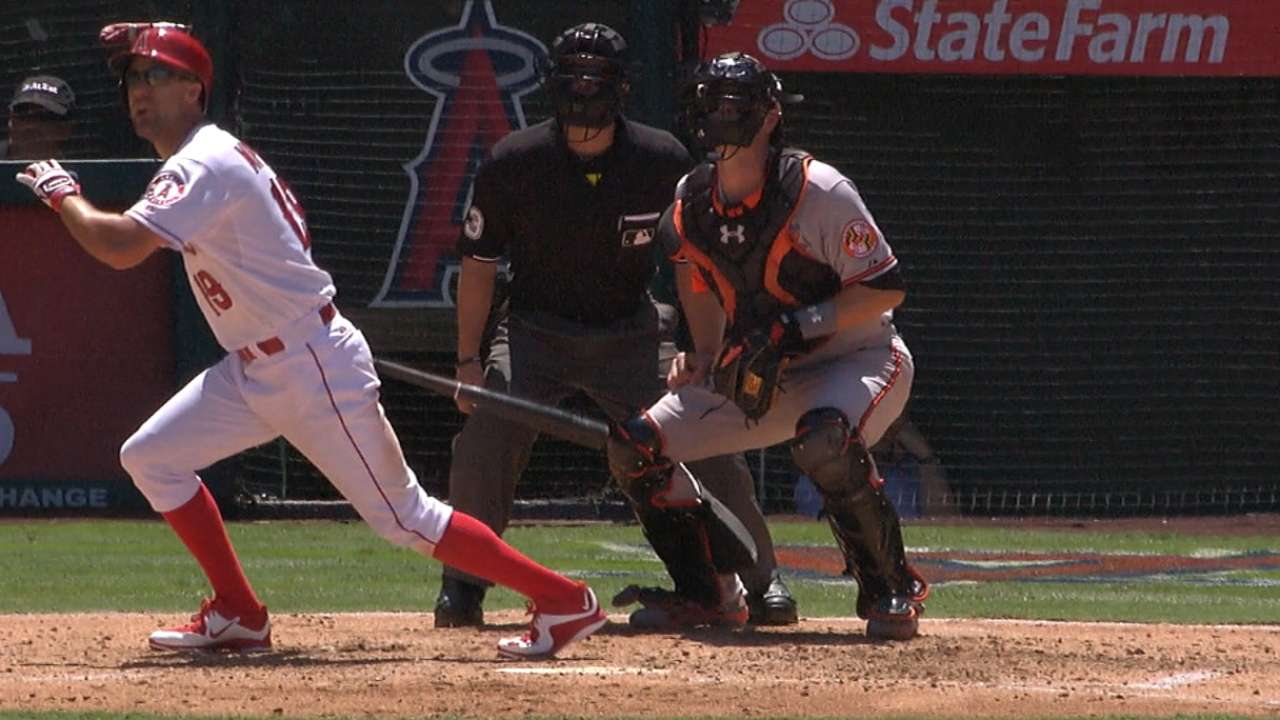 "I mean, you look at the history of the game, you look at a guy like Albert that's got 500-plus -- it's not like I'm up there in any of the leaderboards," Murphy said. "But I definitely see it as an accomplishment, and it's a fun milestone to hit, especially when it was a meaningful home run."
Jones goes back -- twice: Adam Jones, who plays a shallow center field, went racing back to the wall to make two of his trademark catches and deny extra-base hits. He denied Taylor Featherston with two outs in the 10th inning, and also robbed Chris Iannetta with two on and two outs in the second.
"We play good defense. That's a constant," Jones said. "We put some good swings on the ball today, hit balls right at people. We just have to get a little more offensively."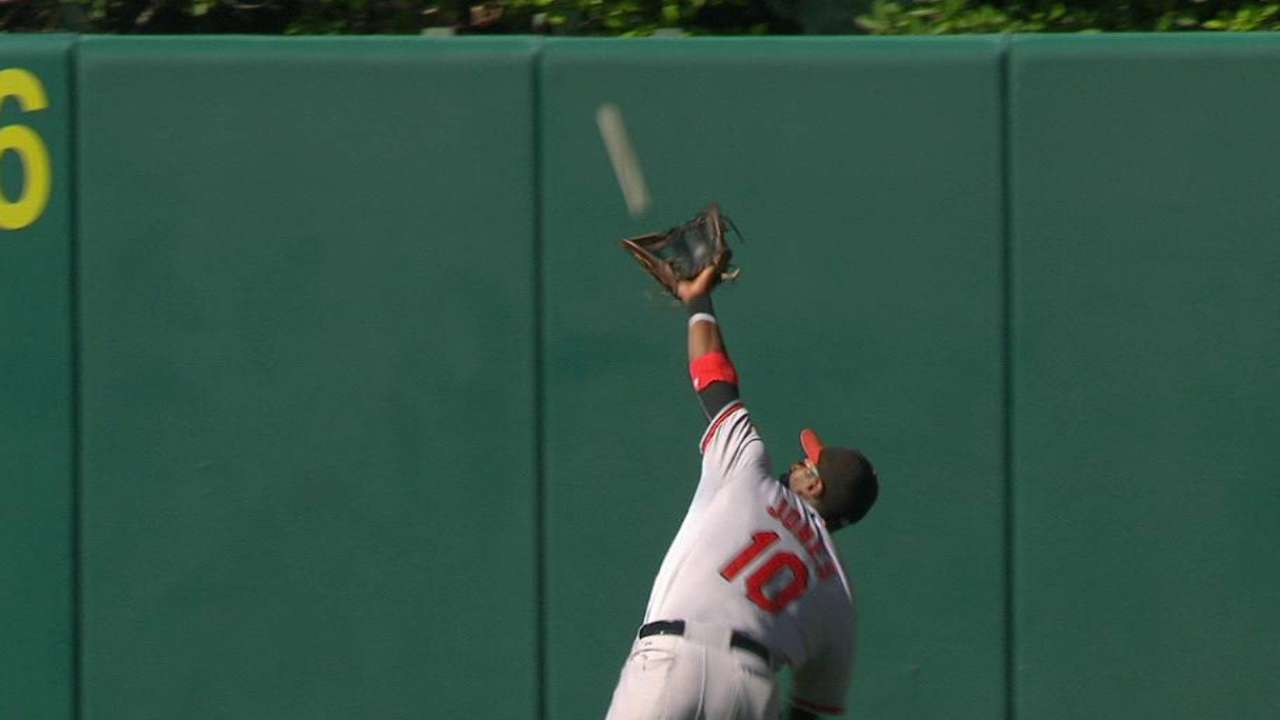 QUOTABLE
"Right there, you're looking for one out, wherever it might be. You have confidence your pitcher will throw strikes. The move made sense." -- Angels manager Mike Scioscia, on the Orioles intentionally walking Trout and Pujols to face Murphy with the bases loaded in the 11th
"I'm really proud of our bullpen today. Their bullpen did a nice job. Their bullpen was just a tad better." -- Orioles manager Buck Showalter More >
REPLAY REVIEW
An early review benefited the Angels, when Calhoun's first-inning solo home run was initially ruled to have stayed in play. Calhoun turned around a 93-mph fastball from Gonzalez, driving it just over the high right-field wall at Angel Stadium, where it ricocheted off an empty seat and back onto the field. The umpires ruled that the ball had hit the top of the wall, and Calhoun dove into second base with an apparent double. But the Angels quickly asked for a crew-chief review, and the call was overturned to a home run.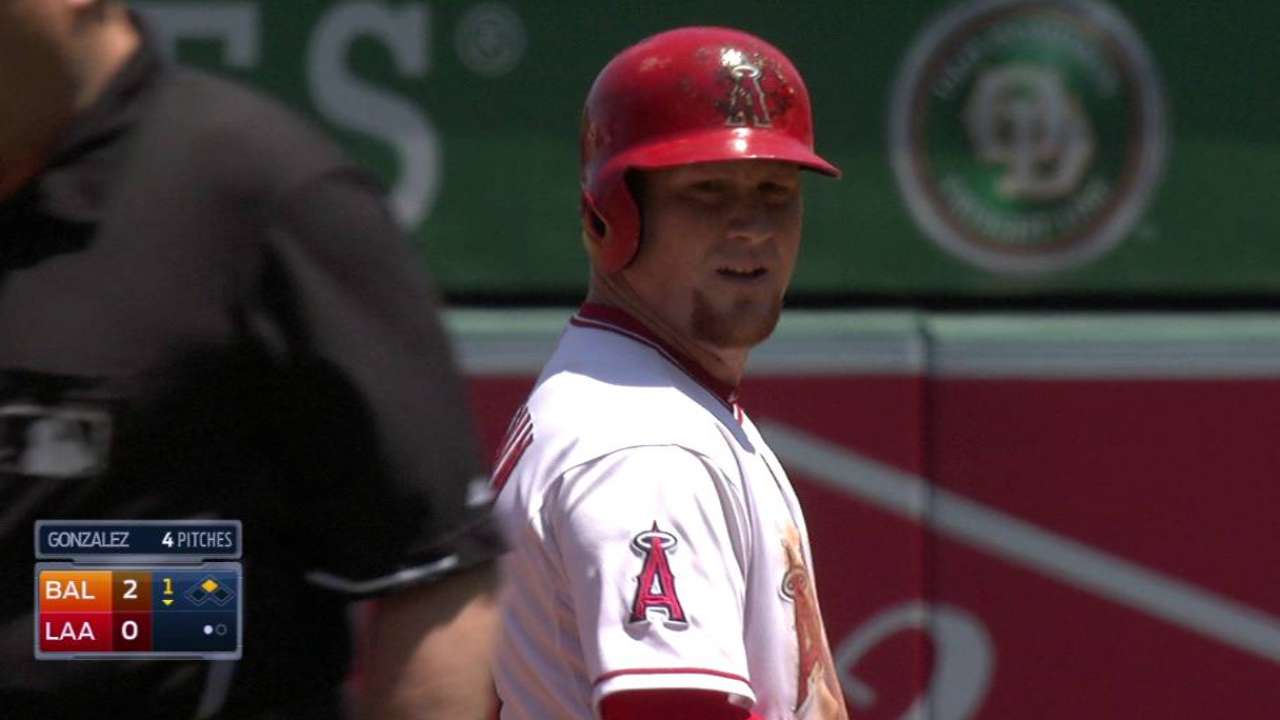 A second review also went the Angels' way in the third inning on Murphy's three-run shot, which landed near where Calhoun hit his ball out. The umpires reviewed the play to see if a fan had reached over the wall and interfered -- the fan did touch the ball, but it would have cleared the fence anyway and the home run call was confirmed.
WHAT'S NEXT
Orioles: Left-hander Wei-Yin Chen (5-6, 3.32 ERA) opens a three-game series Monday at 10:10 p.m. ET in Seattle. The Orioles have won his past three starts, and are 13-8 in his starts this season.
Angels: Matt Shoemaker will begin the Angels' road trip when he starts the series opener on Monday against the White Sox at 5:10 p.m. PT. Shoemaker will be taking a 19-inning scoreless streak into U.S. Cellular Field, spanning his last three outings. He's struck out 27 batters during the run.
Watch every out-of-market regular-season game live on MLB.TV.
David Adler is an associate reporter for MLB.com. Earl Bloom is a contributor to MLB.com. This story was not subject to the approval of Major League Baseball or its clubs.